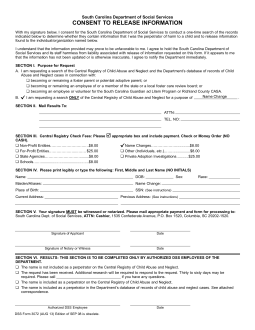 4.6 Stars | 46 Ratings
734 Downloads
Updated September 27, 2023
South Carolina name change forms can be used by an adult who has lived in the state for at least six months to apply for a legal name change. The name change petition must be filed with a local family court. For name changes related to marriage or divorce, a petition is not required.
Name Change After

Marriage
Last names can be changed by indicating the desired name on the marriage license application. After the marriage becomes official, a certified copy of the marriage certificate can be used as proof of the legal name change. To obtain a copy, you can visit the probate court in your county, or submit an online request to the Department of Health and Environmental Control (DHEC)'s Vital Records Division.
Name Change After

Divorce
To change a name after a divorce, you can simply include a clause in the marital settlement agreement and divorce petition stating your intent to revert to a previous name. Once issued, the divorce decree can be used to update your name change on important documents.
Certified copies of divorce decrees may be obtained from the Clerk of Court's Office for the county in which the divorce proceeding took place.
How to Change Your Name (6 steps)
1. Obtain Background Check
In South Carolina, a criminal background check is required for anyone petitioning for a name change.[1] To do so, you must contact the South Carolina Law Enforcement Division (SLED) at (803) 896-1443 and request a Name Change Packet, which will include a Records Check Form and a Fingerprint Card.
Once you receive the packet in the mail, take the Fingerprint Card to a local law enforcement agency and get fingerprinted. Enclose the completed Fingerprint Card and SLED form with a self-addressed envelope and a payment of $25 (cashier's check or money order) and send it to the following address:
SLED Records
Post Office Box 21398
Columbia, South Carolina 29221-1398
2. Complete Consent to Release Information Form
Download the Consent to Release Information Form (DSS 3072) and complete all appropriate fields (enter your own address under the "Mail Results To" section). You must sign this form in front of a witness or notary public. This form authorizes the Department of Social Services to search your name in the Child Abuse and Neglect Central Registry and release any results they find, which is required for all name change applications.[2]
Mail this form and a check for $8 to the following address:
South Carolina Department of Social Services
ATTN: Cashier
P.O. Box 1520
Columbia, South Carolina 29202-1520
The results will be mailed back so you can bring them to your hearing.
3. Complete Petition, Affidavits, and Hearing Request
Download and fill out the following forms:
The Request for Hearing Form and the Family Court Cover Sheet are state-wide forms. For the other forms, you should check with the court to ensure that your county does not have its own, county-specific form that it relies on. Make sure you sign the affidavits in front of a notary public.
4. Obtain Proof of Residency
South Carolina requires that name change applicants be able to prove that they have lived in the state for at least six months.[4] This is done in two ways: First by filling out a notarized Affidavit of Residency, and second, by providing documentation demonstrating that you have resided in the state for at least six months.
The state will waive the residency requirement for name change applicants who can prove that they reasonably fear for their safety because of the threat of domestic violence.[5]
5. File Paperwork at Family Court
Once you have received the results from SLED and the DSS, bring them to your local family court along with your completed Petition, Family Court Cover Sheet, all affidavits, Request for Hearing, a copy of your original birth certificate, proof of residency, and the $150 filing fee.[6] The court clerk will provide a hearing date and time.
6. Attend Hearing
In some cases, the judge may approve the name change without a hearing. If a hearing is required, be sure to bring a copy of all of your paperwork. If the judge deems the name change lawful and appropriate, they will sign a Name Change Order at the hearing.
Ask the court clerk to make certified copies of the Order, which will act as official proof of your legal name change and allow you to change your name with other government agencies.
Driver's License
To update your name on your driver's license, you must first change your name with the Social Security Administration (SSA) before updating your driver's license. To complete this process, download and complete the Application for a Social Security Card (SS-5). Submit this form (by mail or in person) to your local SSA office along with proof of identity, proof of name change, and proof of lawful U.S. presence.
After a waiting period of 48 hours, visit an SCDMV branch with the following documents:
Proof of legal name change (marriage license, divorce decree, or court order)
The fee is $10 for a standard driver's license and $25 for a REAL ID.[7]
Voter Registration
It's important that you update your voter registration information after changing your name so you can vote in upcoming elections. You can update your voter registration information online or by mail.
Sources