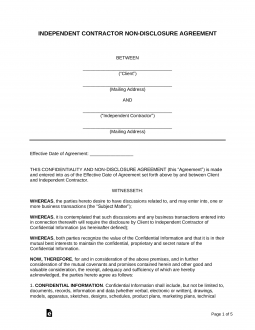 The independent contractor non-disclosure agreement is an agreement used between Client and Independent Contractor in anticipation of the sharing of Confidential Information as made necessary by their entering into a business relationship. Often Independent Contractors are used in place of employees for specific tasks and for a limited time period. It is in the Client's best interest to have the Contractor sign an NDA before exposing the individual to sensitive financial information, marketing strategies, or any other type of Confidential Information.
Independent Contractor Non-Compete Agreement – Does not allow the contractor to perform their services for their own benefit or for a competitor.
How to Write
Step 1 – Download in Adobe PDF, Microsoft Word (.docx), or Open Document Text (.odt).
Step 2 – The name and mailing address of the Client should be supplied along with that of the Independent Contractor.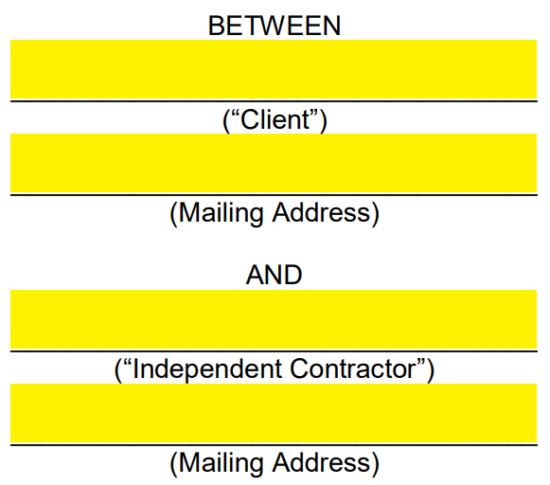 Step 3 – The agreement's Effective Date must be entered next.

Step 4 – The duration of the agreement must be entered into the third section. The number of days, months, or years from the Effective date can be supplied in the available field.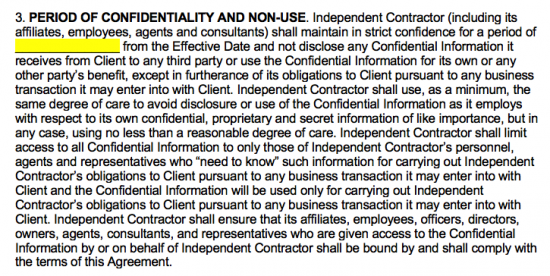 Step 5 – The name of the State in which the agreement is being created can be entered into the "GOVERNING LAW" section.

Step 6 – Both the Client and the Independent Contractor must provide the following at the bottom of the form:
Date
Printed name
Company name
Title
Signature