Updated August 08, 2023
An Arizona non-compete agreement allows for the restriction of an employee working in a specific industry to perform the same work for another company. There are main restrictions are the terms cannot be written too broadly and for an unreasonable amount of time. For the sale of a business, the courts apply stricter rules due to the limited amount of "time and space."
Laws
Legally Enforceable?
Yes, non-competes are legally enforceable in Arizona, although, there are some occupational exceptions such as:
Legitimate Interest
There needs to be "some legitimate interest beyond the employer's desire to protect itself from competition." (Valley Med. Specialists, 982 P.2d at 1281 (1999))
Reasonable Test
Determining whether a non-compete is "reasonable" depends if the restraint is not:
Beyond that reasonably necessary for the protection of the employer's business;
Unreasonably restrictive upon the rights of the employee; and
In contravention of public policy.
Source: Olliver/Pilcher Insurance v. Daniels (1985)
Continued Employment
The continuation of at-will employment is deemed to be sufficient consideration.
Source: Mattison v. Johnston (1986)
Maximum Term
There is no Arizona statute for a maximum term under a non-compete.
Three (3) years have been deemed "reasonable" for a physician (Valley Med. Specialists, 982 P.2d at 1281 (1999)) but not for employment where no "special training or education is required" (Liss v. Exel Transp. Servs. (2007)). Therefore, for jobs that require no professional license, two (2) years or less is recommended.
Although, ten (10) years were allowed for the sale of a business and restricting the seller from entering the same industry within a 100-mile radius (Gann v. Morris (1979)).
Blue Pencil Rule
Blue penciling is allowed in Alaska and allows the courts to modify the language in an unreasonable non-compete and make it reasonable.
Source: Olliver/Pilcher Insurance v. Daniels (1985), Valley Med. Specialists, 982 P.2d at 1281 (1999))
Related Forms
---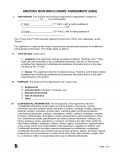 Arizona Non-Disclosure Agreement (NDA)
Download: PDF, MS Word, OpenDocument
---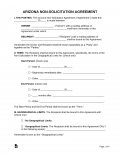 Arizona Non-Solicitation Agreement
Download: PDF, MS Word, OpenDocument
---