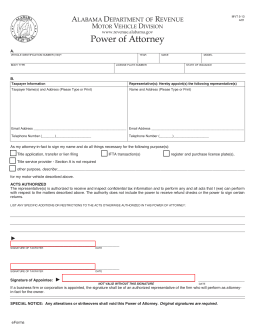 4.7 Stars | 32 Ratings
833 Downloads
Updated August 08, 2023
An Alabama Motor Vehicle Power of Attorney Form (MVT 5-13) is a document that appoints a representative to handle title applications (or transfer or lien filings), IFTA transactions, registering and purchasing of license plates, and any other described purpose such as selling a vehicle on a person's behalf.
The form will need to be presented at the Office of the Motor Vehicles (OMV) (View Locations) when the representative decides to act in the presence of the principal.
Signing Requirements – Notary Public
How to Write
1 – Download The Alabama DMV Form On This Page
The DMV Form on this page is the required paperwork a Vehicle Owner must utilize to appoint a Representative with Principal Powers over his or her Vehicle. You may download this form and enter information directly on the screen with the right program or you may print it then Type in the information requested.
2 – The Header Will Require Vehicle Information Supplied

In the header area, the details of the vehicle will need to be inputted by the principal. The Vehicle Owner/Principal must record the Vehicle Identification Number (VIN), Year, Make, Model, Body Type, License Plate Number, the State of Issuance in the appropriately labeled spaces in the first two rows.

3 – The Principal Vehicle Owner And Representative Information Should Be Clearly Presented

In the next section, the Taxpayer's (Principal)  Name and Address should be documented. This may be done in the box labeled "Taxpayer's Name(s) And Address (Please Type Or Print)."

The Representative's information will need to be entered as well. Record his or her Name and Address, Email Address, Telephone Number, and Fax Number under the column heading "Representative(s): Hereby Appoint (s) The Following Representative(s)."

4 – Additional Appointments Or Limitations To The Representative's Principal Powers May Be Defined

The principal will need to describe the powers they would like the representative to have by checking the boxes that apply to the principal's needs. If there are any other acts authorized that the principal they should be written for the clerk at the Motor Vehicles Department.

5 – The Principal Vehicle Owner's Notarized Signature Will Finalize This Appointment

After the form has been completed it should not be signed until there is a notary public that is present. Once the Vehicle Owner (Principal) is in the presence of a Notary Public, he or she should sign his or her Name and enter the Date of Signature. The notary will need to verify the identity of the principal and after it has been signed the form is valid for use at any location.