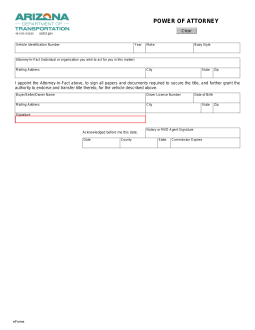 4.8 Stars | 42 Ratings
804 Downloads
Updated June 02, 2022
An Arizona vehicle power of attorney (Form 48-1001), offered by the Arizona Department of Motor Vehicles (DMV), allows a principal to grant an agent the power to take and transfer titles of any vehicles owned by the principal. This usually becomes important in the event that the principal becomes disabled or incapacitated, but the document also allows the principal the ability to immediately transfer those powers as soon as the documents have been signed.
How to Write
1 – Download and Print At least Two Copies of Form
The ADOT Power of Attorney form may be saved by clicking on the PDF button on the right. The browser will prompt you to save this document. You may enter the information onscreen with a PDF program or you may print it then enter the information. Retain at least one copy for your records.
2 – Present the VIN
In the "Vehicle Identification Number" box in the upper left-hand corner of the page, enter the VIN of the automobile at the heart of this arrangement. Then, report the "Year," "Make," and "Body Style" in the appropriately designated areas in this row.

3 – Provide the Attorney-In-Fact's Information
The individual (or organization) receiving Principal Authority regarding the vehicle listed in the first row of this form is referred to as the "Attorney-In-Fact." Record this party's Name in the box labeled "Attorney-In-Fact" in the second row of this document.

Locate the third row of this document, labeled "Mailing Address," then enter the Full Mailing Address the Attorney-In-Fact where this individual or organization may be reliably contacted by Mail. The first box is strictly for the Building Number/Street/PO Box. The second box will require the City while the fourth and fifth will require the State and Zip Code (respectively) associated with the reported Mailing Address.
4 – Present Principal Vehicle Owner's Information
The last table on this page will require information on the Vehicle Owner giving Authority. Locate the box labeled "Buyer/Seller/Owner Name." Any of the parties described may be a Principal so far as they have the right to grant Authority regarding the concerned vehicle. Enter this individual's Full Name in this area. Then, report this individual's "Driver License Number" and "Date of Birth" accordingly.

After Identifying the Principal, it is necessary to report this party's Mailing Address (Building/Street/Apt.), City, State, and Zip Code. This should be supplied using the appropriately designated areas immediately following the Principal's Identity.

The Principal must provide his or her Signature in the "Signature Box." This should be done in the presence of a Notary or MVD Agent.

The verifying party has a designated area following the words "Acknowledged before me…" Meet with a notary public, or DMV agent, and bring a neutral witness. Make sure this area is filled out completely only by such a party.