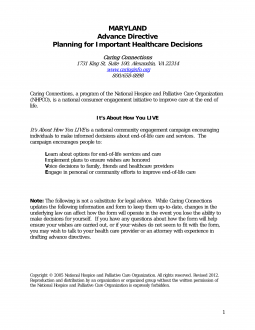 A Maryland advance directive is a document that allows a person to select a health care agent and choose their end-of-life treatment options. The form is required to be signed with two (2) witnesses and kept in a safe and accessible place.
Four (4) Parts
Selection of Health Care Agent ("Medical Power of Attorney")
Treatment Preferences ("Living Will")
Signature and Witness
After my Death
Table of Contents
Laws
Statute – § 5-601 to § 5-618 (Maryland Health Care Decisions Act)
Signing Requirements (§ 5-602(c)) – Two (2) witnesses.
State Definition (§ 5–601(b)) – "Advance directive" means a witnessed written or electronic document, voluntarily executed by the declarant in accordance with the requirements of this subtitle.
Versions (5)
---
Download: Adobe PDF, MS Word, OpenDocument
---
Download: Adobe PDF
---
Download: Adobe PDF
---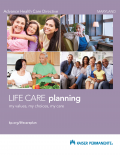 Kaiser Permanente
Download: Adobe PDF
---
Download: Adobe PDF
---
How to Write
Download: Adobe PDF, MS Word, OpenDocument
Maryland Principal Identity
(1) Name And Birth Date Of Maryland Principal. The full name of the Maryland Patient who shall act as this directive's issuing Principal or Declarant should be solidified before any declaration statements are made. Thus, name yourself as the Maryland Principal by displaying your name and "Date Of Birth" where each is requested.
A. Selection Of Primary Agent
(2) Maryland Primary Agent Name. The Primary Maryland Health Care Representative or Agent can also be referred to as a Medical Attorney-in-Fact. This individual will be the Recipient of the medical treatment decision-making powers you possess as the Patient. He or she will be able to consult with Maryland Physicians in your name and with your authority to determine the next course of treatments when you are unable to represent yourself. If desired, he or she can also be given such power immediately. Deliver the full name of your Maryland Health Care Agent to this document.
(3) Primary Agent Address And Telephone Numbers.  Dispense the address, home telephone number, work telephone number, and (if applicable) cell phone number needed to identify and contact the Maryland Primary Agent.
B. Selection Of Back-Up Agents
(4) First Back-Up Agent Name. Unless contact is initiated under your direction, Maryland Doctors will use this document not only to view your Health Care Agent's information and your directives but also to contact him or her when you are unconscious or incognizant or unable to communicate and in need of medical treatment. Thus, your health could be at risk if Maryland Doctors seek out your Primary Health Care Agent but are unable to reach him or her or find that he or she cannot represent you (i.e., he or she may have been revoked in the meantime or refuses). This scenario can be handled beforehand in the next section by naming a Back-Up Agent to take over this role should such a scenario occur. To take advantage of this option, produce the full name and contact material for the Back-Up Agent you wish Maryland Doctors to seek and consult with for your medical preferences should your Primary Agent become ineffective for this task.
(5) First Back-Up Agent Address And Telephone Numbers.
(6) Second Back-Up Agent Name. An added precaution to take to ensure representation of your medical decisions when you are unconscious and uncommunicative is to name a Second Back-Up Agent to assume the Primary Health Care Agent role in Maryland should both your Primary and First Back-Up Agent be ineffective in their duties, unavailable, or simply refuse to hold this obligation. If this happens, then the Second Back-Up Agent that you name will be able to use this document to gain the principal power to consult with Maryland Doctors on your behalf when treatment must be discussed and decided upon.
(7) Second Back-Up Agent Address And Telephone Numbers.
C. Power And Rights Of Health Care Agent
(8) Powers Subject To Conditions And Limitations. Naturally, a significant discussion regarding the types of decisions and the actions that you approve of your Primary Maryland Medical Agent to take in your name will be expected by any Medical Professional viewing this paperwork for your appointments and directives. Therefore, a section discussing the treatment decisions and the principal actions your Primary Agent can undertake on your behalf had been included. Review this list. If any of the definitions applying to the Maryland Primary Agent's scope of medical principal powers should be restricted from his or her abilities, limited, or even be conditional, then utilize the area provided below this power list to put this on paper. Any limitations or restrictions on the use of your principal power, that you discuss in this document, will then be stricken from the Maryland Primary Health Care Agent's scope of principal authority exactly as you instruct. For instance, (referring to item 4), you may not wish your Health Care Agent to have the right to demand to ride in an ambulance with you should you require immediate hospitalization but do wish to grant him or her the right to visit you in that Hospital or other Health Care Facilities (i.e., "Agent may not…"). If you do not wish to limit your Primary Health Care Agent's principal powers, then you may leave this section unattended. Make sure that you fully comprehend the actions your Primary Agent can take through this list even if this requires a consultation with a Professional such as your Physician or Medical Attorney (Lawyer).
E. People My Agent Should Consult
(9) Concerned Or Involved Parties. As the Maryland Principal, you can request that your Primary Health Care Agent consult with loved ones and other interested Parties regarding what the next stage of your treatment should be without obligating him or her to follow their advice. Any such Parties to consult with should be identified by name and telephone number in the section provided. If there are no such Parties, then you may leave this section blank.
F. In Case Of Pregnancy
(10) Maryland Pregnancy Directive. A Maryland Patient who becomes incapacitated and lacks the ability to communicate while she is pregnant can use this document to give specific instructions on her medical treatment goals as well as the procedures she would consent to or refuse using the next section. This section can be left unattended if it is inapplicable.
H. Effectiveness Of This Part
(11) Event Of Effect. Your Maryland Primary Agent and any Medical Professional that must recognize the power you grant to him or her must be given a date marking when the principal power to make medical treatment decisions granted to the Primary Agent become effective or active. You can set this date to be the same as the signature date for this directive by initialing Statement 1 or you can initial Statement 2 to declare that these powers will become effective as soon as you are diagnosed as (temporarily) lacking the ability to communicate by an attending Physician or declared permanently unable to communicate by your Primary Care Physician.
Part II. Treatment Preferences ("Living Will")
A. Statement Of Goals And Values
(12) Maryland Declarant Concerns. The second part of this directive will seek out your instructions regarding medical care given when rendered unconscious and experiencing an untreatable medical condition that will result in death. This part of the document is optional, however, if you decide to set your medical care preferences, set up your delivery of consent, or issue refusals to treatment, then consider attending to the first section. This area is not required but will allow you to directly address Maryland Medical Professionals, Family Members, Loved Ones, and concerned Parties regarding the concerns behind your medical decisions.
B. Preference In Case Of Terminal Condition
(13) Level Of Treatment When Terminal. Maryland Medical Professionals, as a default, will seek to keep their Patients alive for as long as humanly (and ethically) possible. If you suffer from a terminal condition that results in your dependence on life-support procedures (i.e., intubation or dialysis) then one of three statements should be selected. Initial Statement 1, if you wish Maryland Doctors to focus on comfort and allow a natural death. This first choice will also inform Maryland Physicians that you refuse artificially delivered water and nutrients (i.e., intravenously). Statement 2 sets your directive to allow for a natural death as well as focus on comfort but documents your consent to receive your water and nutrients artificially. If neither of these accurately defines your wishes because you want to instruct Maryland Physicians that life-support procedures should be employed indefinitely and that you wish your water and nutrients delivered in any way needed, then initial Statement 3.
C. Preference In Case Of Persistent Vegetative State
(14) Treatment Directives When Permanently Unconscious. If a Maryland-licensed Physician declares that you are in a persistent vegetative state that has little to no chance of recovery or are altogether unable to understand your environment and interact with other people because you are incognizant then, your directives on life-prolonging treatment will be sought. You can deliver instructions to be kept comfortable during a natural death while withholding medically delivered food and water by initialing Statement 1 of this directive or indicate you wish a comfortable natural death but wish to be kept well-fed and hydrated (even through artificial means) by initialing Statement 2. If you do wish Maryland Medical Professionals to maintain your life and nutrition levels through any legal medical means available, then initial Statement 3.
D. Preference In Case Of End-Stage Condition
(15) Medical Directives When Death Is Imminent. This paperwork enables you to set your preferences over life-support procedures during the final stages of a fatal illness (when death will arrive shortly or immediately after being taken off of life support). To request a comfortable or natural death that is hastened by denying the administration of food and water through an IV or tube, you must initial Statement 1. If you want your fluid and nutrient level to be maintained but wish to deny any life-prolonging maneuvers to allow a comfortable and natural death, then initial Statement 2. Otherwise, initial Statement 3 to indicate that you consent to all life-support measures needed to prolong death and extend life, including the medical administration of nutrients and fluid, by initialing Statement 3.
F. In Case Of Pregnancy
(16) Treatment Preferences If Pregnant. If you are still in your child-bearing years and wish to issue direct treatment instructions should you be unable to communicate and suffering a traumatic or life-threatening medical condition, then you may set them to paper in the space provided. This will let Maryland Medical Professionals of the treatment goals you expect when pregnant along with any specific treatments that you would consent to or deny.
G. Effect Of Stated Preferences
(17) Maryland Directives Power. Naturally, there may be relevant medical advances or changes in your personal life that may occur between the time you sign your directives to effect and the time when you become unable to communicate your treatment goals and preferences. If you intend to allow Maryland Medical Professionals and your Primary Health Care Agent some flexibility to account for this passage of time when deciding on your next course of treatment, then initial Statement 1. However, if you prefer these instructions to be followed as strictly as possible by Maryland Health Care Professionals and your Primary Agent then initial Statement 2.
Part III. Signature And Witnesses
(18) Signature Of Declarant. As the Maryland Declarant, your witnessed signature is the instrument required to make these directives effective. Sign your name to the completed form as two Witnesses watch.
(19) Maryland Declarant's Signature Date. Produce the current date as soon as you sign your name, then give this paperwork to the attending Witnesses.
Witnessed Signing
(20) Witness Signatures. Both Witnesses will need to provide confirmation that you have signed this document with a full comprehension and understanding of this action. To do this, each Witness must sign his or her name, furnish the current calendar date, and dispense the phone number needed for contact regarding his or her confirming signature.
After My Death
Part I: Organ Donation
(21) Maryland Organ Donor Identity. An additional issue that can be made with this package will concern your directives after death. This is an optional area that will cover topics ranging from anatomical gifts to the post-death wishes you have for your body. To begin, distribute your full name and "Date of Birth" across the top of the page.
Part I. Organ Donation
(22) Principal-Authorized Anatomical Donations. The first part of the optional declaration seeks your status as an Organ Donor in the State of Maryland. If you wish to make your organs, tissues, and body parts available upon death as an anatomical gift, you must provide initials of consent. Additionally, you must either initial your consent to give any organ, any tissue, or eyes or, to place limits, simply list the body parts, organs, and body parts you consent to donating in the space provided.
(23) Anatomical Gift Goals. Your initials will also be needed to authorize the reason a Recipient requires your anatomical gift. You can approve of anatomical donation goals for transplantation, therapy, research, medical education, or for any legal reason made by providing your initials to the goals listed. Bear in mind, that if you approve of an anatomical gift made for any legal purpose, then the previous items on this list can be left unattended.
Part II Donation Of Body
(24) Medical Study. Specific consent must be given to donate your body to medical science. To grant this consent, initial the statement declaring this as an authorized purpose of your anatomical donation.
Part III Disposition Of Body And Funeral Arrangements
(25) Custody Of Your Body. The Party or Entity that shall take control of your body after death can be named with your authority to do so. If you wish the Maryland Primary Health Care Agent appointed above to take control and possession of your body upon death, initial the first statement provided.
(26) Designating Post-Death Custody. If preferred, you can provide the identity, address, and phone numbers of the Party (other than your Health Care Agent) that you grant the authority to take possession of your body upon death.
(27) Post-Death Arrangements. You can set specific instructions regarding your funeral arrangements to the space provided. If you have already made arrangements for a resting place, then it is strongly suggested that the information needed to contact the concerned Entity is dispensed along with the location of the paperwork that was involved.
Part IV Signature And Witnesses
(28) Signature Of Donor. Sign and date this document as the Maryland Declarant and Organ Donor setting post-death instructions to paper. Make sure this act is performed before two Witnesses.
(29) Signature Of Witnesses. The Witnesses who have watched you sign your post-death directive must also sign their names. This will provide testimony that you were of sound mind at the time of signing. In addition to their signatures, the Witnesses must deliver the current date and their contact telephone numbers to satisfy the signature requirements of this declaration.
Related Forms
---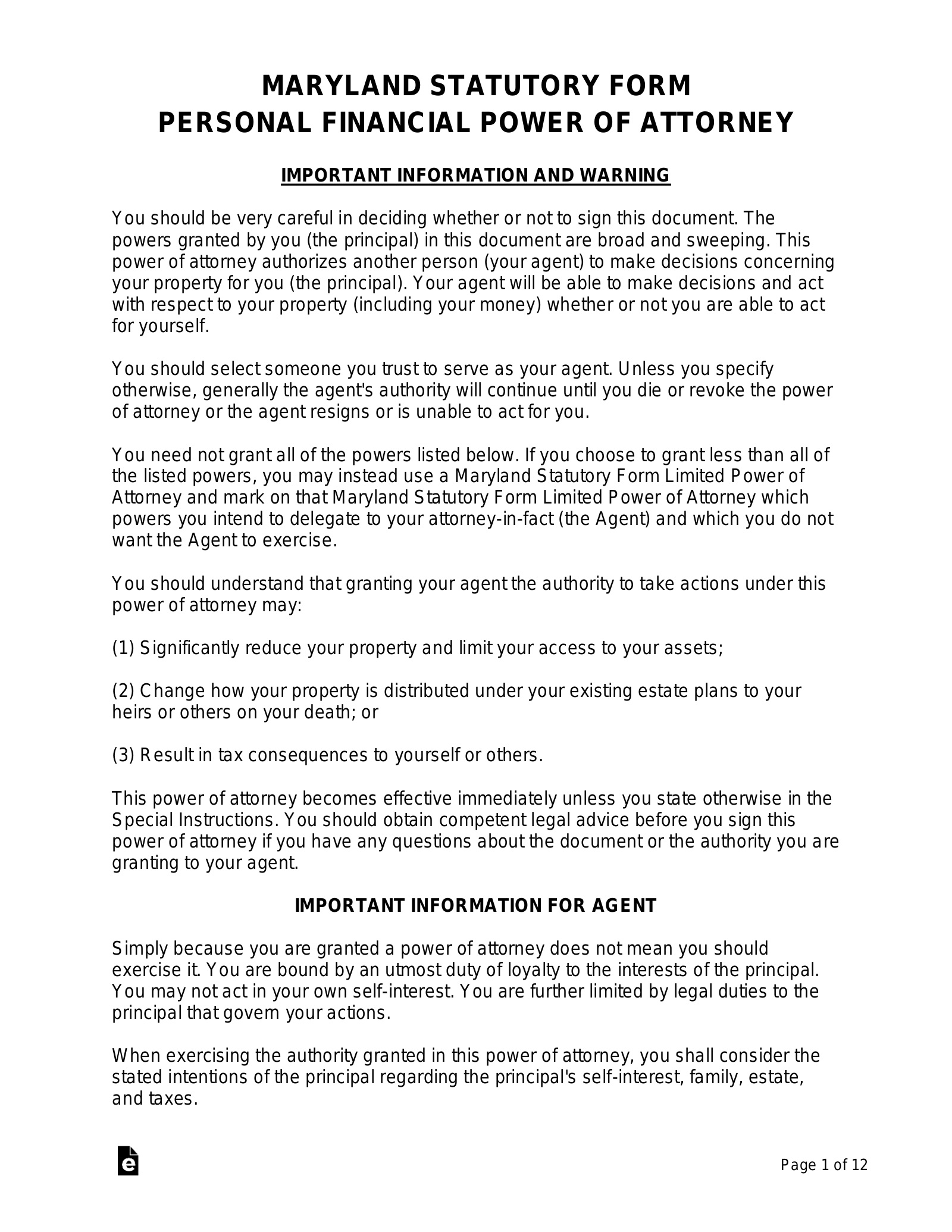 Durable (Financial) Power of Attorney
Download: Adobe PDF, MS Word, OpenDocument
---
Download: Adobe PDF, MS Word, OpenDocument