A Maryland durable power of attorney is a statutory document that can be used to appoint a person ("agent") to carry out someone else's ("principal") financial affairs and other requests. Such actions would be performed on the principal's behalf and will remain in effect if the principal becomes incapacitated ("durable"). The agent will have access to all the principal's accounts and finances, so it should be considered necessary to choose a trusted person for this role.
Signing Requirements (§ 17-110) – Notary public and two (2) witnesses.
Versions (2)
---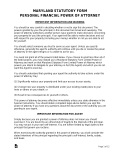 Statutory Durable Financial Power of Attorney
Download: Adobe PDF, MS Word, OpenDocument
---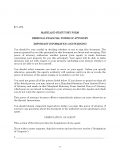 Attorney General of Maryland Version
Download: Adobe PDF
---
Advance Directive (Medical POA) – This POA is used to allow a trusted family member or friend to make your medical decisions for you when it becomes impossible to do so yourself.
How to Write
Download: Adobe PDF, MS Word, OpenDocument
Step 1 –