Updated August 11, 2023
A Maine health care advance directive gives an individual the opportunity to choose a health care agent to make decisions in the event they are unable to do so on their own. In addition, the option to cover end-of-life preferences, burial arrangements, and other common concerns have been included on this form. An advance directive is a medical power of attorney and living will combined into a single form.
Advance Directive Includes
Part 1. Power of Attorney for Health Care
Part 2. Special Instructions
Part 3. Primary Physician
Part 4. Donation of Body, Organs or Tissues at Death
Part 5. Instructions About Funeral and Burial Arrangements
Part 6. Signing the Form
Part 7. Instructions to Emergency Medical Services
Attachment. Do Not Resuscitate Order (DNR)
Laws
Statute – § 5-803
Signing Requirements (§ 5-803(2)) – Two (2) adult witnesses, none of whom are the agent.
State Definition § 5-802(1) – "Advance health care directive" means an individual instruction from, or a power of attorney for health care by, an individual with capacity.
Versions (6)
---
Download: PDF
---
Download: PDF
---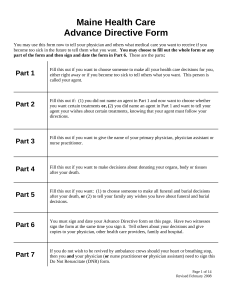 Maine Hospital Assoc.
Download: PDF, MS Word, OpenDocument
---
Download: PDF
---
Download: PDF
---
Download: PDF
How to Write
Download: PDF, MS Word, OpenDocument
Choosing An Agent
(1) Principal Name. The directives you define in this paperwork must be properly attached to the correct Patient in the State of Maine. A production of your full name should be made at the beginning of this paperwork so it can be clearly identified on sight.
(2) Maine Health Care Agent. Now, a presentation of the full name of your Health Care Agent is needed. This will be the Party you authorize to deliver your medical decisions to Physicians in the State of Maine should be you be unable to speak for yourself and require medical attention.
(3) Relationship Held. Naturally, the Maine Health Care Agent being appointed will be a person that you trust enough to be aware of your medical preferences and carry them out while you are incapacitated and unable to communicate. Provide his or her relationship to you where requested.
(4) Maine Health Care Agent Address And Phone Numbers.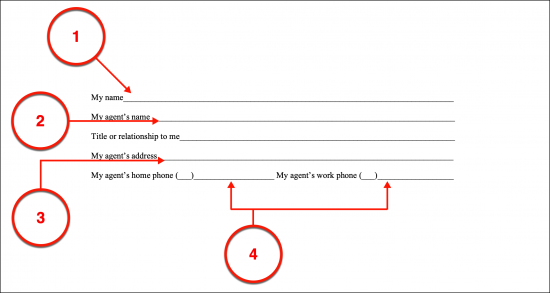 Health Care Agent Choice 2 And Health Care Agent Choice 3
(5) Choice 2 Health Care Agent Name And Contact. Maine Physicians will seek out your medical decisions on certain medical procedures even if your Health Care Agent is unavailable, unwilling, or has had his or her power revoked. Thus, a Second Choice for your Maine Health Care Agent can be made using this document. Such an appointment will then be your Health Care Representative or Agent as a replacement for your First Choice. To properly set your Second Choice Maine Health Care Agent, record his or her name, discuss how he or she is related to you then document the address and telephone number where your Second Choice for Health Care Agent can be reliably reached.
(6) Choice 3 Health Care Agent Name And Contact. This paperwork takes into consideration a circumstance where your First and Second Choice for Main Health Care Agents are both unavailable or unable to represent you effectively. By setting up a Third Party as your Choice # 3 for Health Care Agent in this paperwork, he or she can be granted the power to represent your medical wishes should both your other Agents fail or otherwise ineffective or revoked.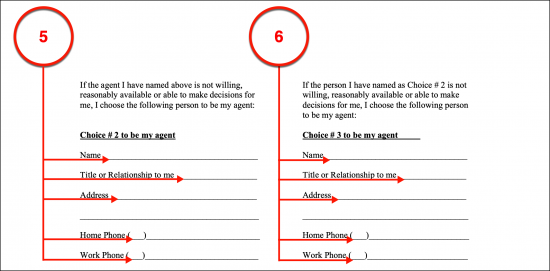 Updating With A Revocation
(7) Revoked Agent. As mentioned earlier, there may be a reason to revoke the powers this document grants to one or more of your Maine Health Care Agents. It is strongly suggested that you put a revocation of your Maine Health Care Agent's powers in writing in addition to making sure that every Maine Medical Professional is kept abreast. This document can be used to revoke the powers given to one or more of your Agents by listing the Revoked Party's full name to the statement made.
(8) Signature Update. Your signature, as the Maine Principal, must be used to revoke your Maine Health Care Agent's powers.
(9) Date Of Signature Update. Your signature date shall be used to define when your Maine Health Care Agent's medical powers were canceled or revoked. Be advised, that this section should only be completed when the intention to revoke or cancel this form or the powers granted to one of the Health Care Agents.

When Your Agent Can Start Making Decisions For You
Select Item 10 Or Select Item 11
(10) Upon Incapacitation. Select the first statement if your Maine Health Care Agent has your authorization to begin presenting Medical Professionals with your treatment preferences only when you become uncommunicative while in need of medical attention.
(11) Immediate Grant Of Power. If preferred, you can grant the Maine Health Care Agent the power to represent you with Physicians and other Medical Professionals immediately upon the execution of this document. It should be mentioned that your medical decisions cannot be overridden by your Maine Health Care Agent however, he or she can withhold specifics regarding medical treatments upon your request and perform other functions under your direction (i.e., accessing your medical history or records).

Nominating A Guardian
(12) Make An Agent Nomination For Guardian. At times, the court system in the State of Maine may determine that a Guardian should be assigned specifically to safeguard your person. A Maine Court-Appointed Guardian's power can extend to adapt to the needs of your condition, thus enabling decisions past your medical treatment (i.e., deciding upon your place of residence or obtaining outpatient services). If desired, select the nomination statement naming your Maine Health Care Agent to take up the Guardian role should the courts approve. Ultimately the decision on who will be appointed as your Court-Appointed Guardian in the State of Maine is strictly up to the courts.
(13) Nominate A Separate Party For Guardian. If you do not wish to nominate your Health Care Agent for the Court-Appointed Guardian role in Maine but would like to nominate a different person, then you may do so utilizing the area provided to dispense your Nominee's identity as well as the relationship he or she holds to you (i.e. Parent, Sibling, etc.). Naturally, the contact information (address and phone numbers) needed to reach your Nominee for Court-Appointed Guardian should be produced as well.
Life-Sustaining Treatment Choices
Select Item 14 Or Item 15
(14) Choice Not To Be Kept Alive. The State of Maine allows Patients who have been diagnosed with a terminal condition that will result in death because no known treatment will effect a cure or declared by a Physician as being permanently unconscious the right to refuse treatment through either the Patient's Health Care Agent or direct medical instructions. The next portion of this document shall enable you to definitively refuse treatment when you have been diagnosed with one of these conditions and unable to communicate. Be advised that, as the Maine Declarant, should you directly refuse treatment in this scenario, this decision will override your Health Care Agent's directions if they are different. This will be the case even if your Health Care Agent becomes aware of a new treatment with significant effects.
(15) Choice To Be Kept Alive.  You can also override your Health Care Agent's decision by declaring that you wish to receive life-prolonging treatment regardless of the effects this will have on your quality of life post-recovery or while dependent on life-support systems. Notice, that an area has been included in this choice so that any additional comments, limitations, or restrictions on treatment you wish imposed on this decision can be applied properly through a direct report of your medical instructions when diagnosed as permanently unconscious or with an untreatable condition or disease.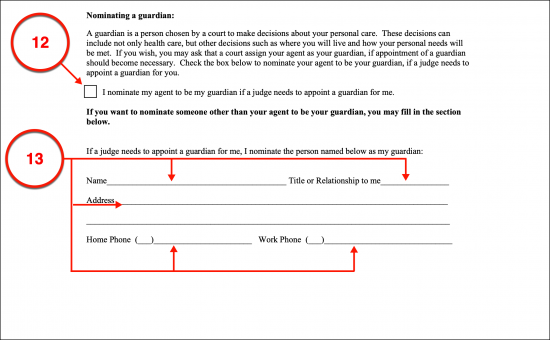 Life-Sustaining Treatment Choices For Severe Dementia
Select Item 16 Or Item 17
(16) Choice Not To Be Kept Alive. Some neurological conditions have been known to cause irreversible and severe dementia which prevents Patients from being aware of their surroundings, can cause harmful delusions, or impair memory to a degree where loved ones are not recognized, or day-to-day maintenance needs cannot be completed. When this happens, you may need to be dependent on life-prolonging techniques to stay alive even while incognizant. If you do not want Maine Physicians to employ life-prolonging procedures when you are in the advanced stages of a neurological disease such as Alzheimer's Disease and others that cause severe dementia, then you must select the first choice presented.
(17) Choice To Be Kept Alive. You can declare that you wish to receive any legally available medical treatment carrying the goal of prolonging your life (i.e., life support systems such as dialysis or intubation) if this is needed to keep you alive while you are in the late stages of Alzheimer's Disease or severe dementia. Select the appropriate statement to make this declaration, keeping in mind, that such an action will take precedence over any directions given by your Maine Health Care Agent.

Tube Feeding
Select Item 18 Or Select Item 19
(18) Denying Tube Feeding Directive. An important distinction that should be made when discussing the topics above is whether you wish Maine Doctors to maintain your hydration and nutrition levels when you are unable to eat on your own or receive hand assistance. You may deny any artificial administration of water or nutrients by selecting the declaration statement provided. Space is provided to deliver additional instructions (such as specific circumstances or conditions that will effect when you wish artificially delivered water and food denied).
(19) Consenting To Tube Feeding. If you wish to consent to receive an I.V., a tube, or other artificial means to deliver water and nutrients when you cannot intake food and water independently, this can be declared. Some Patients will seek a trial period where water and food may be medically administered in the hopes of a recovery. You can set such a condition by directly reporting this decision in the space provided.

Relief From Pain
(20) Your Instructions On Pain Management.  Unfortunately, quite a few medical conditions can cause an enormous amount of suffering and pain in a Patient. The State of Maine will accept a declaration made on paper (through this document) that you wish to receive pain management so that being kept comfortable and as free from pain as possible is a significant goal of any considered treatment. Once you select the checkbox corresponding to the statement accepting pain management techniques to be employed, you may continue in the space provided to give additional instructions. For instance, there may be side effects to certain pain medications that you wish to avoid unless under the direst of circumstances.

Other Directions
(21) Your Additional Instructions. You have an opportunity to directly address Maine Physicians and Medical Professionals directly at length. Since this document shall be sought and followed, it is important that you are as comprehensive as possible therefore, it is recommended that you consult with a Physician in the State of Maine regarding your current potential medical conditions and the treatment options that would be available in this state. Your direct instructions can be as general or as specific as you prefer but should serve to either edit or compliment the declarations thus far rather than contradict them. Any contradictions in your treatment choices and directives can cause enough confusion as to be counterproductive to your goals.

Part 3 Primary Physician
(22) Name Of Primary Physician. Generally, attending Medical Providers in Maine will seek to get as much background information as possible regarding your medical history and current condition. To this end, supply the information needed to identify and locate your Primary Physician.
(23) Address And Phone.
(24) Name And Contact For Additional Physician. If your Primary Physician refuses a request to discuss your case or is unavailable at a time when information is needed, then there could be drastic consequences. He or she may, for instance, be attending a complicated medical procedure or simply out of town and unreachable for a significant length of time. Make sure that Maine Physicians in the future can contact another Medical Professional who is familiar with you by recording a Secondary Physician's name and contact material.
(25) Nurse Practitioner Or Physician Assistant. Quite a few Medical Facilities, including Private Practices, will use their Nurse Practitioners or Physician Assistants as the first line of contact with other Medical Institutions and Patients. If there is a Nurse Practitioner or Physician's Assistant who is familiar with your case and works for your doctor then you may list them as a contact by name, address, phone number. It is advised that you gain permission to use any of the above Medical Professionals as a point of contact and reference before presenting their information to this section. While this is not mandatory, it is considered a valuable courtesy.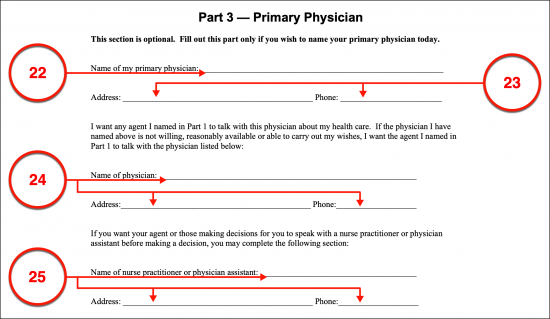 Part 4 Donation Of Body, Organs Or Tissues At Death
Select Item 26 Or 27
(26) Opting Out Of Organ Donation. Your decision on organ donation and other anatomical gifts in the State of Maine, made after death, can be documented in the next section. If you do not wish to be a Maine Organ Donor, indicate this refusal with a mark in the first statement's checkbox.
(27) Approving An Organ Donation. To grant your consent to make an organ donation or anatomical gift in the State of Maine, one of three statements must be applied using this paperwork. You can declare that you consent to donate your entire body (at once), any body parts, organs, or tissues as needed, or you may dictate exactly which organs and tissues you wish to make available for donation. Space will be provided for this final donation type so that you may name each organ and body part (or tissue) that you approve as an anatomical gift.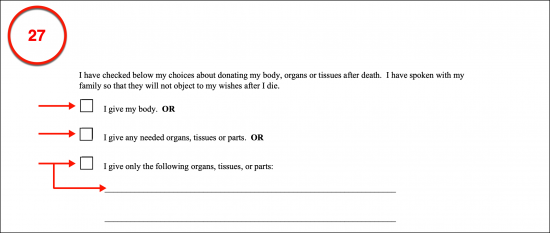 (28) Attaching An Authorized Purpose For Organ Donation. Your decision on why an organ donation or anatomical gift should be made can also be documented. As the Maine Organ Donor, you can approve of anatomical donations to be made only for transplant, therapeutic purposes, and/or for research and education. If you have made any arrangements to donate your body, organs, or tissues to a Medical School, Professional, or Facility, then produce a record of this Entity's name and address. You may also use this space to name such an Anatomical Donation Recipient that you prefer to receive your body, organs, or tissues for study and research.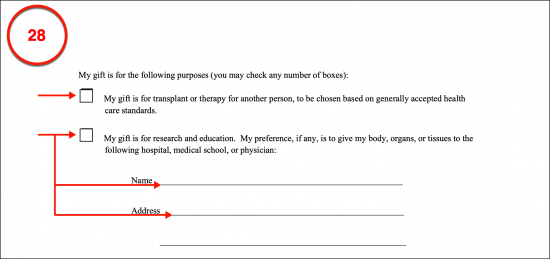 Part 5 – Instructions About Funeral And Burial Arrangements
(29) Delivering Custody Of Your Body. The whereabouts of your body after death can be decided by you as the Maine Principal issuing this document. If you have decided and made arrangements that a specific  Person or Entity should take control of your body upon death, then make this declaration by marking the provided checkbox and record the name and contact information for this Recipient.
(30) Laying Out Specific Wishes For Post-Death Arrangements. You may have specific goals or wishes regarding your body. In this case, you will be the one in control of your body after death however, you must make sure that the arrangements you made are reliable and remain so upon death. Once you have made (and confirmed) arrangements for your body after death, document your post-death directives to be followed in the State of Maine directly to the space provided.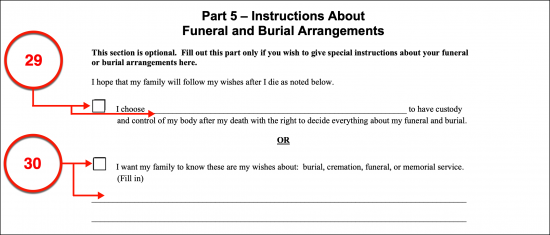 Part 6 – Signing The Form
(31) Sign Your Name. Your Health Care Agent appointment and living will declarations making up this package must be proven as your instructions. The State of Maine requires that you sign the completed directive as two adult Witnesses unrelated to you, the Facilities where you receive care, and unnamed as your Health Care Agent or Guardian Nominee observe your act of execution. Gather with these Parties then sign your name. If possible, gather your Witnesses with a Notary Public for your signing.
(32) Print Your Name.
(33) Date Your Signature. The current date when you sign your name must be dispensed with your signature.
(34) Your Address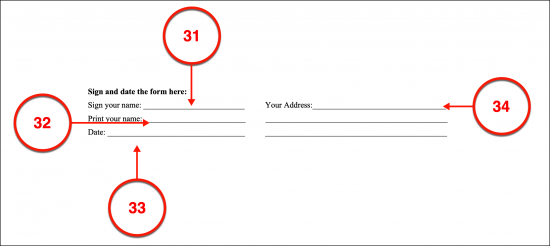 First Witness
(35) First Witness's Signature. Each Witness shall have a definitive signature area where he or she must provide a signature. This act of signing will inform future Reviewers that the Signature Witness has seen you sign this document, meets the criteria set up by the State of Maine to make this testimony, and that you appeared to be cognizant and fully aware of what you signed. The First Witness should sign his or her name for this purpose after you have signed yours, then continue to furnish several additional articles to satisfy his or her signature area.
(36) First Witness Printed Name And Signature Date.
(37) First Witness Address.
Second Witness
(38) Second Maine Witness Signature. The next Witness to sign this form must also meet the qualifications expected by the State of Maine to perform this function and be able to honestly testify that he or she watched you sign the directive containing your medical instructions with a clear understanding of your action. The Second Witness should sign his or her name where requested to complete his or her function then continue with his or her printed name, contact information, and signature date.
(39) Second Maine Witness Printed Name And Signature Date.
(40) Second Maine Witness Address.Notary Acknowledgment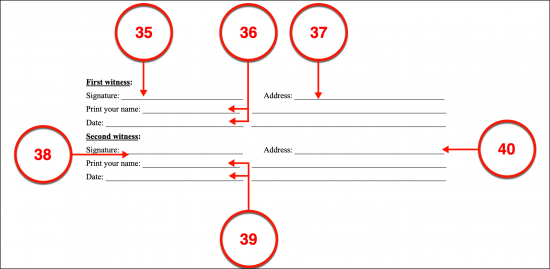 (41) Notarization Of Signature. As mentioned, having a Notary Public observe then notarize your act of signing your directives as the Maine Principal behind them is not mandatory in this state. Quite a few states however place this requirement on executing these types of medical decisions, therefore, it is recommended that you obtain a Notary Public for the signing so that he or she can complete the final section. If only Witnesses will be used to verify your signing, then the "Notary Acknowledgment" section may be left unattended.

Do Not Resuscitate (DNR) Directive
(42) Maine Declarant Name. An optional declaration can be made through this package. If you do not wish Maine Emergency Personnel and First Responders to attempt to restart your heart and/or lungs should either or both cease functioning, then you may issue a Do Not Resuscitate Order, commonly known as a DNR This document will inform First Responders (i.e., Ambulances) not to attempt to revive you should you experience cardiopulmonary failure causing your heart and lungs to cease functioning. To begin, identify yourself as the Maine Declarant behind this order.

(43) Determine An Expiration Date. The instruction to refrain from resuscitating a nonfunctioning heart and lungs will almost always result in death or severe long-term impacts on any recovery made. In the State of Maine, you can declare that this order will remain in effect until you revoke it or that it should expire as of a certain date since it will no longer represent your wishes. Mark the statement that best defines your intention making sure to enter any date of expiration (if applicable) that will mark when this order terminates. Keep in mind, that if setting an expiration date, Maine Physicians will attempt to administer cardiopulmonary resuscitation to restart your heart and lungs as of that expiration date.

(44) Maine Declaring Patient Signature. You must sign this form with your Physician for it to be followed. If there are any questions regarding the execution of this form, Maine Emergency Personnel will likely administer CPR.
(45) Date Signed.

(46) Medical Professional Signature Requirement. The Physician, Nurse Practitioner, Physician's Assistant aiding your decision to issue this order must sign his or her name to confirm that a do not resuscitate order is appropriate to your situation. Be aware that while your Doctor's Office will have this paperwork readily available, Maine Ambulance Services and First Responders may not, thus it is recommended that you keep it on your person or obtain a medical bracelet or ID Badge that calls attention to the execution of your Do Not Resuscitate Order.
(47) Date Signed.
(48) Printed Name.
(49) Telephone Number.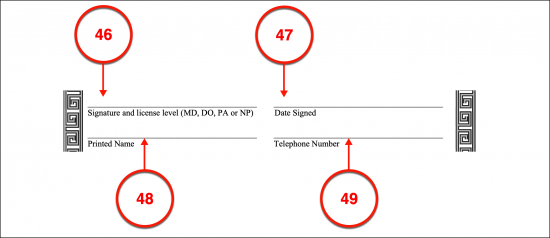 Related Forms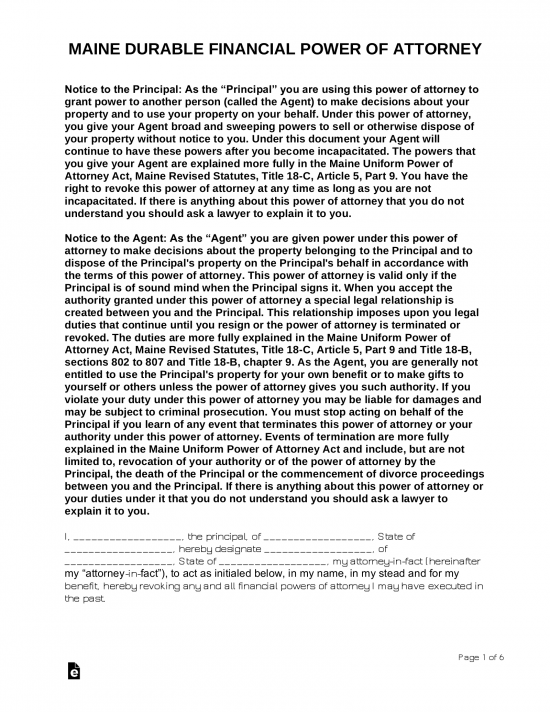 Durable (Financial) Power of Attorney
Download: PDF, MS Word, OpenDocument
---
Download: PDF, MS Word, OpenDocument