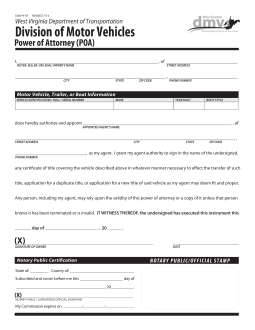 5.0 Stars | 5 Ratings
90 Downloads
Updated June 02, 2022
A West Virginia Motor Vehicle Power of Attorney (Form DMV-9-TR) is used by West Virginia vehicle owners who require that certain tasks be completed by an agent of his or her choosing. The Virginia DMV will allow a vehicle owner to empower an agent to handle matters that usually require the presence of the vehicle owner himself or herself. Once this paperwork is completed, the agent will have the ability to use the vehicle owner's name to handle licensing, registration, and/or transfers of ownership with the West Virginia Division of Motor Vehicles.
How to Write
1 – The Template Form To Delegate Authority Over A West Virginia Vehicle Should Be Acquired
The buttons on this page each link to a working copy of the Vehicle Agent appointment form. Use the labels on these buttons to pick the file type you want to work with then download it.
2 – Produce The Identity And Location Of The Principal Vehicle Owner
This form must have the full Name of the current Vehicle Owner entered on the first blank line.  

The Vehicle Owner's official Address as it is recorded on the books with the West Virginia Division Of Motor Vehicles should be recorded on the next available space. Finally, on the "Phone Number" line, fill in the Vehicle Owner's Daytime Telephone Number.
3 – Some Items To Properly Present The Principal's Vehicle Must Be Supplied To This Document
The next items of information this form requires will focus on the Vehicle the Principal owns. The table "Motor Vehicle, Trailer, Or Boat Information" will have a space dedicated to the presentation of the concerned Vehicle's "Vehicle Identification Or Hull Identification Number," the "Make" of the Vehicle,  its "Year Built," and its "Body Style." This information is mandatory for the purpose of this form.

4 – Officially Name The Principal's Agent Using the Declaration Statement
The person the Principal wishes to give Principal Vehicle Powers will have to be input on the line labeled "Appointed Agent's Name."

The Appointed Agent's Complete Address and Phone Number must then be supplied to the next two blank spaces.

5 – The Current Vehicle Owner's Notarized Signature Shall Execute The Terms Of This Document
Once all the information here has been verified as accurate and the Principal Vehicle Owner is ready to execute this document, he or she must locate the bold words "It Witness Thereof, The Undersigned Has Executed This Instrument This " then supply the Calendar Day, Month, and Year of the Calendar Date of Execution across the next three blank spaces.

Once the Signature Date has been furnished the Principal Vehicle Owner must Sign and Date the spaces labeled "Signature Of Owner" and "Date"

After the Principal Signing the attending Notary Public may use the "Notary Public Certification" section to notarize the execution of this form.