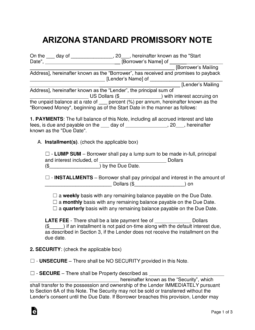 The Arizona promissory note templates are documents that solidify the act of a loan being offered by the lender to the borrower. Both the secured and unsecured versions record the parties' personal information such as their names and addresses as well as the specifics of the agreement such as interest rates, final due dates, and installment options.
Usury Rate – No limit for loan agreements in writing. If not in writing, the rate shall be 10% per annum.
Laws – § 44-1201
Types (2)
---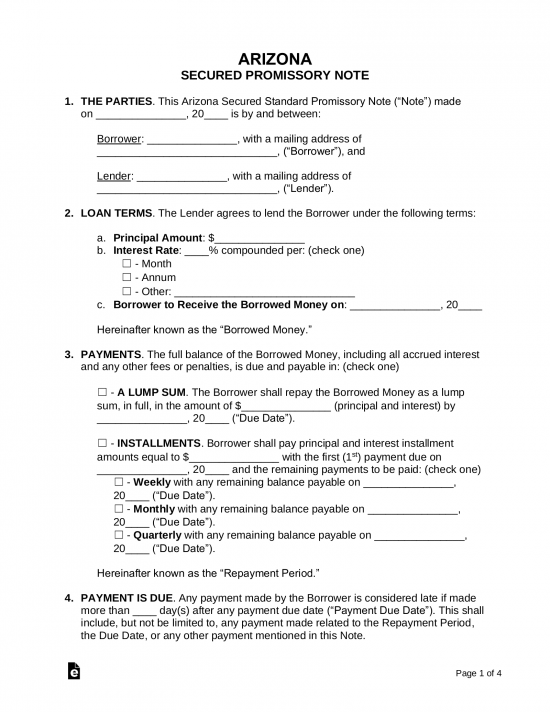 Secured Promissory Note – This version requires the borrower to relinquish a predetermined item to the lender if default occurs.
Download: Adobe PDF, MS Word (.docx), OpenDocument
---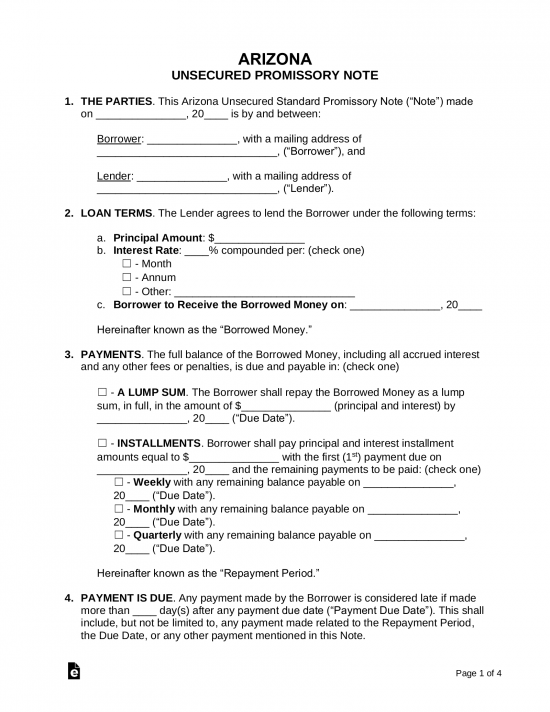 Unsecured Promissory Note – This note requires an elevated level of trust between the two parties, as the lender does not receive any securities if the loan results in a default.
Download: Adobe PDF, MS Word (.docx), OpenDocument
---
Usury Rate
Arizona statute states that, "Interest on any loan, indebtedness or other obligation shall be at the rate of ten percent per annum unless a different rate is contracted for in writing, in which event any rate of interest may be agreed to."  Ariz. Rev. Stat. Ann. § 44-1201
(Video) What is an Arizona Promissory Note?
How to Write
Step 1 – To begin, download the document – Submit:
The document's start date in dd/m/yy format
The Borrower's name
Borrower's Mailing address
AND
Submit the lender's full name
Lender's mailing address
AND
The Lender must submit the principal amount of the loan
The lender must provide the annual percentage rate in the line provided
Step 2 – Payments – Enter the date in which the full balance of the loan is due – include late fees (mm/dd/yyyy format)
Installments – Check the box that would indicate the agreed method of repayment:
Enter the applicable amount
If the repayment method will be an installment agreement, check the box stating the agreed frequency of repayment
Submit the late fee amount that must be paid by the borrower, if the payment late
Step 3 –  Security – Provide the following:
Lender shall check the box stating the level of security
If the loan is to be considered "secure," provide information regarding the agreed property that will be provided before the loan may be secured
The borrower must carefully read the remainder of this section
Step 4 – Titled Sections – The borrower must carefully read titled sections as follows:
Interest Due in the Event of Default
Allocation of Payments
Prepayment
Acceleration (and 6A. – Security)
Attorney's Fees and Costs
Waiver of Presentments
Non-Waiver
Severability
Integration
Conflicting Terms
Notice
Co-Signer – Check the applicable box – In the event that a co-signer will be required, check the box. Provide the name of the Co-signer
Execution
Governing Law – Submit the state where the note shall be governed
Step 5 – Signatures – Must be entered in the presence of the witness. Submit the following required information:
The Lender's signature
The date of lender's signature in mm/dd/yyyy format
Lender's printed name
AND
The Borrower's signature
A date of signature in mm/dd/yyyy format
Enter the borrower's printed name
AND
Submit the Co-signer's signature (if any)
The date of signature in mm/dd/yyyy format
The Co-signer's printed name
AND
The Witness nust provide their signature
Provide a date of signature in mm/dd/yyyy format
Witness' printed name