Updated July 27, 2023
An Iowa promissory note template is a document tailored to the state of Iowa that verify that a lender loaned money to a borrower with the expectation that the money will be reimbursed with the addition of interest. Offered are two versions, a secured and unsecured version.
Usury Rate
– The maximum interest rate is
5%
unless another rate is established in a written agreement. In that case, the maximum is set by Iowa Superintendent of Banking (
IA Usury Rates
).
By Type (2)
---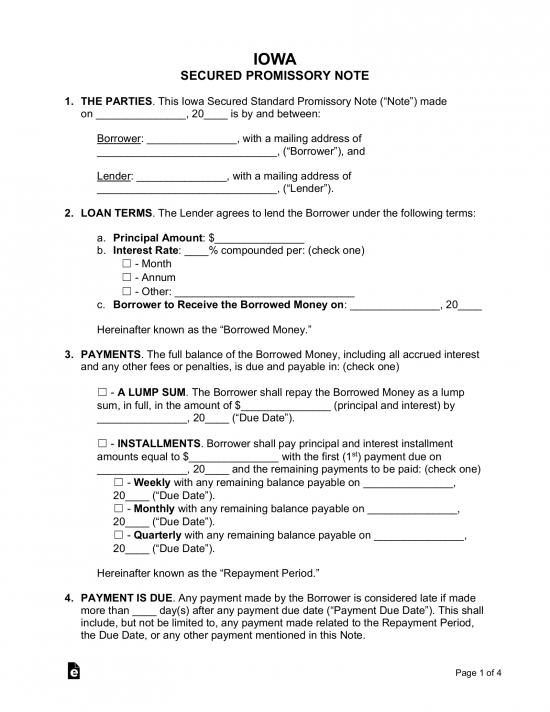 Secured Promissory Note – Provides security for the lender by setting aside personal possessions of the borrower such as homes, vehicles, and boats in the case the borrower defaults on the note.
Download: PDF, MS Word, OpenDocument
---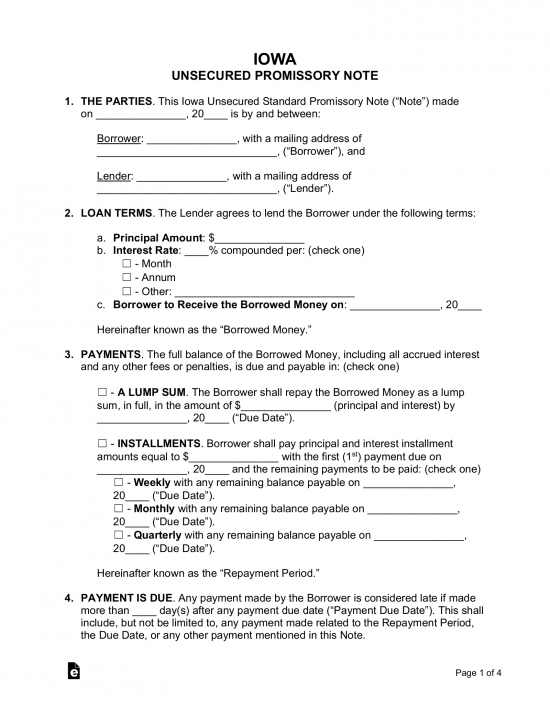 Unsecured Promissory Note – Does not include security for the lender. Because of this, the lender should lend to family, friends, or those with sufficiently high credit.
Download: PDF, MS Word, OpenDocument
Usury Statute
The maximum lawful rate of interest which may be provided for in any written agreement for the payment of interest entered into during any calendar month commencing on or after April 13, 1979, shall be two percentage points above the monthly average ten-year constant maturity interest rate of United States government notes and bonds as published by the board of governors of the federal reserve system for the calendar month second preceding the month during which the maximum rate based thereon will be effective, rounded to the nearest one-fourth of one percent per year.
Video