Updated July 27, 2023
An Illinois promissory note template is designed for two parties consisting of a lender and a borrower. The transaction consists of a lender loaning money to a borrower and collecting the loaned amount back plus interest over time. The agreement helps ensure the deal is legal and both parties are clear on the terms and conditions of the deal.
By Type (2)
---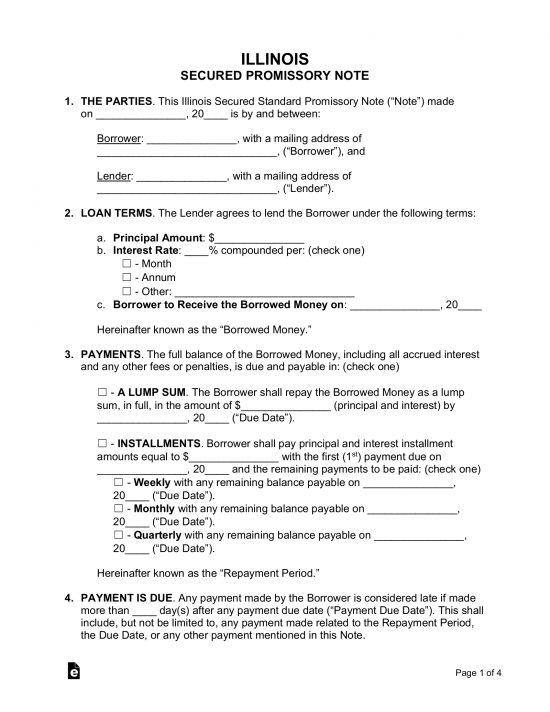 Secured Promissory Note – If the borrower defaults on the balance, the lender is granted to take a predetermined possession of the borrower, such as a home or vehicle, to cover the cost of the remaining balance.
Download: PDF, MS Word, OpenDocument
---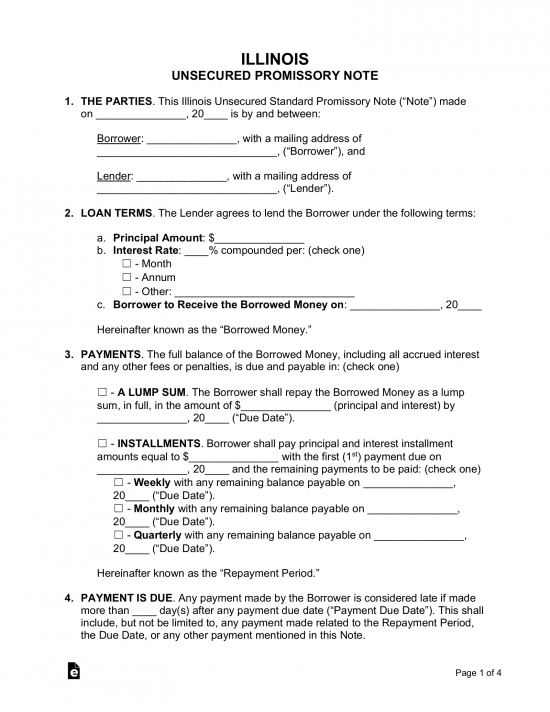 Unsecured Promissory Note – This version does not include security. If the borrower defaults, the lender will have no immediate way to recover his or her lost money. To help guard against this potential problem, the lender should know the borrower personally and have the utmost trust in him or her.
Download: PDF, MS Word, OpenDocument
Usury Statute
(1) Except as otherwise provided in Section 4.05, in all written contracts it shall be lawful for the parties to stipulate or agree that an annual percentage rate of 9%, or any less sum, shall be taken and paid upon every $100 of money loaned or in any manner due and owing from any person to any other person or corporation in this state, and after that rate for a greater or less sum, or for a longer or shorter time, except as herein provided.

The maximum rate of interest that may lawfully be contracted for is determined by the law applicable thereto at the time the contract is made. Any provision in any contract, whether made before or after July 1, 1969, which provides for or purports to authorize, contingent upon a change in the Illinois law after the contract is made, any rate of interest greater than the maximum lawful rate at the time the contract is made, is void.

It is lawful for a state bank or a branch of an out-of-state bank, as those terms are defined in Section 2 of the Illinois Banking Act, to receive or to contract to receive and collect interest and charges at any rate or rates agreed upon by the bank or branch and the borrower. It is lawful for a savings bank chartered under the Savings Bank Act or a savings association chartered under the Illinois Savings and Loan Act of 1985 to receive or contract to receive and collect interest and charges at any rate agreed upon by the savings bank or savings association and the borrower.

It is lawful to receive or to contract to receive and collect interest and charges as authorized by this Act and as authorized by the Consumer Installment Loan Act, the Payday Loan Reform Act, the Retail Installment Sales Act, the Illinois Financial Services Development Act, or the Motor Vehicle Retail Installment Sales Act. It is lawful to charge, contract for, and receive any rate or amount of interest or compensation, except as otherwise provided in the Predatory Loan Prevention Act, with respect to the following transactions:
Video