Updated July 27, 2023
A Montana promissory note template is a document used for transactions involving the lending of a monetary balance from one party to another. The template outlines important facets of the transaction such as the interest rate attached to the balance, the penalty(s) that would result from a late payment, and the payment method the borrower will be required to stick to during the course of the agreement. Once both parties have fully agreed on all the terms and conditions written in the template, it is highly recommended that a witness verify the signatures of both parties.
Usury Rate
– The maximum legal rate of interest is
15%
; or
6%
above the rate published by the Federal Reserve System, whichever is greater.
By Type (2)
---
Secured Promissory Note – Includes a section on security, which requires the borrower to set aside an item such as a home, vehicle, or boat that is given to the lender if the borrower is unable to make payments on the balance.
Download: PDF, MS Word, OpenDocument
---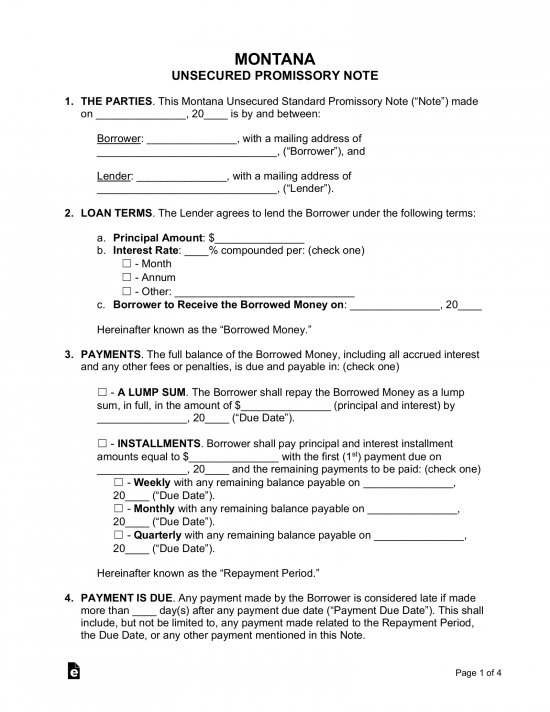 Unsecured Promissory Note – Includes all the major sections found within the secured note with the exception of security. The lender will be at a far greater risk for monetary loss, as the lender is not guaranteed an item from the borrower if a default occurs on the balance.
Download: PDF, MS Word, OpenDocument
Usury Statute
(1) Parties may agree in writing to the payment of any rate of interest that does not exceed the greater of 15% or an amount that is 6 percentage points per year above the prime rate published by the federal reserve system in its statistical release H.15 Selected Interest Rates for bank prime loans dated 3 business days prior to the execution of the agreement. Interest must be allowed according to the terms of the agreement.

(2) A loan that is not usurious when made is lawful for the duration of the loan, provided the loan agreement is not substantially changed. This subsection does not apply to loan renewals.

(3) The provisions of this section do not apply to regulated lenders as defined in 31-1-111.
Video