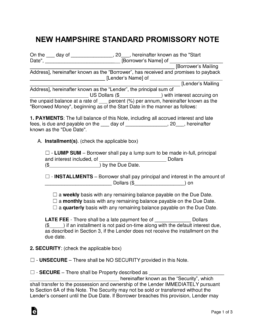 The New Hampshire promissory note templates help to ensure a lender in a money-lending transaction is reimbursed the loaned balance plus interest from a borrower in a timely fashion. To help ensure this, both parties will need to agree on the details surrounding the agreement such as payment types, interest rates, penalties, and other important areas. Additionally, the notes serve as legal documents because both parties signatures plus a witness' signature are required on the documents.
Usury Rate – Maximum interest rate is 10%.
Laws – § 336:1
Types (2)
---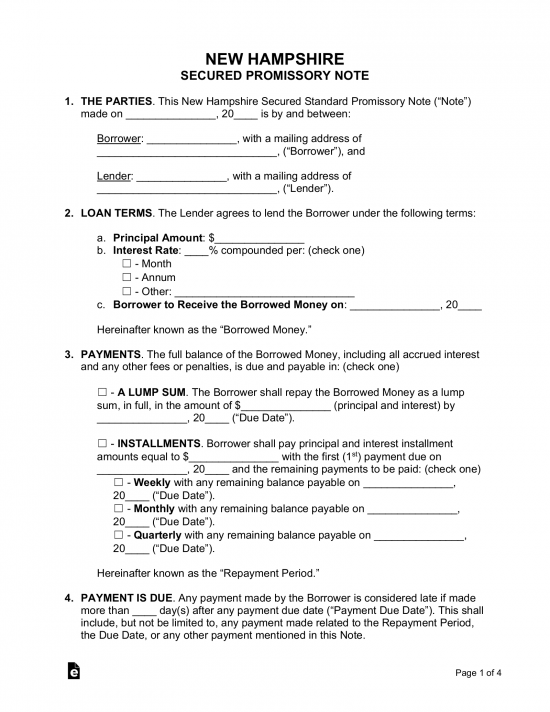 Secured Promissory Note – Includes a section for secure lending. Security works by using a piece of property relatively equal to the loaned amount of money. If the borrower fails to make payments and defaults on the balance, the lender receives the item in security to help offset the unpaid balance.
Download: Adobe PDF, MS Word (.docx), OpenDocument
---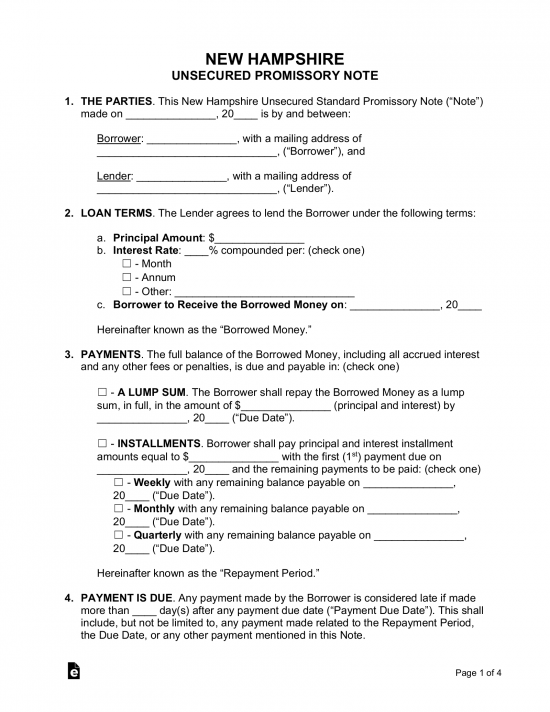 Unsecured Promissory Note – Does not include an area where security can be declared. This adds considerable risk to the transaction for the lender. If the borrower enters into default on the balance, the lender has no concrete way of obtaining the unpaid balance. One option is to bring the borrower to small claims court.
Download: Adobe PDF, MS Word (.docx), OpenDocument
---
Usury Rate
The legal rate of interest in New Hampshire is 10% per year unless otherwise agreed in writing. NH ST § 336:1
(Video) What is a New Hampshire Promissory Note?
How to Write
Step 1 – Download a New Hampshire note document –
Submit the document's start date, in mm/dd/yyyy format
Name of Borrower
Borrower's mailing address
AND
Name of Lender
Lender's mailing address
AND
Submit the amount of the principal of the note
Submit any unpaid annual percentage rate
Step 2 – Payments –
Enter the complete amount of the note, payable on the due date
Be certain to include all late fees and accrued interest
Installments –Select a payment method (check the applicable box:
Enter the complete note amount
Submit the the note's princial amount
Select payment frequency (check the applicable box)
Provide required fee amount for late payments
Step 3 – Security-
Check the applicable box indicating the type of loan
If the note will be"secured," submit a property description
Step 4 – Titled Sections and Subsections –
Interest due in the Event of Default
Allocation of Payments
Prepayment
Acceleration (and 6A.)
Attorney's Fees and Costs
Waiver of Presentments
Non-Waiver
Severability
Integration
Conflicting Terms
Notice
Co-Signer – Co-signer's name
Execution
Governing Law – (Under New Hampshire state law)
Step 5 – Signatures – Signatories will sign before the witness:
Signature of lender
Signature dated as of mm/dd/yyyy
Print name
AND
Signature of borrower as of mm/dd/yyyy
Signature dated as of mm/dd/yyyy
Print name
AND
Signature of any Co-signer
Signature dated as of mm/dd/yyyy
Print name
AND
Signature of Witness (after witnessing signatures of all parties) mm/dd/yyyy
Print name