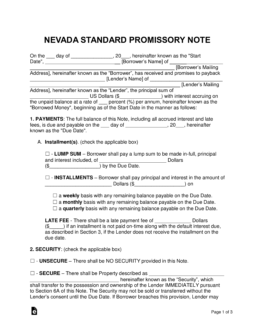 The Nevada promissory note templates help to ensure a lender is returned a loaned amount of money with the addition of interest from a borrower. The templates also ad legal backing to the agreement by requiring the signatures of all involved parties as well as a witness.
Usury Rate – No usury limit. Without agreement, interest rate shall be current prime rate of largest Nevada bank.
Laws – § 99.040
Types (2)
---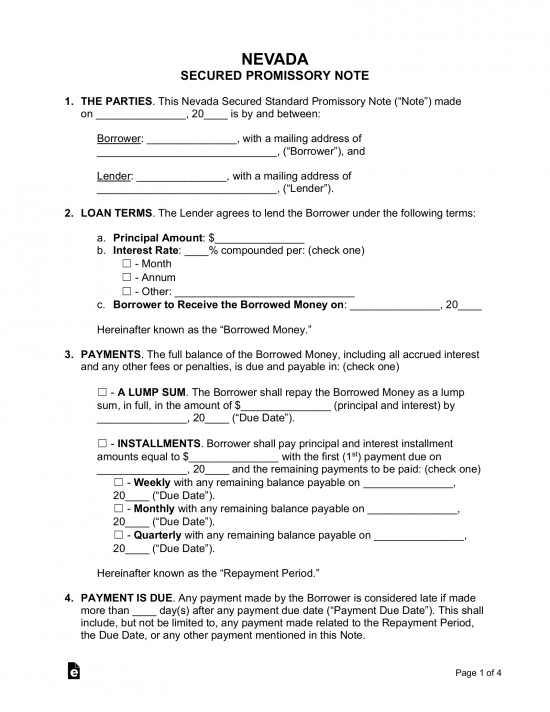 Secured Promissory Note – Helps protect the lender by being incorporated with a section on security. Security requires that an item be selected with close value to that of the loaned balance; if the borrower defaults and cannot repay the balance, the item in security is transferred to the lender.
Download: Adobe PDF, MS Word (.docx), OpenDocument
---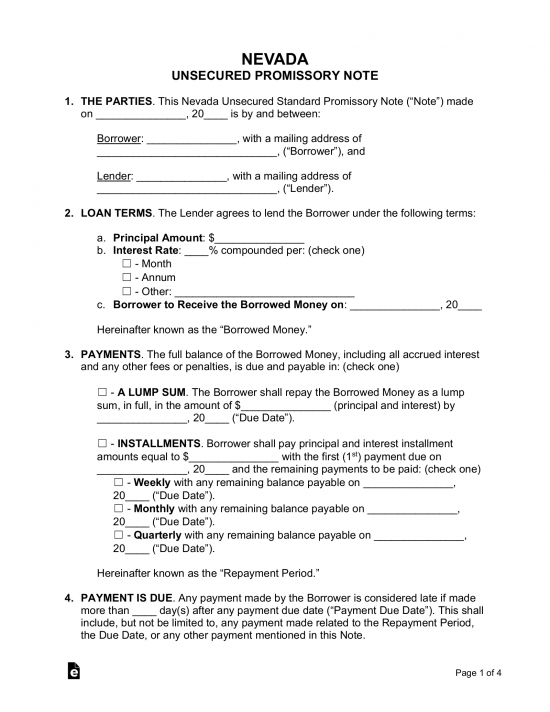 Unsecured Promissory Note – Does not include security. Because of this, the lender has the potential of losing the loaned amount of money if the borrower defaults on the balance.
Download: Adobe PDF, MS Word (.docx), OpenDocument
---
Usury Rate
Nevada law states as follows: "parties may agree for the payment of any rate of interest on money due or to become due on any contract, for the compounding of interest if they choose, and for any other charges or fees. The parties shall specify in writing the rate upon which they agree, that interest is to be compounded if so agreed, and any other charges or fees to which they have agreed." NV ST 99.050
How to Write
Step 1 – Download the Nevada note document –
Enter the start date of the document, in mm/dd/yyyy format
Submit the borrower's name
Mailing address
AND
Submit the lender's name
Mailing address
AND
Enter the amount of the principal of the loan
Enter the unpaid amount of the APR
Step 2 – Payments –
Provide the balance of the note that shall be paid in full on the due date
Include all late fees and the accrued interest
Installments –Choose the payment method:
Enter the total amount of the note
Submit the amount of the principal of the note
Indicate the agreed payment frequency (check the appropriate box
Provide the amount due for late fees
Step 3 – Security-
Select the note type and check the appliable box
If the note will be"secured," describe the property, that will be used as security
Step 4 – Titled Sections and Subsections –
Interest due in the Event of Default
Allocation of Payments
Prepayment
Acceleration (and 6A.)
Attorney's Fees and Costs
Waiver of Presentments
Non-Waiver
Severability
Integration
Conflicting Terms
Notice
Co-Signer – Provide any Co-signer's name
Execution
Governing Law – (Nevada)
Step 5 – Signatures – Must be witnessed:
Lender's signature
Signature date in mm/dd/yyyy format
Print name
AND
Borrower's signature
Signature date in mm/dd/yyyy format
Print name
AND
Co-signer's signature
 Signature date in dd/mm/yyyy format
Print name
AND
Witness' signature (after witnessing signatures
Signature date in mm/dd/yyyy format
Print name