Updated July 27, 2023
An Ohio promissory note template is a legal promise stating a borrower of a monetary balance will repay a loaned amount back to the lender with the addition of interest in a timely and orderly manner. When the signatures of all parties have been recorded in the document it will be legally binding and thus can be used in a court of law.
Usury Rate
– The maximum interest for written contracts for loans of amounts less than $100,000 is
8%
.
By Type (2)
---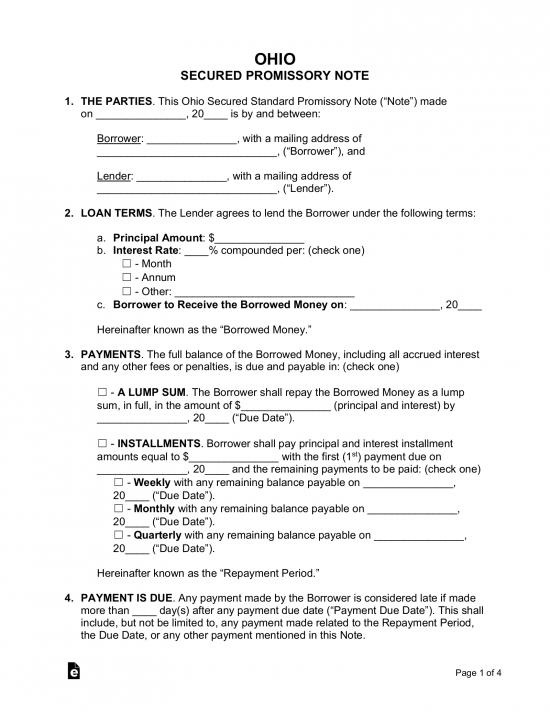 Secured Promissory Note – This document is 'secured' by having the borrower set aside a physical item such as a home, vehicle, or boat that is given to the lender if the borrower cannot repay the loaned balance. The item should be roughly similar to the balance of the note to ensure the lender is covered financially.
Download: PDF, MS Word, OpenDocument
---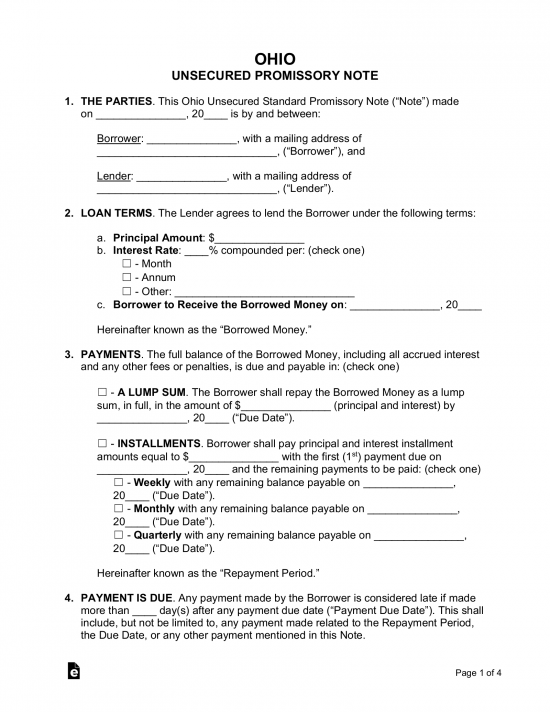 Unsecured Promissory Note – Doesn't include security, leaving the lender at an increased risk for losing the loaned balance. To help prevent loss, the lender should only lend to family, friends, and/or individuals with worthy credit.
Download: PDF, MS Word, OpenDocument
Usury Statute
(A) The parties to a bond, bill, promissory note, or other instrument of writing for the forbearance or payment of money at any future time, may stipulate therein for the payment of interest upon the amount thereof at any rate not exceeding eight per cent per annum payable annually, except as authorized in division (B) of this section.

(B) Any party may agree to pay a rate of interest in excess of the maximum rate provided in division (A) of this section when:

(1) The original amount of the principal indebtedness stipulated in the bond, bill, promissory note, or other instrument of writing exceeds one hundred thousand dollars;

(2) The payment is to a broker or dealer registered under the "Securities Exchange Act of 1934," 48 Stat. 881, 15 U.S.C. 78A, as amended, for carrying a debit balance in an account for a customer if such debit balance is payable on demand and secured by stocks, bonds or other securities;

…
Video