The Pennsylvania promissory note templates are signed promises stating that the borrower of a monetary balance will reimburse the lender of said monetary balance in a timely and structured fashion. The templates offered below also detail the penalties for missing or being late on payments, which should be clearly understood by the borrower to ensure payments are made correctly.
Usury Rate – Legal rate of interest is 6%.
Laws – 41 P.S. § 201
Types (2)
---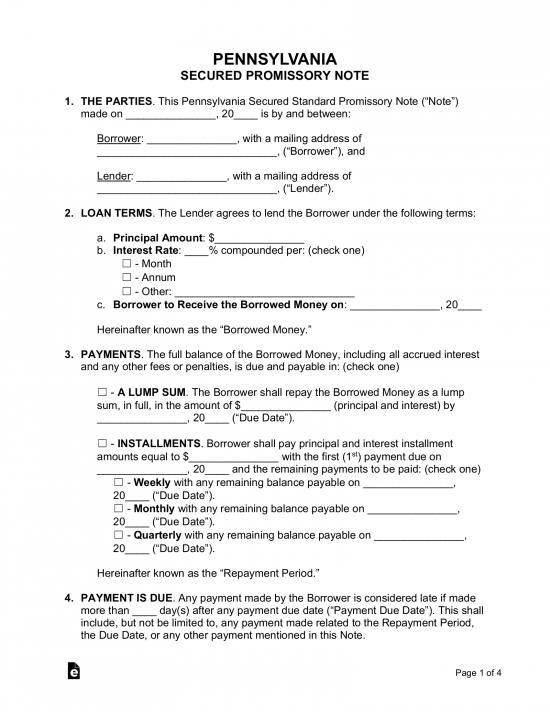 Secured Promissory Note – Includes a section called 'security' which protects the lender from serious financial loss by granting him or her an item previously put into security (by the borrower) if the borrower defaults on the note and cannot recover.
Download: Adobe PDF, MS Word (.docx), OpenDocument
---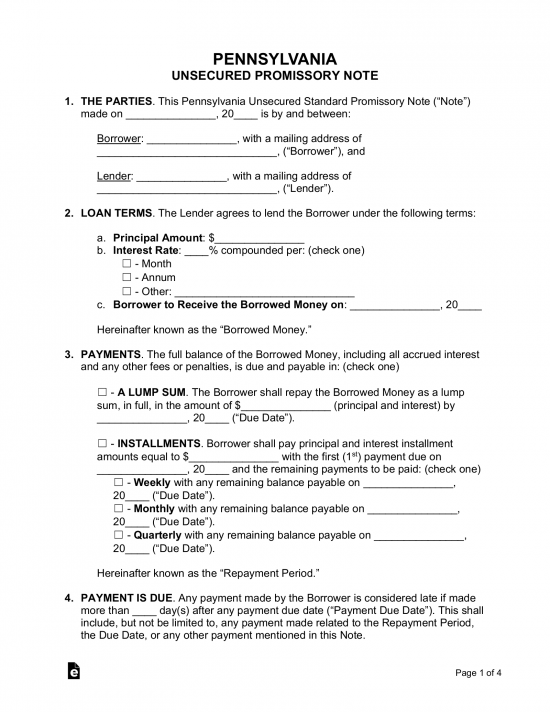 Unsecured Promissory Note – Does not include a section on security. The lender should have complete trust in the borrower's payment abilities, as if the borrower defaults on the balance, the lender is not guaranteed a reimbursement on the loan.
Download: Adobe PDF, MS Word (.docx), OpenDocument
---
Usury Rate
The legal rate of interest in the Commonwealth of Pennsylvania is 6% unless otherwise agreed to in writing. The maximum amount of interest for a loan of less than $50,000 or an unsecured loan less than $35,000 is 6%. PA ST 41 P.S. § 201
(Video) What is a Pennsylvania Promissory Note?
How to Write
Step 1 – Download the Pennsylvania note document – Emter the following information:
The start date of the note agreement (mm/dd/yyyy format)
Borrower's name
Full mailing address
AND
Lender's name
Full mailing address
AND
Provide the note's full sum of the principal
Enter the amount the remainder of the annual percentage rate (APR)
Step 2 – Payments –
Submit the current sum of the note, to be paid by the due date
Include accrued interest on unpaid balance
Installments – Enter the final due date of the note
Submit the total sum of the note agreement
Provide the principal sum of the note
Select payment frequency and check the preceding box
Provide the amount due with payment required for late payments
Step 3 – Security –
Check the box indicating the type of selected note
If the note will be"secured," provide a description of the property
Step 4 – Titled Sections and Subsections –
Interest due in the Event of Default
Allocation of Payments
Prepayment
Acceleration (6A.- Security)
Attorney's Fees and Costs
Waiver of Presentments
Non-Waiver
Severability
Integration
Conflicting Terms
Notice
Co-Signer – Submit the Co-signer's name
Execution
Governing Law – (Under Pennsylvania State Laws)
Step 5 – Signatures –
Lender's signature
Signature dated in mm/dd/yyyy format
Print name
AND
Provide the borrower's signature
Signature dated – in mm/dd/yyyy format
Printed name
AND
Co -Signer's signature (if any)
Signature date – mm/dd/yyyy format
Print name
AND
Signature of Witness in mm/dd/yyyy format
Printed name