Updated July 27, 2023
A Virginia promissory note template is a signed promise requiring the borrower of a monetary balance to reimburse a lender in a timely and structured fashion. The note includes many sections covering areas that include late fees, payment types, interest rates, and many other important areas.
Usury Rate
– Legal rate of interest is
6%
. With a contract in place, the maximum interest rate is
12%
.
By Type (2)
---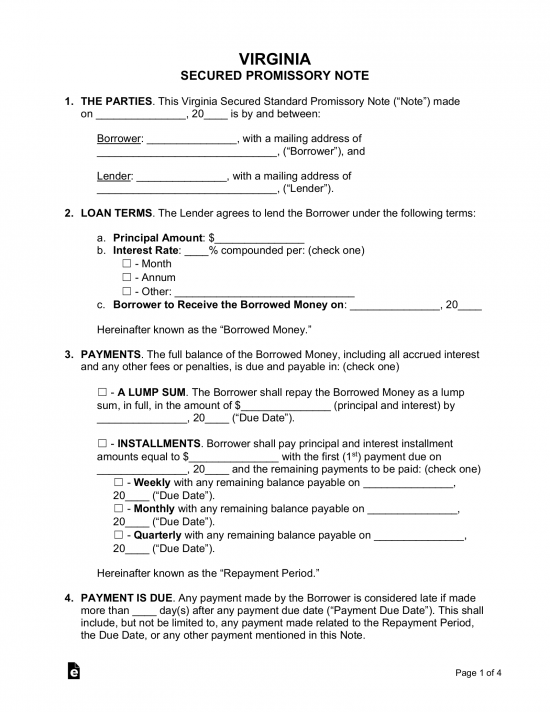 Secured Promissory Note – Includes security, which provides the lender with a layer of protection if the borrower defaults on the balance. In the template, the borrower will be required to enter an item such as a home, vehicle, or boat that will help cover the remaining unpaid balance if the borrower cannot recover from the default.
Download: PDF, MS Word, OpenDocument
---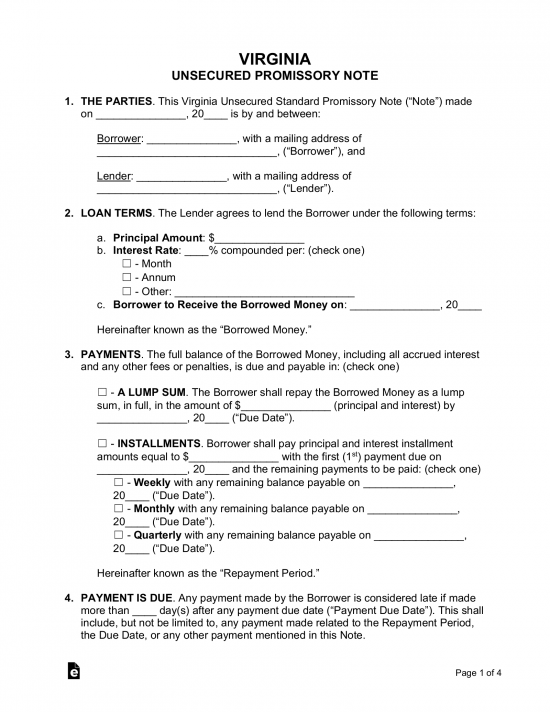 Unsecured Promissory Note – Does not include security, leaving the lender at an increased risk for losing the loaned balance. Lenders should take their time in selecting a borrower by only lending to family, friends, and/or those with strong credit.
Download: PDF, MS Word, OpenDocument
Usury Statutes
A. The legal rate of interest shall be an annual rate of six percent.

B. Except as provided in subsection (b) of § 8.3A-112 and § 6.2-302, the legal rate of interest shall be implied when there is an obligation to pay interest and no express contract to pay interest at a specified rate.

C. The seller or provider of goods sold or services provided on an open account shall be entitled to, and may collect, interest at the legal rate upon the unpaid balance if (i) there exists no written agreement for closed-end credit under § 6.2-311 or open-end credit plan under § 6.2-312 and (ii) the purchaser or recipient of the goods or services fails to make payment in full within 60 days after mailing or presentation of a billing statement or invoice. Such interest shall begin to accrue on the day following such 60-day period.
A. Except as otherwise permitted by law, no contract shall be made for the payment of interest on a loan at a rate that exceeds 12 percent per year.

B. Laws that permit payment of interest at a rate that exceeds 12 percent per year are set out, without limitation, in:

1. Article 4 (§ 6.2-309 et seq.) of this chapter;

2. Chapter 15 (§ 6.2-1500 et seq.), relating to powers of consumer finance companies;

3. Chapter 18 (§ 6.2-1800 et seq.), relating to short-term loans;

4. Chapter 22 (§ 6.2-2200 et seq.), relating to interest chargeable by motor vehicle title lenders

5. § 36-55.31, relating to loans by the Virginia Housing Development Authority;

6. § 38.2-1806, relating to interest chargeable by insurance agents;

7. Chapter 47 (§ 38.2-4700 et seq.) of Title 38.2, relating to interest chargeable by premium finance companies;

8. § 54.1-4008, relating to interest chargeable by pawnbrokers; and

9. § 58.1-3018, relating to interest and origination fees payable under third-party tax payment agreements.

…
Video