Updated September 20, 2023
An Alabama residential purchase and sale agreement allows a buyer and seller to enter into a legally binding contract for the sale of real property. The main terms of the agreement will consist of a purchase price, downpayment, and financing terms (if any). The parties may also allow the agreement to be conditional, for example, upon the buyer being able to sell their home, the buyer receiving financing, or any other agreed-upon terms. Once the form has been signed by both parties, each shall have the duty of specific performance to complete their end of the deal in order to facilitate a closing.
State Laws
Buyer Beware – Alabama is a "buyer beware" or "caveat emptor" state which means that the buyer agrees to take possession of the property on an "as-is" basis. There are no guarantees made by the seller.
Known Defects – If the buyer asks a specific question about the property, the seller has an "obligation to disclose known facts."
Other Versions (2)
---
Download: PDF
---
Download: PDF
---
Required Disclosures
---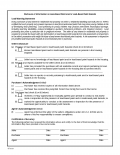 Lead-Based Paint Disclosure – Only for residences that were built before 1978. This information should be available at the County's Revenue Office.
Download: PDF
---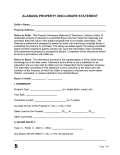 Seller's Property Disclosure Statement – Not required but recommended to be completed by the Seller to inform the Buyer of any pertinent information about the property.
Download: PDF
---
Commercial Property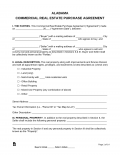 Commercial Purchase Agreement – Use for buying and selling commercial property.
Download: PDF, MS Word, OpenDocument