Updated September 20, 2023
A Florida residential purchase and sale agreement outlines the terms of a transaction between the seller of residential property and the buyer. The terms of the agreement will be negotiated by the two parties, as will the price. These things must occur before the purchase and sale agreement is signed; however, financing (if applicable to the buyer) can only be secured with a signed agreement form. After signing the document, the agreement can only be terminated if both parties agree.
Florida, like most states, requires the sellers of residential real estate to notify potential buyers of the condition of the property, i.e., issues, defects, and any other flaws that would affect the property's value.
Realtor Versions (4)
---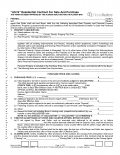 As-Is Residential Purchase Agreement
Download: Adobe PDF
---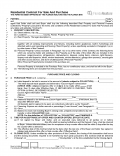 Florida Realtors + Florida BAR (FAR/BAR) Version
Download: Adobe PDF
---

Northeast FL Assoc. of Realtors Version
Download: Adobe PDF
---
Unlimited MLS Purchase Agreement
Download: Adobe PDF
---
Disclosures (7)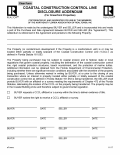 Coastline Disclosure Form (§ 161.57) – If a property is located on the coast or oceanfront, it must be disclosed that the area is subject to erosion and federal and state regulations.
Download: Adobe PDF
---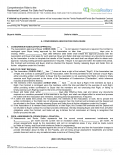 Condominium Disclosure Form (§ 718.503) – If a property is located in a condominium community, this disclosure must be given to the buyer along with the charter or articles of the condominium.
Download: Adobe PDF
---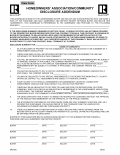 Homeowner's Assoc. Disclosure Form (§ 720.401) – Required for property located in a homeowner's association or community.
Download: Adobe PDF
---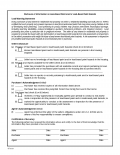 Lead-Based Paint Disclosure – A federally required disclosure for individuals selling property built before 1978.
Download: Adobe PDF
---
Property Tax Disclosure Summary – Sellers are required by law (§ 689.261) to provide a statement notifying potential buyers that property taxes may increase and that they can contact an appraiser for more information if they so wish. This summary is not included in the standard property disclosure form, and the following should be included in the purchase agreement:
PROPERTY TAX
DISCLOSURE SUMMARY

BUYER SHOULD NOT RELY ON THE SELLER'S CURRENT PROPERTY TAXES AS THE AMOUNT OF PROPERTY TAXES THAT THE BUYER MAY BE OBLIGATED TO PAY IN THE YEAR SUBSEQUENT TO PURCHASE. A CHANGE OF OWNERSHIP OR PROPERTY IMPROVEMENTS TRIGGERS REASSESSMENTS OF THE PROPERTY THAT COULD RESULT IN HIGHER PROPERTY TAXES. IF YOU HAVE ANY QUESTIONS CONCERNING VALUATION, CONTACT THE COUNTY PROPERTY APPRAISER'S OFFICE FOR INFORMATION.
---
Radon Gas Disclosure (F.S. § 404.056(5)) – It is required that there be notification provided on at least one document, form, or application executed at the time of or before a contract for sale and purchase of any building. This is fulfilled in the Seller's Property Disclosure Form.
---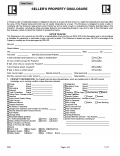 Seller's Property Disclosure Form (Johnson v. Davis, 480 So.2d 625) – A seller of a property is required to disclose facts materially affecting the value or desirability of the property (which are not readily observable and are not known to the buyer).
Download: Adobe PDF
---
Commercial Property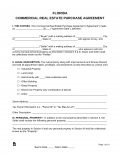 Commercial Purchase Agreement – Use as a formal agreement between a buyer and a seller for commercial property transactions.
Download: Adobe PDF, MS Word, OpenDocument
Video