Updated June 17, 2022
A Minnesota commercial real estate purchase and sale agreement records an agreement between a between the buyer and seller of a commercial property. Commercial properties may be used for business, retail, or office purposes and are often retrofitted to suit the buyer's requirements. The document includes all cogent information of the offer including the proposed purchase price, contingencies (financing), deposits, as well as closing dates and costs. If the seller accepts the offer and both parties provide their signatures, the contract becomes legally binding.
Disclosures
Location of Wells (§ 103I.235) – Sellers must notify potential buyers about the status and location of all known wells on the property.
Sewage Treatment Systems (§ 115.55) – Buyers must be given a statement regarding how sewage generated by the property is managed.
Controlled Substances (§ 152.0275) – If the seller has any knowledge of past methamphetamine production on the property they must disclose this to the buyer.
Residential Property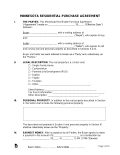 Minnesota Residential Purchase Agreement – A legal contract that contains all the provisions required for a successful residential real estate transaction.
Download: Adobe PDF, MS Word, OpenDocument