Updated September 20, 2023
A South Dakota residential purchase and sale agreement is a contract between two (2) parties through which one party agrees to purchase the other's real estate. The document will indicate the buyer's offer and, upon the seller's acceptance of the proposal, will act as a legally binding agreement between both parties. Before a written offer can be made, the seller must deliver to the buyer a condition report mentioning any material issues with the property.
Suppose the seller fails to deliver the report before receiving a written offer. In that case, the buyer may terminate their offer by notifying the seller or their agent within three (3) days after receiving the report or six (6) days after it is deposited in the mail.
Real Estate Commission Version
---
Real Estate Commission Purchase Agreement
Download: PDF
Disclosures (3)
---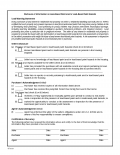 Lead-Based Paint Disclosure – Required when selling any property built before 1978. Sellers must use this disclosure to inform buyers of the existence of lead-based paint used on the property.
Download: PDF
---
Seller's Property Condition Disclosure Statement (§ 43-4-38) – Details the material condition of the property. Sellers must give this disclosure to buyers before receiving a written offer.
Download: PDF
---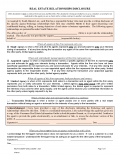 Real Estate Relationships Disclosure – Used to establish a relationship between a buyer/seller and a licensed real estate agency.
Download: PDF
Commercial Property
---
Commercial Purchase Agreement – Use this document as a formal agreement for commercial property transactions between a buyer and seller.
Download: PDF, MS Word, OpenDocument