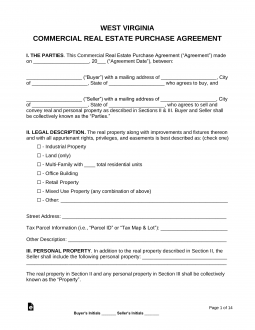 The West Virginia commercial real estate purchase and sale agreement provides a complete summary of a buyer's offer to acquire a commercial property. The agreement consists of essential terms and conditions that the seller must agree to before the offer expires. If the seller is not satisfied with the proposed purchase price, closing dates, or other requirements discussed in the agreement, they may submit a counteroffer with terms adjusted to their preferences. Only after both parties consent to the purchase conditions will the contract become irrevocable and legally binding.
Realtor Version
West Virginia Land and Home, LLC – Adobe PDF
Residential Property
West Virginia Residential Purchase Agreement – A written agreement between a buyer and a seller of residential property.
Download: Adobe PDF, MS Word, OpenDocument