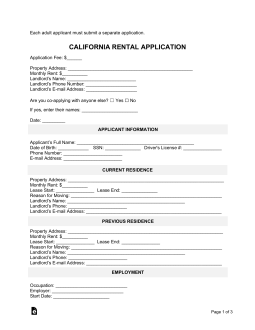 The California Rental Application Form is often used by a landlord or property management company when seeking a viable candidate for an available rental. This document will help an applicant present his or her information in one place thereby making the candidate's application process simpler. Additionally, a set form will facilitate a reviewer's evaluation process in an efficient manner. Due to the sensitive nature of the information a potential tenant must convey, an easily recognizable document with a set format will provide a level of security to both a landlord who must protect confidential documents and an applicant who needs to see such information is taken seriously.
Application Fee (Cal. Civ. Code § 1950.6) – Initially, landlords could charge a maximum screening fee of $30. This amount may be adjusted annually with the Consumer Price Index. As of February 2020, the maximum application fee is $52.46.
Security Deposit (Cal. Civ. Code § 1950.5(c)) – California landlords cannot charge an amount exceeding two (2) months' rent for unfurnished properties, or three (3) months' rent for furnished properties.
How to Write
Step 1 – Rental Unit –
Submit the complete address of the rental unit in which the applicant shall apply
Step 2 – Personal Information – Enter the following:
First name
Middle initial
Last name
Social Security number
Home telephone number
Alternate telephone number
Best time to call
E-mail address
Driver's license number
State issued identification number
Expiration date
Step 3 – Rental History – Enter the past three addresses, continued on additional pages if needed
Current address
City
State
Zip
Number of years at current address
Manager/Owner's name
Telephone number
AND
Previous address
City
State
Zip
Number of years at the most current previous address
Manager/Owner's Name
Telephone number
Step 4 – Employment History – List history for the past five years adding continuation pages if needed:
Present Employer (Company)
Position
How many years employed with this company
Supervisor's name
Telephone number
Company street address
City
State
Zip Code
AND
Previous Employer (Company)
Previous position
How long with this position
Supervisor's name
Telephone number
Complete street address (company)
City
State
Zip Code
AND
Second Previous Employer (if any)
Position
How long with this company
Supervisor's name
Telephone number
Complete company street address
City
State
Zip Code
Step 5 – Financial History – Submit the following:
Present Monthly income
Current Annual income
Additional income (ie: self-employment, child support etc)
Use the lines provided to list additional income
AND
Savings account numbers
Bank name
Current balance
AND
Enter the information regarding the next two credit card numbers
Card types – Visa/MasterCard/AmEx, other
Creditor
Step 6 – Roommate(s) –
Names
Relationship to applicant
Step 7 – Pets –
Does the applicant have pets? (Yes/No)
If so, offer the pet's description
Pet's name
Age
Sex
Weight
Breed
Is the pet spayed/neutered?
Applicant must check the box if they are willing to pay an additional pet fee and sign a pet agreement.
Ste[ 8 – Personal References – Enter the following information with regard to two (2) personal references, on the form as follows:
Reference's name
Complete address
City
State
Zip Code
Years known
Occupation
Telephone number
Step 9 – Applicant's vehicle information – Applicant must enter up to two vehicles that would be present on the property as follows:
Vehicle make
Model
Year
License plate number
State
Check each box if the registration of each vehicle is current and insured
Step 10 – Personal History – Answer the following:
Is applicant currently a smoker? (Check yes or no)
Has the applicant ever been evicted? (Check yes or no) If yes, explain on the lines provided
Has the applicant ever filed for bankruptcy? (Check yes or no) If yes, explain on the lines provided
Has the applicant ever been convicted of a felony? (Check yes or no) If yes, explain
Step 11 – Emergency Information – Provide emergency contact information as follows:
Name
Complete Address
City
State
Zip Code
Telephone number
Relationship to applicant
Step 12 – Personal Statement/Comment(s) –
Should there be any other relevant information that the applicant may wish the landlord be aware of, with regard to the applicant, enter this information into the lines provided
Step 13 – Applicant's Signature – Review the following information before providing signature(s):
"Applicant represents that all the above statements are true and correct and hereby authorizes verification of the above statements and information including but not limited to the obtaining of a credit report and tenant history report and applicant agrees to furnish additional information on request."
Applicant's Signature
Date of signature in mm/dd/yyyy format
Amount of Deposit to be included in the application (if any)
Date payment of deposit in mm/dd/yyyy format