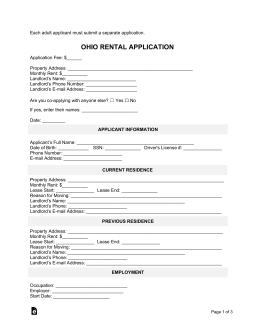 The Ohio Rental Application Form is a form that is provided to a prospective tenant so that they may provide information needed to determine whether or not they would be eligible to rent the property that the owner/landlord has available. Prospective tenants will provide information that will allow a landlord to check references, rental history, employment history, run credit checks and even perform background checks. When the applicant completes the form and returns it to the landlord, they will have all the tools necessary to determine whether or not the applicant would be a reliable and trustworthy tenant. 
Application Fee (No Statute) – There is no limit for an application fee in Ohio, they are also non-refundable.
Security Deposit (§ 5321.16(a)) – No limit mentioned in state statutes; however, if a tenant maintains possession of property for more than six (6) months, the landlord must pay the tenant 5% interest annually if the deposit was more than $50 or one month's rent.
How To Write
Step 1 – Premises Information – Begin by entering the date that the application is being completed
Enter the address of the premises being considered
Monthly Rent
Move In Date
Holding Fee or Deposit
Enter any Pet Deposit Amount
Step 2 – Personal Information – Enter the following:
Applicant's Name
Present Address
City/State/Zip Code
Telephone Number
Date of Birth
Social Security Number
AND
Spouse's Name (if any)
Date of Birth
Social Security Number
Telephone Number
AND
Names of any other occupant's names
Your relationship to other occupants
Step 3 – Rental History – Provide the following information:
Name of Landlord at the current address
Landlord's Telephone Number
Date of Occupancy at the Current Address
Monthly rental amount
AND
Previous Apartment Landlord
Previous Landlord's Phone
Previous Address
Date of Occupancy
Amount of Monthly Rent Paid
Step 4 – Employment History – Provide the required information with regard to your employment:
Name of your Present Employer
Supervisor's Name
Telephone Number
Current Position
Length of Employement
Annual Income
AND
Spouses' Current Employer (if any)
Supervisor's Name
Telephone Number
Position
Length of Employment
Annual Income
Step 5 – Emergency Contact (Friend or Relative):
Name
Relationship
Home Phone
Address
City/State/Zip Code
Work Phone Number
Step 6 – Miscellaneous – Enter the following:
Your email address
How did you hear about this company?
If this is a resident referral, provide their name and address
Do you have any pets? (Check yes or no)
If "yes" you will be required to pay a $200.00 pet deposit and $25.00 per month addition to your regular rental amount
Type of Pet
Weight of Pet
Breed
Have you ever filed bankruptcy? (check yes or no)
Have you ever been evicted? (check yes or no)
Have you ever been convicted of a felony or have any criminal record? (check yes or no)
Step 7 – Signatures/Authorization – Prospective tenant's must carefully review the entire section. Be certain that you understand the information. If you are unsure of what you will be signing, you may wish to take the time to consult with a knowledgeable attorney, prior to providing signature or fees.
If an admin service fee is charged enter it into the first box in this section
Enter the fee that will be refunded in the event the property has more than one acceptable potential client
Enter the amount of the holding fee if the application is accepted
Submit tenant's signature
Enter the date of the signature
AND
Submit the spouse's signature (if any)
Enter the date of the spouse's signature