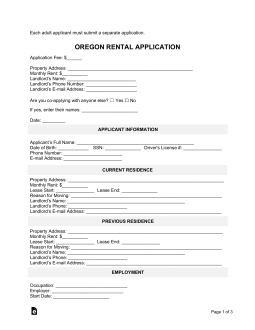 The Oregon Rental Application is a form that is given to a prospective tenant who will provide information necessary for the screening process of renting property. To ensure the applicant is eligible for a particular property rental, the landlord must check references, rental history, employment history, credit history, and perform any important background checks. The landlord may charge a fee for performing any checks or services related to the screening process. If the applicant is fit for tenancy, a lease agreement may be presented to them.
Application Fee (§ 90.295) – Landlord may charge an application fee in an amount no greater than the average actual cost of screening applicants.
Security Deposit (§ 90.300) – The landlord is not limited to an amount they are permitted to charge for a security deposit.
How To Write
Step 1 – Download the document and enter the following information:
Property Name/Number
Unit Number
Address
Date Unit is Wanted
Amount of Rent Expected for the Unit
Enter the fee for Screening this Application
AND
Name of Owner/Agent
Telephone Number
Owner/Agent's Address
Smoking Policy – Landlord must check the box that applies
Step 2 – Applicant Information – Provide all required information:
Applicant's Full Legal Name
Email Address
Previous Names or Aliases/Nicknames Used
Date of Birth
SSN
Applicant's Phone Number
Type of Government Issues ID
State ID is from
Expiration Date of ID
Current Street Address
City, State, Zip
Date of Move in to Current Property
AND
Current Landlord's Name
Street Address or Apartment Name
City, State, Zip
Applicant's Former Street Address
City, State, Zip
From and to what dates did the tenants reside at the previous address
Name of Former Landlord
Phone number of landlord
Landlord's Street Address
City, State, Zip
What other states and countries has the tenant lived in, during the past 5 years
Step 2 – Applicant's Current Employer – Enter the following:
Name of Applicant's Current Employer
Phone Number
Street Address
City, State, Zip
Position Held
Hire Date
Gross Monthly Income
Source of any other monthly income
Enter the amount
Previous or check the box if  this is an additional, current employer
Phone Number
Street address
City, State, Zip
Position Held
How Long
If this is an additional employer, what is the gross monthly income
Step 3 – Available Units – Enter the maximum potential rent
Securtity Deposit Minimum
Securtity Deposit Maximum
Check the box if renter's insurance is required
Enter minimum insurance amount
Step 4 – Occupants – Enter the name of all of the occupants who will be on the premises:
Name of Occupant
Date of Birth of Occupant
Step 5 – Vehicles – Enter the following into the required fields, for each vehicle:
Make
Model
Color
State
License Plate Number
Step 6 – Animals – Animals will be subject to approval – How many will reside in this unit? Enter the following:
Do you plan to use any of the following? Check the appropriate boxes:
Waterbed
Aquarium
Musical Instrument (What kind?"
Do you have renter's insurance? (Check yes or no)
Step 7 – Provide the following information:
What Bank(s) do you use?
Who is your Emergency Contact?
Phone Number
Contact's Address
Who is your contact in the event of death?
Address
Phone Number
Have you or any of the other potential occupants ever been convicted of or plead "no contest" to any felony or misdemeanor?  (Check yes or no)
If your answer is "yes", where?
What was the crime?
Step 8 – Answer the following questions:
Why are you vacating your current place of residence?
Have you given legal notice to where you are now? (check yes or no)
How did you hear about our property?
Tenant must carefully review the next entire paragraphs and provide signatures once you're finished allowing is permission to investigate the information you've provided
Step 9 – Signatures – Provide the following:
Applicant's Signature
Date of signature
The person who has verified the photo ID must initial
Signature of the owner/Agent
Enter the Date the application has been received in mm/dd/yyyy format
Enter the time of day the application was received
Owner/Agent may enter any additional notes in the line provided