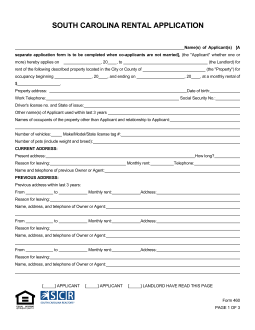 The South Carolina Rental Application (Form 460) is a form that is provided from an owner/landlord/management company to a potential client to complete for the purpose of renting a residential property. The potential lessee must complete the application entirely, pay any application fees, and return the document to the agent. The agent or lessor will review and verify the information provided to ensure the applicant would be a good fit for the property. With this particular application, if there would be more than one applicant and the applicant's aren't married, each potential occupant over the age of 18 must provide a separate application.
Application Fee (No Statute) – No limit mentioned in statutes for rental application fees.
Security Deposit (§ 27-40-410) – No maximum mentioned in statutes for security deposits in South Carolina.
How To Write
Step 1 – Applicant's and Application Information:
Provide the names of all potential occupant
Enter the date of the application in mm/dd/yyyy format
Enter the Landlord's name
Enter the name of the City or the County where the rental property is located
Enter the proposed beginning occupancy date
Enter the ending date
Enter the monthly rental amount
Provide the full address of the rental property
Date of Birth
Work Telephone Number
 Social Security Number
Driver's License Number and state of issuance
Other names used by applicant in the past 3 years
Names of all other occupants of the property other than the applicant and the relationships to each
Number of Vehicles
Enter the Make/Model/State/License plate numbers respectively
Number of pets (include weight and breed of each animal)
Step 2 – Current and Previous Information – Provide as follows:
Applicant's Present Address
How long did you reside at this address
Reason for leaving
How much was your monthly rent
Telephone Number
Name and telephone  of previous owner or agent
Previous Address Information as follows for each address:
Previous addresses (within the last 3 years)
Enter the beginning date of the rental
Enter the ending date of the rental
Address of the previous rental
Reason for leaving
Name, address and telephone of owner or agent
Step 3 – Applicant's Employment Information- Complete all fields:
Enter applicant's present employer
Immediate supervisor
How long have you been employed with this company
Hire Date
Address
Telephone
Employed as (position)
Monthly net income
If employed less than one year with current or previous employer enter the name of the employer
How long
Address
Employed as (position)
Monthly net income
Enter additional income (if any) that you would like to have considered as part of your total income
Other Income in monthly dollar amounts
Enter the source of each additional income
Provide the name of the nearest relative (other than your spouse)
Relationship
Address
Telephone
Step 4 – Spouse's Information – Enter as follows:
Spouse's name
Telpephone Number
Social Security Number
Address
Date of Birth
Work Telephone Number
Driver's License Number and state of issuance
Other names used by spouse in the last 3 years
Spouse's Employment Information:
Spouse's current employer
Immediate Supervisor
How long with the company
Hire Date
Business Address
Business Telephone number
Employed as (position)
Monthly net income
If employed less than one year with current employer, enter the name(s) of your previous employer
How long with previous employer
Hire Date
Immediate Supervisor
Business address
Business Telephone
Employer as (position)
Monthly net income
If spouse has other income they/you would like considered:
Enter all other sources of income
Other income amounts
Name of nearest relative (other than spouse)
Relationship
Address
Telephone number
Step 5 – Credit References – Enter as requested:
Checking Account Number
Name of banking institution
Savings Account Number
Name of banking institution
Bank loans/Credit Cards (Issuer)
Account Numbers
Step 6 – Applicant must read, understand and agree to the information required by the agent/landlord prior to provision of signature(s)
Step 7 – Signatures –
Applicant(s) must provide their signatures
Agent must enter the date in which application and security deposit amount (as entered) was received
Enter the amount of the none-refundable application fee
Provide signature of recipient of funds and application
Enter the date of application acceptance in mm/dd/yyyy format
Landlord's signature