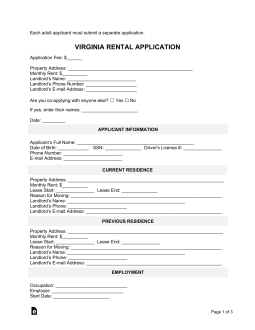 A Virginia rental application is a document that is provided to any applicant for the purpose of furnishing information to a landlord, owner, or management company to be verified and assessed for reliability as a tenant. The document requires an extensive amount of information to include rental history, employment history, account information, credit information and much more. All occupants over the age of 18 must complete the sections within the document applying to them.
Application Fee (§ 55.1-1203(C)) – Landlords may demand an application fee not exceeding $50; this cost does not include any extra expenses paid by the landlord for performing background checks, etc.
Security Deposit (§ 55.1-1226(A)) – Landlords may demand a security deposit not exceeding two (2) months' rent.