Updated August 07, 2023
A Montana separation agreement is a legal document that allows married couples who no longer wish to live together but are not yet ready to divorce. It establishes rules that will govern their separation.
Separation agreements can establish child support payments, determine how marital assets are divided, and custody arrangements if there are minor children. Unlike divorce, however, separation agreements can be easily undone.
Is a Separation Agreement Legal in Montana?
Yes, couples may create separation agreements and can petition a court for a judicial separation.
Source: § 40-4-201
Legal Separation Requirements
Filing Fee: $180
Residency: At least one of the spouses must have resided in the state for at least 90 days prior to filing (§ 40-4-104)
Where to File: In the district court covering the city or county where one or both of the spouses reside.
Court Forms
Related Forms
---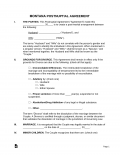 Postnuptial Agreement
Download: PDF, MS Word, OpenDocument
---
Download: PDF, MS Word, OpenDocument