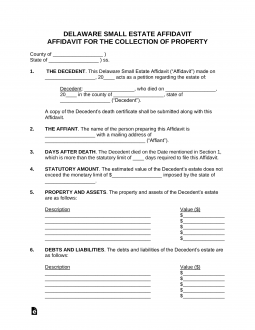 The Delaware small estate affidavit can be requested if the decedent's estate does not exceed $30,000, the person requesting is the executor of the will or if there is no will, the requester is the next of kin of decedent. Also, the decedent must not own any real estate. You will have to either mail in a request (and give a reason why you can't go to the probate court in person) or go to the local probate court to obtain the affidavit. The forms need to be obtained from the Register of Wills in the County in which the decedent resided at the time of death: Sussex County, Kent County, New Castle County
Maximum – $30,000
Laws – § 2306
Request Official Court Small Estate Affidavit by Mail:
Sussex County – Contact the Register of Wills at 1(302) 855-7875.
How to Write
The following form is a sample of a type of form that you may receive from the Delaware Registrar of Wills. It can be used for a reference when you obtain the actual form.
Step 1 – In the first section fill in the name of the person deceased and the county in which he or she resided at the time of death.
Step 2 – In Section 1, write in the name of the decedent, the date of death and the county.
Step 3 – Write in your name and address in the spaces indicated.
Step 4 – In section 8, write in how many days have passed since decedent's death.
Step 5 – Write in the names and addresses of heirs at law.
Step 6 – In Section 13, write in the assets and values of the decedent.
Step 7 – In Section 14, write in the liabilities and amounts and creditor information.
Step 8 – Write in which heirs are entitled to which property.
Step 9 – In Section 16, write in the State of Delaware.
Step 10 – Sign and date in front of a notary public.