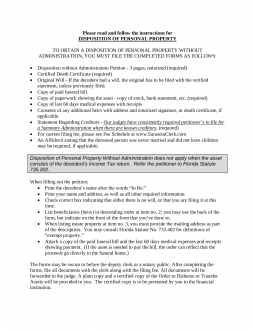 The Florida small estate affidavit, or 'disposition of personal property without administration', is used in the event a decedent in Florida passes away with $75,000 or less in assets. It provides a less complicated way for the heirs to settle the estate when assets are limited and obtain court consent to have the assets distributed to the heirs. The document must be filed with the court along with a certified death certificate, the original will, if any, copy of the paid funeral bill, copy of asset paperwork, copy of last 60 days of medical expenses, consents of heirs, if applicable and the filing fee.
Maximum (§ 735.201(2)) – $75,000
Laws – Chapter 735 (Probate Code: Small Estates) 
How to Write
Step 1 – At the top, enter in the name of the county in which decedent resided at the time of death and the name of the deceased.
Step 2 – In Section 1, write in your name as the petitioner, with your address, social security number and relationship to the person who died. In addition, list the name of the person who dies, the location of death, the date of death and the last known address, age and social security number. Fill in the information regarding the will as directed.
Step 3 – In Section 2, write in the names, addresses and relationships to decedent of the decedent's heirs.
Step 4 – In Section 3, enter in the personal property and value as directed. Then enter funeral expenses, medical expenses and other debts as directed.
Step 5 – Enter in the name, property and value of assets to be distributed to heirs. If there are any other assets or debts, list them.
Step 6 – Sign in front of a notary or deputy clerk and File with the local circuit court.