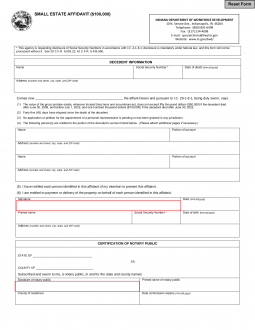 4.7 Stars | 77 Ratings
1,285 Downloads
Updated September 13, 2023
An Indiana small estate affidavit is used to gather the assets of a person who has died and left behind an estate worth less than $100,000. The affidavit cannot be filed earlier than forty-five (45) days after the date of death and must be signed in front of a notary public. The small estate affidavit provides a simplified method of handling a small estate without having to go through the probate process.
How to File (5 steps)
2. Prepare Affidavit
Download Form 54985
. Prepare and sign the form. Include information you have about persons entitled to assets.
Video
How to Write
Download: PDF
Decedent Information
(1) Indiana Deceased Party's Name. The identity of the Indiana Resident who has passed away and whose estate will be discussed should be presented in the first table.
(2) Social Security Number Of Deceased. Obtain then produce the Indiana Deceased's social security number so that he or she may be properly identified.
(3) Date Of Death. The reported calendar date of death on the Indiana Deceased's birth certificate should be furnished with his or her identity.
(4) Address. Dispense the residential address of the Indiana Decedent.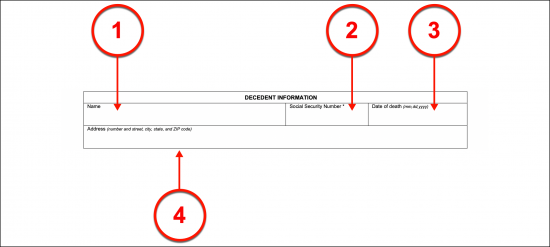 Affiant Statement
(5) Name Of Indiana Affiant. Identify yourself as the Petitioner for control over the Indiana Decedent's estate.

Article 4
(6) Entitled Heir To Indiana Decedent. Every Heir to the Indiana Decedent's estate must be named. Produce his or her full name then continue to supply the information the table in the fourth article will request. If more room is required then an attachment with the information this table requests on all the Heirs may be developed and physically attached to this form.
(7) Portion Of Account. The portion (percentage, ratio, or dollar amount) of the Decedent's estate that each Heir is entitled to must be documented with his or her name. Furnish this information to the area immediately to the right of the Heir's name.
(8) Address Of Heir. In addition to his or her name, the residential address maintained by each Heir should be produced with his or her identity.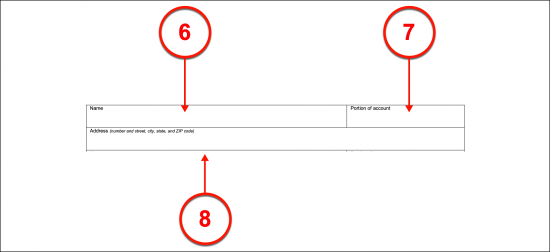 (9) Indiana Affiant Signature. The Affiant petitioning for control over the Indiana Decedent's estate should sign his or her name.
(10) Signature Date Of Indiana Affiant.

(11) Printed Name Of Signature Affiant.
(12) Indiana Affiant Social Security Number. The Affiant's full social security number should be presented with the signature provided.
(13) Date Of Birth. The Signature Affiant should also dispense his or her birth date so that he or she can be easily and properly identified by any court that may review this document in the future.
(14) Indiana Affiant Address. A reliable address where the Indiana Affiant can be found, contacted, and/or served official notice should be dispensed to the final portion of his or her signature area.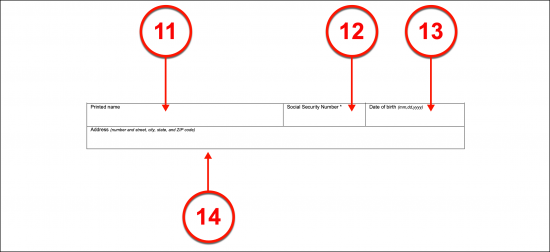 (15) Indiana Notarization Requirement. The final area provided must be completed by the Notary Public obtained for this paperwork.