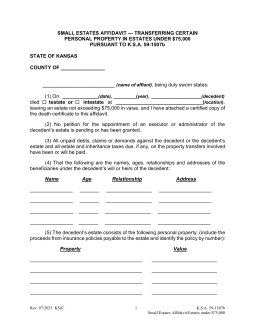 4.8 Stars | 10 Ratings
151 Downloads
Updated September 15, 2023
A Kansas small estate affidavit, or 'affidavit transferring certain personal property,' is used when the assets in the estate of a person who has died total less than $75,000. The form offers a way for a small estate to be distributed without having to go through the probate process. A successor can present a signed and notarized affidavit to third parties in order to collect property owned by the decedent.
Laws
Days after Death – No statute. As state law does not require a period of time to pass before an affidavit can be used, an individual may begin the process at their own discretion.
Maximum –

$75,000

. (K.S.A. 59-1507b) A small estate is defined as an estate not exceeding $75,000 in value.
Motor Vehicles – Use Motor Vehicle (Form tr83b) to transfer a vehicle worth less than $75,000. You can find your Department of Revenue Division of Vehicles office using this locator.
Signing – The form must be signed and sworn before a

notary public

. (K.S.A. 53-601)
Statute – Chapter 59, Article 15 (Accounting and Distribution) stipulates that personal property belonging to the decedent's estate can be transferred to a successor(s) upon presentation of a small estate affidavit.
How to File (4 steps)
1. Gather Information
Collect information about unpaid debts, claims, or demands against the decedent's estate and all inheritance taxes due, if any, and make sure these are paid. Make an itemized list of the decedent's properties and their values, including proceeds from insurance policies. Gather information also about the beneficiaries and percentages they are owed.