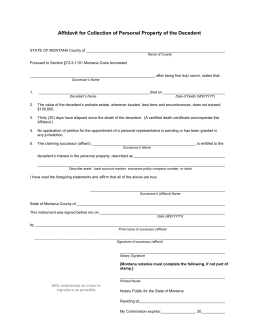 The Montana small estate affidavit, or 'Collection of Personal Property by Affidavit', can be used to collect the property of a decedent while avoiding a complicated probate administration after a person has passed away. However, there are certain requirements that must be met, before this form can be used. Firstly, only a successor to decedent's property can use the document. Thirty days must have passed since decedent died and no other probate action may be pending and the estate must have a value of no more than $50,000. Once it is filled out properly, make sure you have a copy of the death certificate to attach to it. You then must present the form to the persons holding decedent's property. By law they are required to turn it over to you.
Maximum – $50,000
Laws – Section 72-3-1101
For Transfer of Vehicle Only (Form MV12)
How to Write
Step 1 – Read the directions carefully.
Step 2 – On the first page of the document, write in the name of your county and then write in your name.
Step 3 – In Section 1, write in the name of the person who died and the date of death.
Step 4 – In Section 6, write in the description of the property owned by decedent.
Step 5 – Sign and print your name in front of a licensed notary public.
Step 6 – You will present the affidavit to those holding decedent's property and they will be obligated to turn it over to you. Be prepared to present a copy of the death certificate as well.