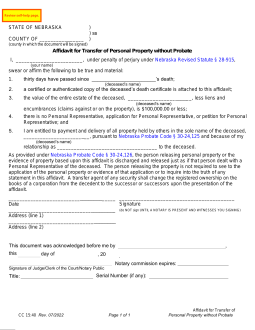 The Nebraska small estate affidavit, or 'Affidavit for Transfer of Personal Property without Probate', is a form that can be used in the event you are entitled to property of a person who died. It allows an estate to be efficiently settled without having to go through a complicated probate process in the event that decedent's estate is valued at $50,000 or less. In addition, there can't be a probate case pending or opened and thirty days must have passed since the date of decedent's death. The affidavit, once filled out properly and attached to a certified death certificate, can be used by the affiant (the person who signed it) to collect and distribute property of the decedent held by a third party.
Maximum – $50,000
Laws – § 30-24,129
For Real Property ONLY Use Form CC 15:41
How to Write
Step 1 – Fill in the the county that you are in.
Step 2 – Fill in your name as the person filling out the form.
Step 3 – In Section 1, fill in the name of decedent.
Step 4- In Sections 3 and 5, write in the name of the decedent again.
Step 5 – In Section 5, write in your relationship to the decedent.
Step 6 – Sign and date in front of a notary and attache a certified death certificate. Third parties holding decedent's property are obligated to turn it over to you when presented with a properly executed document and death certificate.