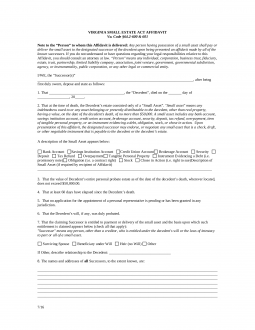 4.6 Stars | 28 Ratings
504 Downloads
Updated September 13, 2023
A Virginia small estate affidavit, known formally as the Virginia Small Estate Act Affidavit, may be used to expedite a probate process for an estate worth less than $50,000 (excluding real estate). The form may not be used until at least sixty (60) days have passed since the date of death of the decedent. If there is a will, it must be filed with the probate court before this form is permissible.
Laws
Days after Death – Sixty (60) days must pass between the date of the decedent's death and the use of the affidavit. (VA Code Ann. § 64.2-601)
Maximum Amount ($) – $50,000. State law defines a small estate as an estate worth less than $50,000. This does not include real estate. (VA Code Ann. § 64.2-601)
Signing Requirements – Form must be signed in the presence of a notary public.
How to File (4 steps)
1. Determine Whether a Will Exists
Under 
Virginia Code § 64.2-601
, a will must be admitted to probate, even if it pertains to a small estate. Essentially it's just being recorded; there is no requirement that any executor or personal representative be appointed. If you are succeeding to a small estate in which there is a will, you can use
this court locator
to find your county clerk's office.
2. Prepare Affidavit
Download the
Virginia Small Estate Act Affidavit
and fill it out. Make sure you know such information as the name of each successor, the value of the assets in the estate, and the full extent of funeral costs.
4. Collect the Assets
You can use a notarized affidavit to recover assets from third parties, including corporations and financial institutions. It is also worth noting that
Virginia Code § 64.2-602
says the holder of any asset valued at less than $25,000 may pay or deliver that asset to any successor without an affidavit. Still, sixty (60) days must have passed since the death of the decedent.
Video
How to Write
Download: PDF
(1) Successor Name. The Successor to property from the Virginia Decedent's estate and acting as a Petitioner must have his or her name presented. Each Successor will be required to sign this document.

Article 1
(2) Virginia Decedent Name. The first article of this petition requires that the individual who has passed away be identified.
(3) Date Of The Virginia Decedent Death. Document the calendar date when the Virginia Decedent was pronounced dead on his or her death certificate.

Article 2
Select One Or More Checkboxes From Item 4
(4) Description Of Virginia Decedent Assets. A firm description of the assets making up the Virginia Decedent's estate property is mandatory. The total value of these assets (once debts have been paid) may not exceed fifty thousand dollars in value. Utilize the checkboxes presented to establish each type of asset or debt the contributes (or subtracts) to the total value of the Virginia Decedent's estate. In this way, you can quickly indicate that the Virginia Decedent has assets such as a "Bank Account" and "Security Deposit" and also establish that he or she carries an "Instrument Evidencing Debt" or an "Obligation" that may detract from the value of the estate.

Article 7
Select One Checkbox From Item 5 Or Select Item 6
(5) Standard Reason For Succession. The Successor(s) completing this form must be classified by the way he or she knows the Virginia Decedent. If he or she is the "Surviving Spouse," a Beneficiary that the Virginia Decedent has named in the will, and/or a natural Heir to an intestate Virginia Decedent (i.e. the Decedent did not make a will) then select the appropriate checkbox from this list. .
(6) Other Reason For Succession. Otherwise, select the "Other" checkbox then define the reason for the Petitioner's right to succession.

Article 8
(7) Names And Address Of All Successors. Every Successor to the Virginia Decedent's estate must have his or her name documented along with his or her current address.

Article 9
(8) Successors Designated For Payments. If there are Designated Successors to the Virginia Decedent's small estate assets then each such Successor must be documented by name and address. A Designated Successor may qualify through Code of Virginia § 64.2-601 and will be required to dispense the assets received in a legal manner that is appropriate to the will of the Virginia Decedent, or if no will, to the right of succession.

Notarized Virginia Affiant Signature
(9) Successor Signature. Every Successor participating in this document must sign his or her name with a Notary Public present.
(10) Notarization Of Successor Signatures. Additional directions will be given by the Notary Public. All such directions and requests required for the notarization process to be completed should be complied with. When he or she is satisfied that the proper procedure is complete, the Notary Public will make use of the final area for notarization of the signature(s) provided.