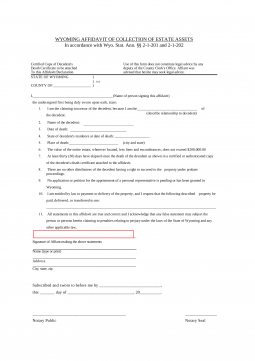 The Wyoming small estate affidavit, or 'Affidavit of Collection of Estate Assets', is a form that may be used to shorten the process for settling an estate of a deceased person in Wyoming. In order to use this process, however, certain conditions must be met, including the following:
the person filling out the form must be a successor of the decedent
the value of the estate may not exceed $200,000
30 days must have passed since the death of the decedent;
a certified death certificate must be attached;
there are no other successors with a right to the property
there is no application pending for the appointment of a personal representative
Once these conditions are met, the person filling out the form may use the form to collect the property of the decedent from third parties.
Laws – § 2-1-201
Maximum – $200,000
Converse County (ONLY) – Use this document for a small estate only in Converse County.
How to Write
Step 1 – Write in the name of the county in which you are signing the document
Step 2 – Write in your name as the successor
Step 3 – Write in the name f decedent and the date of death
Step 4 – Write in decedent's residence at death and city and state
Step 5 – In Section 10, write in a description of the property you are seeking to collect
Step 6 – Sign and date in front of a notary public.