Updated May 16, 2022
A Kansas advance directive lets someone choose their end-of-life medical care and an agent to carry out their wishes in case they become unable to advocate for themselves and their own health. An advance directive is meant for the elderly or any person that may no longer able to speak for themselves in the future. After the form has been signed in the presence of a notary or two (2) witnesses, it is legal for use.
Advance Directive Includes
Laws
Statute – Chapter 58, Article 6 (Powers and Letters of Attorney),
Signing Requirements (§ 58-632, § 65-28,103) – Two (2) witnesses or a notary public.
State Definition (§ 65-3240(1)) – "Advance health-care directive" means a power of attorney for health care or a record signed by a prospective donor containing the prospective donor's direction concerning a healthcare decision for the prospective donor.
Versions (5)
---
Download: Adobe PDF
---
Download: Adobe PDF
---
Download: Adobe PDF
---
Download: Adobe PDF
---
Download: Adobe PDF
How to Write
Download: Adobe PDF
Decision To Name Someone To Speak For Me
(1) Your Name As The Kansas Principal. Identify yourself as the Kansas Patient or Principal appointing a Health Care Agent with this document.
(2) Date Of Birth. The calendar date defining your birthday should be used to further identify you as the Kansas Principal.

Kansas Health Care Agent
(3) Name Of Agent. Present the full name of the person you wish Kansas Doctors to contact and consult with for your medical directives when you are unable to communicate during a time when your consent to or refusal of medical care is needed. Kansas Medical Staff can use the authority you grant your Health Care Agent to obtain your consent or refusal of treatments directly from your Kansas Health Care Agent. Report your Kansas Health Care Agent's name then continue to attach his or her contact information where requested.
(4) Telephone Numbers.
(5) Agent's Address.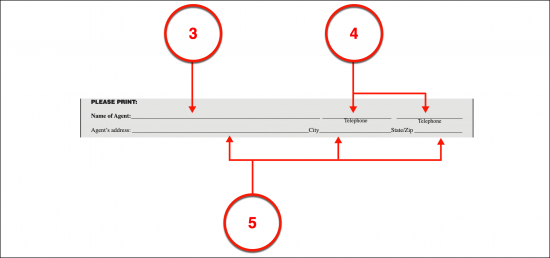 Alternate Kansas Health Care Agents
(6) Name Of First Alternate Kansas Health Care Agent. This appointment allows a precaution to be employed with the goal of ensuring your medical directives will always have a Health Care Agent to present them to Medical Providers in Kansas. An Alternate Party to the Kansas Health Care Agent can be named here as a recipient of the principal power being granted if the Kansas Health Care Agent is not able to fill this role (i.e., revocation, extended travel, refusal). Name this Replacement Agent as the First Alternate Health Care Agent.
(7) First Alternate Agent Telephone Numbers.
(8) Address.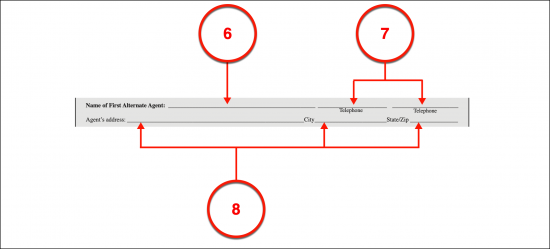 (9) Name Of Second Alternate Kansas Health Care Agent. An additional Agent can be designated to assume the Kansas Health Care Agent role if your First Alternate declines this responsibility or is unreachable at a time when your medical decisions must.
(10) Telephone Number(s).
(11) Second Alternate Kansas Health Care Agent's Address.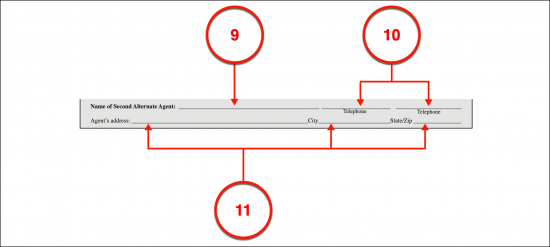 Authorized Instructions
(12) Kansas Organ Donor Directive. If you intend to be a Kansas Organ Donor, then select the declaration statement for this intention.
(13) Direct Kansas Principal Instructions. As the Kansas Principal issuing this directive, you may continue beyond its default status of granted powers and instructions by including his or her medical instructions or desired limitations to the Kansas Health Care Agent's principal powers in an attachment. If this option is employed, indicate this attachment is intended and should be reviewed by marking the appropriate checkbox statement and reporting the number of pages making up the Principal's attachment.

Kansas Principal Signature
(14) Kansas Signature. Review the completed appointment and any attachments containing your instructions. If satisfied, deliver your signature to place this directive in effect while either two Witnesses watch or in the presence of a licensed Notary Public.
(15) Your Date Of Birth.

Notary Public Verification
(16) Signature Notarization. A specific area has been set aside so that a Notary Public can engage the notarization process to your signature. The Notary will dispense several facts regarding your signing, his or her notary credentials, and his or her notary seal.

Witness Verification Option
(17) Witness Dated Signature. If preferred, you can execute your directives before two Witnesses. Once these individuals watch you complete your signature, each one should sign his or her name then deliver the current date. Notice that the signature date recorded as yours must be identical to the Witnesses' signature date.

Living Will Declaration
(18) Kansas Declarant. The Kansas Natural Death Act enables Patients in this state to deny life-prolonging procedures when he or she has been diagnosed with a terminal condition that is incurable. To issue this declaration, claim the living will as your own by documenting your name where requested.

(19) Signature Date. Report the current date just before you sign your name to issue this document.
(20) Kansas Declarant Signature. The declaration made above has significant ramifications to your longevity, therefore you must sign your name to prove your intentions.
(21) Date Of Birth. Your birth date should be used to support your identity.
(22) Address Of Kansas Declarant.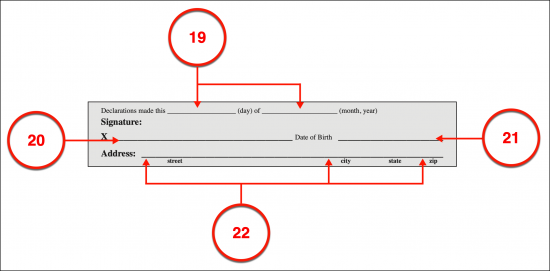 Kansas Declarant Signature Verification
(23) Declarant Signature Notarization. Your signature can be verified through its notarization by a Notary Public. This is sometimes preferable since it can be easier to locate a Notary Public in the future than two Witnesses. If your signature will be authenticated by a Notary Public, then he or she will attend to the "Notary Public" section.

(24) Witness Testimonial. If desired, two Witnesses who watch you sign your name can testify to the authenticity of the signature you produced on this paperwork. To do this, each Witness must sign his or her name then use the following spaces to present his or her address.
(25) Witness Addresses.

Do-Not-Resuscitate Directive
(26) Kansas Declarant Name. If you have decided to issue a Kansas DNR (Do-Not Resuscitate) Directive, so that first Responders consulting your records and attending Medical Staff refrain from restarting your heart and/or lungs using CPR (cardiopulmonary resuscitation) then the final portion of this package must be used. A record of your full name will be needed in the first statement.

(27) Signature Declaration. The order to not resuscitate you using CPR will mean that if your heart stops beating or your lungs stop working, then Kansas Medical Staff will not engage the use of CPR to artificially restart the failing organ. This will often result in death. Therefore, to effectively execute this document, you must sign your name in a verifiable manner. Additionally, a Physician will need to approve this order. Once you have gathered the Parties needed for your signature, sign your name where requested.
(28) Your Signature Date.
(29) Witness Signature. One Witness will be needed to testify that you provided your signature to this directive. This verification is provided through the Witness's act of signing this document after he or she has observed you perform the act of signing.
(30) Witness Address.

Attending Physician Order
(31) Attending Physician's Signature. A Kansas Physician will need to establish that he or she has made sure that you have been given a reasonable understanding of CPR and that he or she approves your decision to refuse CPR by signing his or her name.
(32) Signature Date.
(33) Physician Facility Information. The address as well as the full name of the Medical Facility, Clinic or Hospital where the Signature Kansas Physician practices medicine should be documented below his or her signature and signature date. Place the Physician's professional address where requested on the left.
(34) Medical Facility Name. After recording its address, report the full name of the Medical Facility where the Physician operates professionally.

Revocation Option
(34) Declarant Signature. The final area is provided as a convenience and a safety measure. Only provide your signature if you wish to terminate or cancel the DNR just completed.
(35) Date Of Signature Revocation. The signature date of your revocation will act as the formal date that your DNR is no longer considered valid.

Related Forms
---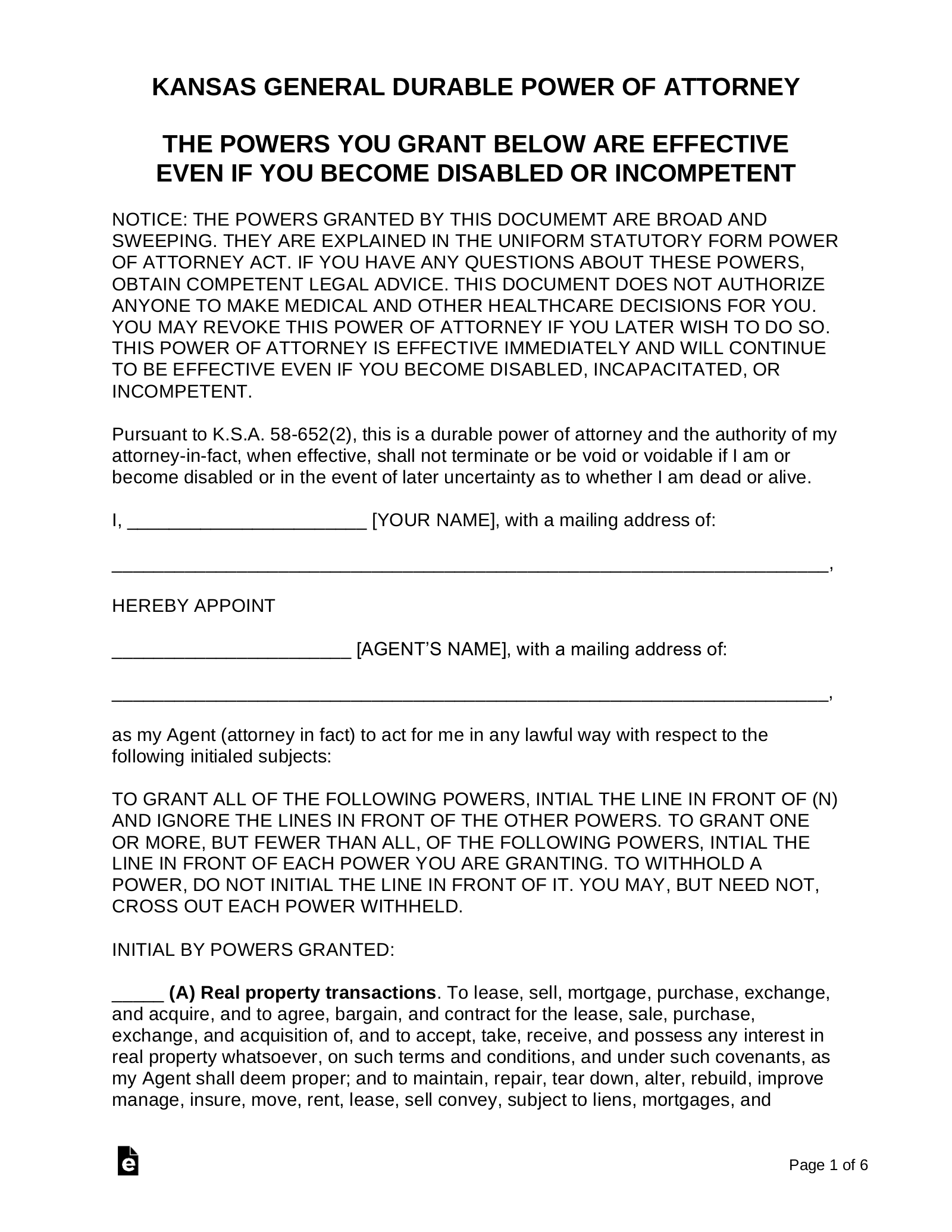 Durable (Financial) Power of Attorney
Download: Adobe PDF, MS Word, OpenDocument
---
Download: Adobe PDF, MS Word, OpenDocument