A Louisiana advance directive is a document that lets a person choose a medical agent to handle health care decisions on their behalf. The agent must operate under the instructions of the advance directive and adhere to the requests made by the declarant. A person may choose to end their life early if there is no chance of living a comfortable life and select do-not-resuscitate orders if they should have a terminal illness. The form must be signed with two (2) witnesses and may be used immediately afterward.
Advance Directive Includes
Table of Contents
Laws
Statute – RS § 28-221 to § 28-237 (Advance Directives for Behavioral Health Treatment)
Signing Requirements (RS 28:224, RS 40:1151.4) – Two (2) witnesses.
State Definition (RS 28:221) – "Advance directive" means a written document voluntarily executed by a principal in accordance with the requirements of this Part and includes a declaration or the appointment of a representative or both.
Versions (6)
---
Download: Adobe PDF
---
Download: Adobe PDF
---
Download: Adobe PDF
---
Download: Adobe PDF
---
Download: Adobe PDF
---
Download: Adobe PDF
Registry
A resident of Louisiana may register their advance directive by submitting a copy and a check for $20 payable to the 'Louisiana Secretary of State' and send to:
Louisiana Secretary of State
Elections Services
P.O. Box 94125
Baton Rouge, LA 70804-9125
Attach an additional $20 if a certified copy is requested.
How to Write
Download: Adobe PDF
Step 1 – 
Related Forms
---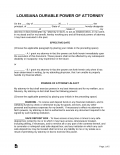 Durable Financial Power of Attorney
Download: Adobe PDF, MS Word, OpenDocument
---
Download: Adobe PDF, MS Word, OpenDocument