Updated May 16, 2022
A Louisiana advance directive is a document that lets a person choose a medical agent to handle health care decisions on their behalf in case they become unable to speak or make decisions for themselves. The agent must operate under the instructions of the advance directive and adhere to the requests made by the declarant. A person may choose to end their life early if there is no chance of living a comfortable life and select do-not-resuscitate orders if they should have a terminal illness. The form must be signed with two (2) witnesses and may be used immediately afterward.
Advance Directive Includes
Laws
Statute – RS § 28-221 to § 28-237 (Advance Directives for Behavioral Health Treatment)
Signing Requirements (RS 28:224, RS 40:1151.4) – Two (2) witnesses.
State Definition (RS 28:221) – "Advance directive" means a written document voluntarily executed by a principal in accordance with the requirements of this Part and includes a declaration or the appointment of a representative or both.
Versions (6)
---
Download: Adobe PDF
---
Download: Adobe PDF
---
Download: Adobe PDF
---
Download: Adobe PDF
---
Download: Adobe PDF
---
Download: Adobe PDF
Registry
A resident of Louisiana may register their advance directive by submitting a copy and a check for $20 payable to the 'Louisiana Secretary of State' and send to:
Louisiana Secretary of State
Elections Services
P.O. Box 94125
Baton Rouge, LA 70804-9125
Attach an additional $20 if a certified copy is requested.
How to Write
Download: Adobe PDF
First Choice For Louisiana Health Care Agent
(1) Louisiana Principal Name. Your name must be produced at the beginning of this document to identify yourself as the Louisiana Principal appointing a Health Care Agent.
(2) First Choice Name. Louisiana Physicians and Medical Personnel can consult with your Health Care Agent to determine what your best course of treatment would be when you are unable to communicate with them and stricken with an incurable medical condition. Name the person you give the authority to speak on your behalf as your Louisiana Health Care Agent.
(3) Agent Address And Phone Number.

Second And Third Choice For Louisiana Health Care Agent
(4) Second Choice Name. Name a second individual who is authorized to act as your Louisiana Health Care Agent. In a circumstance where your First Choice is unavailable, ineffective (i.e., revoked), or unwilling to represent your medical instructions, your Second Choice Health Care Agent will automatically be granted the power to speak for you once you attach his or her name to the Second Choice role.
(5) Address And Phone Number.
(6) Third Choice Name. If both your previous choices will not represent your medical instructions to Louisiana Physicians and Medical Personnel, then the principal medical power this document delivers will be granted to the Third Choice you name.
(7) Address And Phone Number.

Date Of Louisiana Appointment
(8) Signature Date.
(9) Louisiana Principal Signature. Medical Professionals in the State of Louisiana cannot use this document to discover your health care directives from your Health Care Agent(s) unless it bears your signature. Sign your name as the Louisiana Principal issuing it while two Witnesses watch.
(10) Address.
(11) Date Of Birth. Your birthday will aid to verify your identity as the Louisiana Principal.
(12) Social Security Number. Many Medical Facilities will use your social security number as part of your I.D. in their records. Make sure to report this as a matter of further identifying yourself.

Witness Acknowledgment
(13) Witness Signature Requirements. The Louisiana Witnesses observing the signing must meet the requirements of the "Witness Acknowledgement" statement and agree to its testimony that each has watched you sign your name. Each Witness must select a unique signature line then produce his or her signature, printed name, signature date, and time of signature. 

Louisiana Physician Orders For Scope Of Treatment (LaPOST)

 
(14) Louisiana Patient Name. The Louisiana Principal above also has the option of working with a Physician to complete the LaPOST which will be attached to his or her medical records for the benefit of Louisiana First Responders and other Medical Personnel. As the Patient, his or her full name must be presented at the top of the page.
(15) Patient Information For Louisiana Responders. Quite a few scenarios will necessitate that the Louisiana Patient is identified as quickly as possible. This effort can be aided with a record of the Patient's "Date Of Birth" and his or her "Medical Record Number."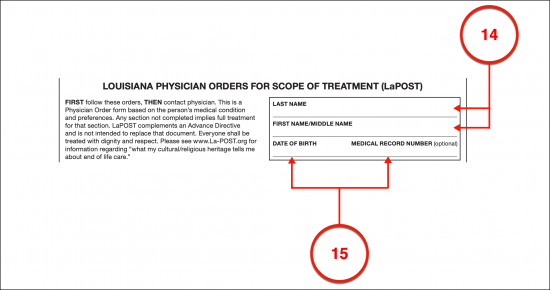 Patients Diagnosis Of Life-Limiting Disease And Irreversible Condition
(16) Current Medical Status. The current medical conditions that afflict the Louisiana Patient should be listed for reference.
(17) Goals Of Care. After a frank discussion between the Louisiana Physician and Patient, a statement on the agreed-upon treatment goals of the Patient should be dispensed so that future Medical Professionals can apply them appropriately at the time of treatment.

Section A Cardiopulmonary Resuscitation (CPR)
Select Directive 18 or Directive 19
(18) Louisiana CPR Directive. Cardiopulmonary Resuscitation is often the default response when Medical Professionals find that a Louisiana Patient's heart and/or lungs have stopped working. CPR can consist of mechanical work on the body or equipment used to restart and maintain the heart until hospitalization. To grant consent for Louisiana First Responders and Medical Professionals to administer CPR when he or she suffers cardiopulmonary failure, then the checkbox statement provided should be selected to make this declaration.
(19) Patient's DNR Order. The Louisiana Patient can solidify his or her refusal to receive CPR by selecting the DNR statement. This selection will inform Louisiana Medical Professionals that the Patient does not wish to be revived should his or her heart and/or lungs stop functioning.

Section B Medical Interventions
Select Statement 20, Statement 21, Or Statement 22 As Your Directive
(20) Full Treatment. If the Louisiana Patient's other organs and body parts cause a serious medical event that will result in death, Health Care Professionals will attempt to prolong the Patient's life. If he or she intends to consent to any legal treatment available and necessary to prolong his or her life be administered with this goal, then this desired level of treatment should be declared by marking the appropriate checkbox. This grants Louisiana Medical Professionals the necessary consent to administer life support procedures that can be considered invasive or even unpleasant by some (i.e., intubation).
(21) Selective Treatment. The Louisiana Patient may wish his or her life extended without delivering consent to painful or invasive medical treatments by requesting that any treatment administered to prolong his or her life remain within the consideration of allowing comfort to be maintained. Select the statement provided for this treatment goal mixing comfort care with longevity to attach it as the Patient's level of consent.
(22) Comfort Focused Treatment. The decision to request that treatment focus on the Louisiana Patient's comfort rather than longevity or slim chance for a burdensome recovery should be documented using this section. If selecting this as the level of care and formal treatment goal of the Louisiana Patient, Medical Personnel will refrain from treatments that will cause pain or discomfort.
(23) Additional Orders. There may be specific considerations and instructions the Louisiana Patient wishes documented when discussing his or her care. Any provisions that future attending Physicians should be aware of when deciding upon a course of treatment should be included but should relate directly to the level of medical intervention the Patient expects. For instance, if the Louisiana Patient is open to a trial period or intubation when lung failure occurs while in a persistent vegetative state, then use the space provided to discuss the circumstance where a trial period of intubation is acceptable to the Patient and the length of time intubation will be allowed to prolong the Patient's life.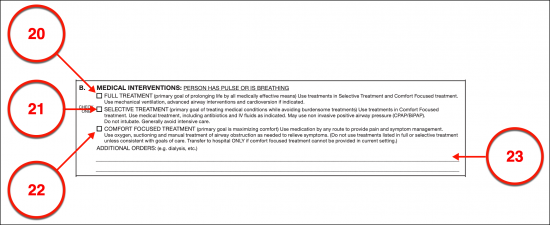 Section C. Artificially Administered Fluids And Nutrition
Select Item 24 Or Item 25 Or Item 26
(24) No Artificial Nutrition By Tube. A variety of untreatable conditions can prevent a Louisiana Patient from eating or drinking. For instance, in the advanced stages of rabies (a potentially fatal condition), Patients may have seizures when attempting to drink water. If the Patient does not want to have nutrition or water artificially delivered through a tube or an I.V., then such an instruction must be formally declared by selecting the appropriate checkbox.
(25) Trial Period Of Artificial Nutrition. The Louisiana Patient can set a trial period for receiving nutrition and water. This is often preferred when there is a slight chance of recovery. For instance, if the Patient is a permanent vegetative state with a low to no chance of recovery, then not delivering food and water will hasten death while often removing any slim chances for recovery. The declaration statement requesting a trial period for the delivery of artificial nutrition and water provides an area where the length of this trial period must be established. If the Patient does not know how long such a trial period should be then he or she can place this decision in the hands of a legally appointed Health Care Agent or the attending (licensed) Physician by stating as much directly to this area.
(26) Long-term Artificial Nutrition By Tube. If a discussion between the Medical Professional and the Louisiana Patient results in the Patient's consent to receiving his or her nutrition and water through a tube, an I.V. (intravenously), or any other aided means then the final statement should be selected. Be advised, this section must be consistent with the previous one meaning the if the Patient selected to opt for "Selective Treatment" then any artificial delivery of nutrition and water the Patient wishes excluded should be addressed in Part B.

Section D. Summary
(27) Discussion Party. It must be indicated if the LaPOST was discussed between a licensed Medical Professional and the Patient or if a Personal Health Care Representative of the Patient represented his or her interests with the consulting Medical Professional.

(28) Direct Patient Contact. Some further definitions will be required to define the Party discussing the Patient's treatment decisions with the Louisiana Medical Professional. If the Patient was present and cognizant with the ability to communicate in any reasonable way, then this should be stated.
(29) Patient's Health Care Representative. Solidify if a Health Care Representative named by the Patient through his or her advance directive or power of attorney is involved with this medical consultation.
(30) Patient's Advance Directive Information. If the Louisiana Medical Professional has access to the Patient's advance directive or any similar declarations of medical preferences and appointments, then select the checkboxes.
(31) Advance Directive Information. If the Louisiana Patient has issued an advance directive that is available for review, then select the first definition of the second column in this section by marking its checkbox then recording the date of the Louisiana Patient's advance directives.
(32) Lack Of Advance Directive. Indicate if no advance directive concerning the Louisiana Patient is available for review.
(33) No Advance Directive. If the Louisiana Patient has not completed and signed an advance directive, then make sure to select the appropriate item so that future Medical Professionals reviewing this LaPOST will not lose any time seeking such paperwork.
(34) Health Care Agent Information. If the Louisiana Patient has appointed a Health Care Agent, then report on this Representative's identity and contact information.
(35) Resuscitation Would Be Medically Non-Beneficial. If the Louisiana Patient's medical condition cannot be cured and resuscitation will only result in repeated cardiopulmonary failure or other traumatic system failures, then make sure this fact is stated.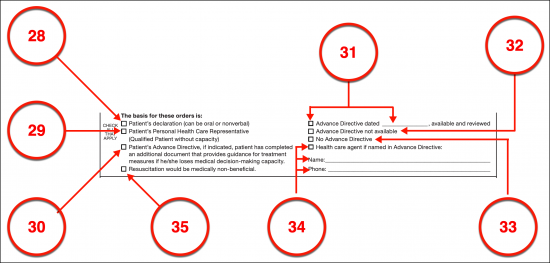 POLST Signature Requirements
(36) Physician's Signature Acknowledgment. In order for this document to be considered the direct orders of a Louisiana Physicians that are in accordance with the Patient's wishes, the Louisiana Physician must supply his or her printed name and signature then his or her contact telephone number and signature date.
(37) Patient Or Proxy Signature. In addition to the Louisiana Physician's signature, the Patient whose medical orders are discussed above must print his or her name, sign this document, and record the date that he or she furnished this signature of intent. If this LaPOST results between a Physician and the Louisiana Health Care Agent of the Patient, then the Health Care Representative may sign this form on behalf of the Patient.
(38) PHCR Information. If the PHCR (Patient's Health Care Representative) has signed this form on behalf the Patient, then the relationship the Health Care Agent holds with the Louisiana Patient should be documented along with his or her address and telephone number.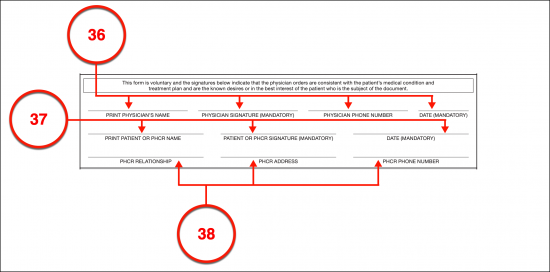 (39) Patient Name. Attach this document to the correct Louisiana Patient's medical file with a recording of his or her full name in the top of the second page. It is imperative that these two pages are filed correctly and appear together in the Patient's files at all times while in effect.

(40) Review Of This LaPOST Form. A periodic review of the LaPost is recommended. This will allow Louisiana Health Providers to verify how recent the completed directive is and if it is still an accurate reflection of the Patient's medical treatment goals. A brief table will allow the date and the time, the identity and location of the Reviewer, and the status of this document to be presented once this information is obtained.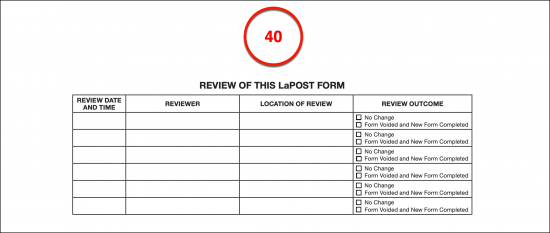 Living Will
(41) Louisiana Declarant. If you have decided to issue a Living Will in the State of Louisiana, then claim the following form as your medical instructions for a scenario where you are diagnosed with an incurable or untreatable fatal medical condition (i.e., advanced stages of cancer or permanently unconscious). Here, you can inform Louisiana Physicians, that you deny or refuse to provide consent to medical treatments that will only prolong or extend your life. Produce your full name as the Patient making this declaration.

(42) Directive On Artificial Nourishment. A wide range of terminal or untreatable medical conditions can result in your inability to intake or process food and water through normal means or assisted hand-feedings. For instance, some conditions may render you entirely unconscious which would present a significant choking hazard. Inform Louisiana Physicians of your intent to deny any food and water delivered in an invasive manner (i.e., a tube leading directly to the gastrointestinal tract) or of your intent to consent to nutrition and water provided by any means necessary including invasive methods by selecting the appropriate checkbox.

Louisiana Declarant Witnessed Signature
(43) Signature Date. To place the living will in effect, you must provide a dated signature. Review this document thoroughly then, on the day you sign your name, record the current date.
(44) Louisiana Declarant Signature. Sign your name as the Louisiana Declarant immediately after you have produced the current date before two Witnesses. Due to the seriousness of this declaration, several additional pieces of information regarding your identity should be supplied to the areas below your signature. Make sure to provide this information as it is presented.
(45) Address.
(46) Date Of Birth.
(47) Social Security Number. Produce your social security number as your final report to the signature area then physically give this document to the Witnesses in attendance.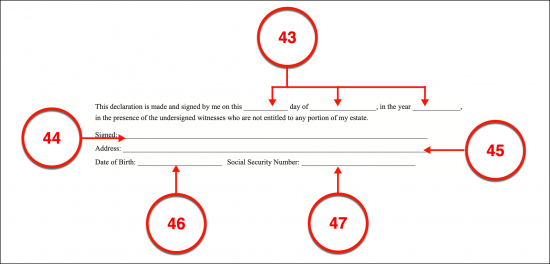 Witness Testimony
(48) Required Witness Action. Neither Witness may be considered a Louisiana-approved Witness for this document if he or she is aware of being entitled to your estate and is related to you (i.e., blood, marriage, adoption, etc.). If both meet this criterion and have watched your signature produced to this document (by you) then each must sign his or her name, print his or her name, then document the current date and time. Notice that all signature dates should be provided as the current date and should be the same.

Related Forms
---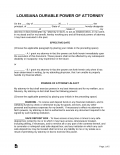 Durable (Financial) Power of Attorney
Download: Adobe PDF, MS Word, OpenDocument
---
Download: Adobe PDF, MS Word, OpenDocument