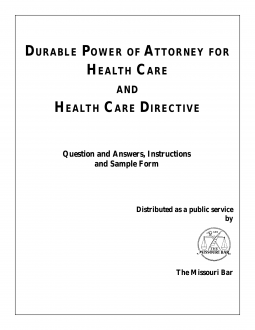 A Missouri advance directive is a document that outlines the preferred medical treatment options for an individual and an agent to speak on their behalf. An advance directive only comes into use when a person can no longer speak for themselves. In such an event, the agent will be the sole decision-maker of all health care decisions. If the patient is determined to be permanently incapacitated, medical staff are required to follow the life-sustaining treatment options located in the directive.
Advance Directive Includes
Table of Contents
Laws
Statute – Chapter 404, Chapter 459
Signing Requirements – Two (2) witnesses and a notary public.
Versions
---
Download: Adobe PDF
---
Download: Adobe PDF
---
Download: Adobe PDF
---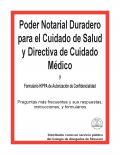 Spanish (Español) Version
Download: Adobe PDF
How to Write
Download: Adobe PDF
Step 1 – Download The Missouri Advanced Directives
The Missouri Advanced Directives displayed on this page should be saved to your machine in a readily accessible folder. Use the "PDF" button or "Adobe PDF" link on this page to access then download this set of templates.
Step 2 – Furnish Your Information As The Principal
Once downloaded, locate page one of this document bearing the title "Durable Power Of Attorney For Health Care And Health Care Directive." The set of lines set under the bold statement "This Form Belongs To" expects information that defines the Principal who intends to name a Health Care Agent or Attorney-in-Fact using this form. The line labeled "Name" requires your name. Keep in mind that while it is assumed the Principal issuing this document is preparing it, this template can be completed by anyone approved by the Principal so long as it is executed properly. Begin this process by filling in the full "Name" of the Principal as requested. 
Next, use the blank lines attached to the label "Address" to furnish the building number, street, apartment number, city, state, and zip code of the Principal's residential address.
Next, disclose the Principal's "Telephone" number on the next line. It is recommended that if the Principal can be reached by more than one phone number that each one be listed.
Record the Missouri Principal's "Social Security Number" in an effort to make sure this Party is fully identified.
Finally, the "Medical Number" should be filled in with the Principal's government issued medicare number assigned to the Principal.
Step 3 – Perform A Review Of The Durable Power Of Attorney For Health Care
The next two pages deliver an introduction and some basic instructions that should be read by the Principal executing this form. If any part of this form is unclear then the Principal is encouraged to consult an attorney licensed in the State of Missouri or a Physician familiar with such paperwork. 
The first page of the Durable Power Of Attorney For Health Care template can be found on page seven. If you have decided that you do not wish to name a specific Health Care Agent then locate the box with the "Initials" line next to the bold statement "If You Do Not Wish To Name An Agent…" Initial this box to confirm that you have intentionally left "Part I. Durable Power Of Attorney For Health Care" blank. If you intend to name someone to address, determine, and decide upon your medical treatment with Missouri Health Care Providers when you are unconscious or unable to communicate then leave this box unattended.
Step 4 – Formally Name Your Missouri Health Care Agent
Locate the first article of this appointment template where several lines have been titled "1. Selection Of Agent." The first of these lines, labeled "Name," must be populated with the identity of the person to be appointed as your Missouri Health Care Agent." You, as the Principal, may select a family member, friend, or a trusted Party to fill this role but it must be someone that understands your medical needs as well as your decision-making process regarding your health care.  
The "Address" of the Missouri Health Care Agent is the next item that should be presented. Two lines have been provided for this task so that the full residential address of the Missouri Health Care Agent you wish to appoint. 
The "Telephone" line should be used as a display area for your Missouri Health Care Agent's home phone number, his or her work phone number, and/or (if available) his or her cell phone number.
Step 5 – Name Two Additional People To Substitute For The Missouri Health Care Agent
If the Missouri Health Care Agent identified above "…Resigns Or Is Not Able Or Available…" to convey your medical decisions to Missouri Health Care Providers then it will be beneficial, by most standards, to have an additional individual set to automatically receive the same authority over your health care treatment so that you may continue to enjoy proper representation with Missouri Medical Staff even while unconscious or unable to speak with or understand people. Such a person will be referred to as the "First Altnernat Agent" while an additional Party set to assume this position should both the Missouri Health Care Agent and First Alternate Agent be unable to carry out your medical preferences is considered the "Second ALternate Agent" Both these people must be identified on the "Name" line of the "First Alternate Agent" and "Second Alternate Agent" sections. 
The home "Address" of each Alternate Agent should be displayed using the two lines labeled "Address." 
The "Telephone" number of each Alternate Agent is also required and should be disclosed to the final line of each of these Party's respective sections. 
Step 6 – Set The Effective Date Of The Authority Being Granted
The third article "3. Effective Date And Durability" will aid in defining when this paperwork formally grants the Principal's authority to the Missouri Health Care Agent by indicating if one Missouri Physician is required to proclaim you as incapacitated or unable to communicate or if two Missouri Physicians will be required for this action. Initial the box on the right of the statement "If You Want One Physician, Instead Of Two…" to declare you as incapacitated thereby placing this document in effect. If you wish two Missouri Physicians to set this document in motion with a written diagnosis of your incapacitation or inability to communicate then, leave this checkbox unattended. 
Step 7 – Establish The Missouri Health Care Agent's Authority Over Artificial Hydration
The Missouri Health Care Agent's Powers will be discussed in Article "4. Agent's Powers." Notice that item A of this document gives the Health Care Agent the right to inform Missouri Health Care Professionals that you "Consent To, Prohibit Or Withdraw Any Type Of Health Care, Medical Care, Treatment OR Procedure" even if his or her representation of your wishes results in death, however in order to give similar powers over your nutrition to your Missouri Health Care Agent, item "A." will require one of two statements to be initialed. Thus, "If You Wish To Authorize Your Agent" to authorize artificial feedings and withdraw your authorization of artificial feedings then initial the first box in this item.
Initial the second box "If You Do Not Wish To Authorize Your Agent…" to represent your decisions, authorizations, or refusals of artificial nutrition and hydration administered by Missouri Health Care Providers, then initial the second box in item "A. Give Consent To…" 
Step 8 – Review The Actions You May Rely On Your Agent To Perform
Review the remainder of the items in this form. Each will discuss what you may legally rely on your Medical Attorney-in-Fact to do in your name. The remainder of this list will cover some important grants of authority that should be read for approval by the Principal.
Step 9 – Review The Actions You May Rely On Your Agent To Perform
The second part of this executable form will seek your direct input. Look over the instruction and introduction on page ten titled "Instruction For COmpleting Part II. Health Care Directive." Here you will be able to directly inform Missouri Health Care Personel of your instructions when facing a medical scenario involving your inability to communicate with little to no chance of recovery. 
Step 10 – Issue Part Two Of The Health Care Directive Or Verify Its Exclusion  
Locate page eleven of this package then review the first statement and its accompanying initial box. If you do not intend to include the Health Care Directive with your Health Care Agent's appointment, this must be verified by initialing the box to the right of the statement "If You Do Not Wish…" However, if you do intend to issue these instructions, make sure this box is not initialed and remains empty.
Step 11 – Review The Life-Prolonging Procedures You Wish Withheld Or Withdrawn
Notice the list of procedures presented on this page. You may use this list to deliver a declaration to Missouri Health Care Personnel that you would refuse specific treatments when severely incapacitated with little hope for recovery. Initial every treatment description you would refuse from this list. Thus, if you will not authorize Missouri Medical Staff's administration of "Artificially Supplied Nutrition And Hydration (Including Tube Feeding Of Food And Water)" then initial the first "Initials" line. If you wish Missouri Medical Staff to make sure you are well fed and hydrated, then leave this line blank.
You can withhold authorization over "Surgery Or Other Invasive Procedures" performed while you are incapacitated then initial the second item.
If you will refuse "Heart-Lung Resuscitation (CPR)" used by Missouri Medical Staff as a method to revive you when you suffer cardiac arrest or pulmonary failure while incapacitated, you must initial the third line. If you do wish for cardiopulmonary resuscitation then leave this item unattended.
You can refuse to authorize the administration of any "Antibiotic" by initialing the fourth treatment item on this list.
Initial the fifth list item if you do not authorize the use of dialysis when you are persistively unconscious or unable to communicate.
To refuse being put on a "Mechanical Ventilator (Respirator)," initial the sixth list item presented.
If you intend to withhold your authorization for "Chemotherapy," you should initial the seventh "Initials" line of this list.
The "Radiation Therapy" option presented as the second to last treatment decision can be refused by initialing the corresponding line to this description.
There are many procedures and treatments that Missouri Medical Staff may determine are necessary to keep you alive, however, you can refuse to give your authorization to "All Other Life-Prolonging Medical Or Surgical Procedures…" when you are unconscious or incognizant by initialing the final statement. If you do not initial this item, then any other treatment option Missouri Physicians may be obligated to administer to prolong your life will be assumed to be authorized by you. 
Step 12 – Review The Declaration Closing This Document
The final statement of this directive will declare that if a Missouri Physician believes that if "…Any Life-Prolonging Procedure May Lead To A Significant Recovery…" that it be used for a limited amount of time (until it becomes apparent that a recovery is impossible) and that at all times you be kept as comfortable and pain-free as possible even if such comfort care will shorten your life, suppress appetite, or become habit-forming. Review this final statement as it is part of your declaration.
Step 13 – The Missouri Principal Must Execute The Advance Directive By Properly Signing It
This paperwork will be used to direct Missouri Medical Personnel on how to respond to your needs when you have been incapacitated to the point of being unable to make or communicate your medical decision for an extended period of time or until it causes your death. Naturally, it must be provable that you intended to make such declarations and when these statements are issued. To this end, find the page titled "Part III General Provisions Included In The Directive And Durable Power Of Attorney" then give its introduction a thorough review. 
Once you have reviewed the material go to page fifteen then locate the first blank line in the statement beginning with the term "In Witness Whereof…" This line must be populated with the two-digit calendar day of the month that you are signing this declaration while the lines labeled "(Month)" and "(Year)" must be set to display the month and year of your signature.  
Once you have supplied the current date, take a moment to review the full document to make sure it is an accurate representation of your intentions then sing the blank line labeled with the word Signature."
Step 14 – Provide The Principal's Home Address To Support The Signer's Identity
After signing your name, Print your full name on the "Print Name" line.
Further, confirm your identity with documentation of your full home "Address" down the next two lines. 
Step 15 – Gain Witness Acknowledgement To The Execution
The proclamation made below your signature rea can only be read and agreed to by the two Witnesses who have watched you sign your name. Both Witnesses must supply a "Signature" to the first blank line of a unique signature column.
The "Print Name" line provided below each "Signature" line should be used to display the printed name of the Signature Witness.   
Finally, both Witnesses are expected to report their home address. Two lines appearing next to the "Address" label should be used for this purpose. 
Step 16 – Review the Missouri Notary's Completed Section
The final portion is the Notary Public's area. This is required for the Durable Power of Attorney. This section is also available if you wish to lend additional credence to your health directive. Only a Missouri Notary Public can complete this section upon your delivered and witnessed signature. He or she shall verify the location, date, and Principal identity then display his or her credentials. 
Related Forms
---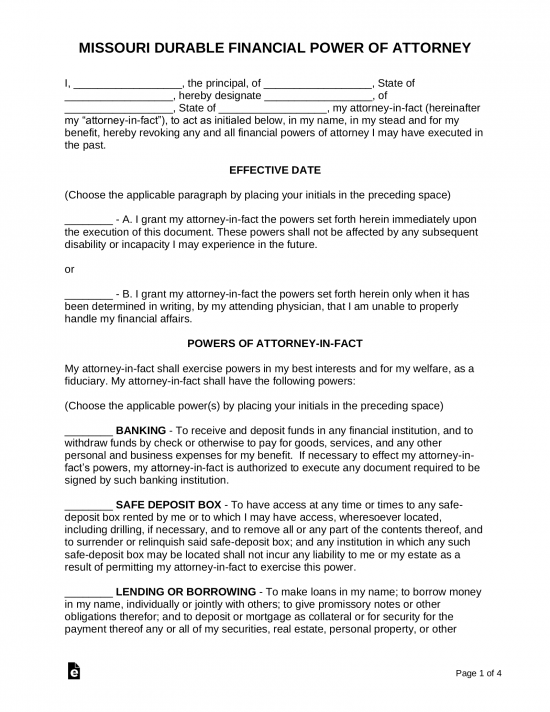 Durable Financial Power of Attorney
Download: Adobe PDF, MS Word, OpenDocument
---
Download: Adobe PDF, MS Word, OpenDocument