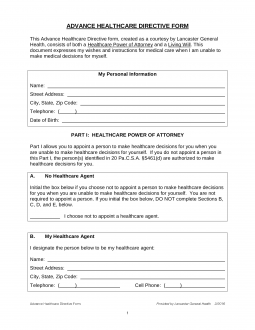 A Pennsylvania advance directive is a combination of forms to allow a person to set up their health care plans and preferences. The form also allows an agent to be selected to carry out the health care preferences in the chance the patient cannot speak for themselves. After completing and signing with two (2) witnesses, they form may be used only after the patient becomes incapacitated.
Advance Directive Includes
Table of Contents
Laws
Statute – Title 20, Chapter 54 (Health Care)
Signing Requirements (§ 5442) – Two (2) witnesses.
State Definition (§ 5422) -"Advance health care directive."  A health care power of attorney, living will or a written combination of a health care power of attorney and living will.
Versions (10)
---
Download: Adobe PDF
---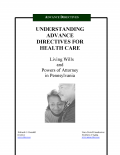 Bryn Mawr Medical Specialists Assoc.
Download: Adobe PDF
---
Download: Adobe PDF
---
Download: Adobe PDF
---
Download: Adobe PDF
---
Download: Adobe PDF
---
Download: Adobe PDF
---
Download: Adobe PDF
---
Download: Adobe PDF
---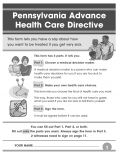 University of Pittsburgh Medical Center
Download: Adobe PDF
---
How to Write
Download: Adobe PDF
Step 1 – Download The Pennsylvania Health Care Directive Form
Locate either the "PDF" button presented with the advance directive sample image or the "Adobe PDF" link above. Both can be used to access the Pennsylvania Health Care Directive Form to your machine. It is recommended to save a master copy should you wish to update this paperwork in the future.
Step 2 – Deliver Your Information As The Pennsylvania Declarant
The first page of this document begins with a brief introduction solidifying your intent to act as a Principal Declarant by documenting your instructions or requests to Pennsylvania Medical Staff through the Healthcare Power Of Attorney and/or Living Will included in this Advance Directive. 
The box titled "My Personal Information" refers to the individual who wishes his or her instructions delivered to concerned Pennsylvania Physicians and Health Care Personnel through this document when he or she is unable to understand, communicate, or remain awake long enough to make health care decisions. The first line in this box requires your "Name"
Your complete home address should be documented in this section. Utilize the "Street Address" line and the "City, State, Zip Code" line to document this information.
Disclose your "Telephone" number to the formatted line seeking this information in the "My Personal Information." 
Your "Date Of Birth" is the final requested item in this section. This will be important in identifying you to Medical Personnel reviewing this form thus, it is recommended to report it in a standard month, day, year format.  
Step 3 – Indicate If You Will Designate A Pennsylvania Health Care Agent
You are not required to appoint a Health Care Agent to represent your preferences with Pennsylvania Medical Personnel to use this form. If you have decided not to appoint a Pennsylvania Health Care Agent, then locate the box titled "A. No Healthcare Agent." Initial the blank line labeled "I Choose Not To Appoint…" If this is the case skip to step ten. Otherwise, if you wish to appoint an agent, leave this line unattended (see below), then continue to the next box. 
Step 4 – Identify Your Choice For Health Care Agent If Applicable
If you have decided to appoint someone with the authority to speak in your voice regarding your medical care when you cannot communicate due to a serious medical condition, then locate the box titled "B. My Healthcare Agent." Record the full "Name" of your intended Pennsylvania Healthcare Agent on the first line presented.
Once you have identified the person who will represent your medical preferences and beliefs as your official Pennsylvania Health Care Representative," record his or her residential or home address on the two lines that follow. This requires a separate presentation of your Health Care Agent's "Street Address" from that of his or her "City, State, Zip Code." 
Naturally, Pennsylvania Medical Personnel reviewing this paperwork may need to use it to contact your Healthcare Agent quickly. To this end two distinct lines in "B. My Healthcare Agent" are reserved for this your Representative's "Telephone" number and "Cell Phone" number  
Step 5 – Determine Two Successors To The Pennsylvania Health Care Agent
Now that you have officially designated someone as your Pennsylvania Healthcare Agent, it will be time to consider a scenario or situation where he or she cannot act in this role or will not. To ensure that continued representation is available while you are unconscious, it would be wise to have a backup or reservice Health Care Agent ready to accept the responsibility and authority carried by the role of your Pennsylvania Healthcare Agent. Produce the "Name" of someone who will be willing and able to represent you should your original choice for this role be unable to on the first line in "C. My First Alternate Healthcare Agent."
The "Street Address" line and "City, State, Zip Code" line should be used to present the First Alternate Healthcare Agent's home address. 
Conclude this report by entering the "Telephone" number and "Cell Phone" number of the First Alternate Health Care Agent where requested. 
A circumstance where both the Agents listed above are ineffectual in the Healthcare Agent Role. To help protect yourself from not having clear answers presented on your behalf to Pennsylvania Medical seeking them, a "Second Alternate Healthcare Agent" can be appointed through this paperwork by supplying the first line in the "My Second Alternate Health Care Agent" section.
Proceed with a report on the home address of the Second Alternate Healthcare Agent on the lines labeled "Street Address" and "City, State, Zip Code." 
The Second Alternate Healthcare Agent's "Telephone" and "Cell Phone" numbers are the final requested items needed to identify and name your Second Alternate Health care Agent. 
Step 6 – Approve Of Your Pennsylvania Health Care Agent's Principal Authority
The decisions that you grant your Pennsylvania Healthcare Agent with the right to make on your behalf will be discussed in the box labeled "D. Authority Of My Healthcare Agent." For the most part, this section may be left intact since its purpose will be to declare the actions your Agent may undertake on your behalf regarding your medical care when you are incapacitated however, if any of the powers granted in this list should be removed you may remove them by crossing them out. For instance, in the example below, the only power the issuing Pennsylvania Principal does not wish to grant his or her Health Care Agent is to "Authorize, Withhold, or Withdraw…" medically administered food and water from the Patient. The Agent may engage in any other decision making action listed here but that since item two is crossed out. 
Step 7 – Discuss Your Pennsylvania Health Care Agent's Living Will Powers
If you are developing a living will where your direct medical instructions to handle scenarios where you are permanently unable to represent yourself or cannot do so for an extended period of time, then a definition as to who has the final say regarding medical questions must be addressed. If your Agent's medical decisions for treatment should be determined by your living will, then initial the "I Agree" line in "E. Additional Authority Of My Healthcare Agent."
If you have determined that your Pennsylvania Healthcare Agent is fully aware of your decisions and can represent them to your satisfaction and do not wish him or her constrained by your living will then initial the blank line labeled "I Disagree" in the "e. Additional Authority Of My Healthcare Agent" section." 
Step 8 – Formally Include Considerations To Be Made By Your Health Care Agent
Item 2 of "E. Additional Authority Of My Healthcare Agent" provides a few blank lines that you may use to present your Health Care Agent with beliefs or preferences that you believe would help him or her determine your medical decisions in difficult situations.
Step 9 – Review The Pennsylvania Living Will Statement
When you are in the end-stage of a medical condition that will result in death, you may have certain preferences or directives that you wish Pennsylvania Medical Staff to be aware of and respect. In "Part II: Living Will" you will be given the opportunity to convey such instructions. Locate this title then read through the first paragraph.
Step 10 – Indicate The Appropriate Pennsylvania Medical Staff Event Response
Initial the first blank line in item A for the Living will if you have determined that you "…DO Not want Aggressive Medical Care" for the medical condition causing an end-of-life event. This will solidify your wish that the Pennsylvania Medical Staff goals with your care switch from treatment to comfort care. Once initialed, this statement will be assumed to represent your wish to remove and refuse to give consent to life-prolonging procedures, and wish to forbid the use of "CPR, Mechanical Ventilation, Dialysis, Surgery, Chemotherapy, Radiation Therapy, And Antibiotics.
If you have determined that when you are unconscious under the conditions defined above that Pennsylvania should aggressively pursue all treatments available for the prolonging of your life, then initial the second statement in this section.  
Step 11 – Authorize Or Deny Artificially Delivered Food And Liquids
In "B. Additional Information," a few statements, each bearing two choices, have been presented to help Reviewers better ascertain your medical preferences. In Statement 1, the topic of "…Nutrition (Food) Or Hydration (Water) Medically Supplied By A Tube…" will be addressed. If you authorize Pennsylvania Medical Personnel to make sure that you are well fed and properly hydrated (even with a tube) during an end-of-life even or when permanently unconscious, then initial the blank line corresponding to the words "I Do Want Tube Feedings To Be Given" 
If, when permanently unconscious or entering an end-of-life event, you do not intend to grant Pennsylvania Health Care Providers your authorization to administer tube feedings then initial the blank line attached to the phrase "I Do Not Want Tube Feedings To Be Given" 
Step 12 – Establish The Power Of Your Living Will Or Health Care Agent
Statement 2 in the "Additional Information" section seeks guidance regarding the level of authority this document has and that held by your Pennsylvania Healthcare Agent. If you have determined that your Healthcare Agent must follow the directives you documented in Section II then, initial the first blank line presented in Statement 2. 
If the Healthcare Agent should carry the authority to override the instructions delivered in Part II of this document, then initial the second choice presented in Statement "2. If I Designated A Healthcare Attorney" 
Step 13 – Optionally Deliver Your Status As An Organ Donor
If you desire to include an order to donate anatomical gifts upon death as needed the statement "I Consent To Donate My Organs Or Tissues" in Statement 3.
The second blank line in Statement 3 should be initialed if you "Do Not Consent To Donate" your organs, tissues, or parts. 
Step 14 – Document When You Are Making This Declaration
Your Power of Attorney and Living will be completed in the next section, "Part III: Signature" Review your document then produce the calendar day, month, and year of your signing on the final statement presented in this box. 
Step 15 – Execute Your Pennsylvania Medical Directives With A Provable Signature
You must sign your name on the blank line labeled "Signature" before two Witnesses to effectively set this document in effect.
Step 16 – Present The Proof Of Your Signing
The paragraph beginning with the words "Two Witnesses At Least 18 Years Of Age…" must be reviewed by the Witnesses who have watched you sign the above directives. When the Witnesses are ready to sign this document the First Witness should sign the "Witness Signature" line then print his or her name adjacent to this. 
The Second Witness has also been provided with a distinct "Witness Signature" line and an area where the Second Signature Witness is expected to print his or her name.
Step 17 – Identity The Patient Issuing Pennsylvania Orders For Life-Sustaining Treatment
The third available form in this directive is the Pennsylvania Orders For Life-Sustaining Treatment (POLST). This paperwork must be filled out and signed by a Pennsylvania Physician, Nurse Practitioner, or Physician's Assistant with the Patient it concerns. As the Patient making this declaration, make sure your "Last Name," first name, middle initial and birthday are supplied to the boxes labeled "Last Name," "First/Middle Name," and "Date Of Birth" (respectively). 
Step 18 – Issue Your Cardiopulmonary Resuscitation Directive To Pennsylvania Responders And Medical Staff
Section A of this paperwork provides two checkbox items below its title "Cardiopulmonary Resuscitation (CPR)." Only one of these may be selected to indicate your directions for being found with no pulse or unable to breathe. If you authorize the use of "CPR/Attempt Resuscitation" to revive your heart and lungs, then mark the first checkbox otherwise, to refuse CPR, you may issue a "DNR/Do Not Attempt Resuscitation (Allow Natural Death)" order by marking the second checkbox. In the example below, it will be requested of Pennsylvania Physicians that resuscitation not be engaged since the second checkbox is selected.
Step 19 – Define The Medical Interventions Authorized When CPR Is Not Needed
You can use this form to set instructions to Pennsylvania Medical Personnel who are treating you if you are found unconscious or have been rendered permanently unconscious. If you will only approve of comfort care, where the goal of Pennsylvania Medical Staff will only be to keep you as pain-free as possible and promote your comfort without any attempt to treat your medical condition then select the checkbox labeled "Comfort Measures Only" 
The second checkbox of Section B is labeled "Limited Additional Interventions" and will allow Pennsylvania Medical Personnel to use noninvasive medical procedures to treat your condition as well as maintain the comfort care levels in the previous statement. Select this checkbox if it best defines the preferred level of treatment. 
You may document a request for "Full Treatment" by marking the third checkbox in "Section B Medical Interventions." 
Any comments or instructions that should accompany your medical intervention preferences should be included on the blank line labeled "Additional Orders."
Step 20 – Define Your Level Of Authorization For Medically Administered Antibiotics, Liquids, And Nutrition
Section "C Antibiotics" and Section "D Artificially Administered Hydration/Nutrition" both handle the authorization needed to administer needed medicine, food, and water. If you do not wish Pennsylvania Medical Staff to administer any antibiotics, then select the first box below the title "Antibiotics." Similarly, you may issue the same order to deny the administration of food and water by a tube by marking the first checkbox under "Artificially Administered Hydration/Nutrition." Notice, that you do not need to select both if you wish to select one of these. They are placed beside each other as a matter of convenience. 
If you intend to limit the use of antibiotics to only when an infection occurs, then select the second box down in the "Antibiotics" section. Adjacent to this, the choice to receive artificial nutrition or hydration by tube can be limited to a trial period by marking the second checkbox below the title "Artificially Administered Hydration/Nutrition"  
The final choice for the administration of antibiotics dictates your approval to receive antibiotics with the goal of treating infection as well as to prolong your life. Select the third box below the title "Antibiotics" to authorize this level of medication. If you wish to receive "Long-term Artificial Hydration And Nutrition By Tube" as needed, then mark the third checkbox down in the "Artificially Administered Hydration/Nutrition"  
Both Section "C Antibiotics" and Section "D Artificially Administered Hydration/Nutrition" close their areas with a blank line labeled "Additional Orders" where you may dictate your preferences as the patient concerning the use of antibiotics or the response you expect Pennsylvania Medical Personnel to take when you are unconscious and requiring nutrients and hydration. 
Step 21 – Present The Summary Of Goals, Medical Conditions And Signatures
The next task will be to identify the Party issuing this paperwork. This does not need to be the Pennsylvania Patient being discussed especially if a Health Care Agent has been instructed to seek a doctor to complete this form. Therefore, the status of the Pennsylvania Declarant must be selected from a list with a checkbox corresponding to the appropriate label beneath the heading "Discussed With…" In the example below, the "Patient" has discussed the POLST with the attending Physician. Additionally. the treatment goals have been listed as "Comfort Care."  If any additional information regarding what the Patient hopes to result from the level of care defined above or his or her pre-existing medical condition should accompany these orders, then use the "Patient Goals/Medical Condition" box on the right in Section E to define them.
If this document is completed "Parent Of Minor" with the Minor being the Patient then select the second checkbox after the title "Discussed With…" 
If the "Health Care Agent"  has defined the treatment goals for his or her Principal then check or place an "x" in the third checkbox.
The fourth checkbox after the term "Discussed With" should be selected with a checkmark or  an "x" it the Pennsylvania Medical Professional filling out this form is doing so with his or her "Health Care Representative."
If a "Court Appointed Guardian" has been working with the Pennsylvania Medical Professional to document the Patient's wishes on this form then select the second to last checkbox.
If some "Other" Party where a blank space will allow you to name the type of Entity acting as the Pennsylvania Patient's Declarant. 
Step 22 – Identify The Attending Pennsylvania Physician, Registered Nurse, Or Physician's Assistant
The next row in Section E, seeks two items by label the "Physician/PA/CRNP Printed Name" box seeks the full name of the Pennsylvania Medical Professional completing this form with the Declarant while the second box, "Physician/PA/CRNP Phone Number" of the Facility where this paperwork is expected. 
Step 23 – Obtain Clear Approval From The Attending Pennsylvania Medical Professional
The Pennsylvania Physician, Physician's Assistant, or Registered Nurse completing this paperwork must also sign his or her name and document the current date. These items are required in the boxes labeled "Physician/PA/CRNP Signature (Required)" and the box labeled "Date." 
Step 24 – The Pennsylvania Patient Or Surrogate Must Sign This Document
The final row of the POST's first page seeks the "Signature" of the Declarant, the full printed name of the Signature party, as well as how the Signature Party is related to the Patient. Thus, the "Signature" box must be signed by the Patient or Representative Declarant, the second box must be furnished with this Parsons's name in print, while the third box should state the "Relationship" between Patient and Signature Declarant. In our example the Patient is issuing this document personally thus, the "Relationship" shall be reported as "Self."
Step 25 – If Applicable, Identify The Patient's Health Care Agent
If the Patient has appointed a Pennsylvania Healthcare Agent, then locate the "Surrogate" box in the area titled "Other Contact Information." Produce the full name of the Patient's appointed Health Care Agent in this box, then identify the "Relationship" he or she holds with you in the second box of this row before dispensing this Party's contact "Phone Number" in the final box displayed here.
Step 26 – Identify Yourself As the Preparer
The individual preparing this form with information should produce his or her full name in the box labeled "Health Care Professional Preparing Form." This process should continue with the "Preparer Title," "Phone Number" and the date when this form was completed in the "Date Prepared" box. 
Related Forms
---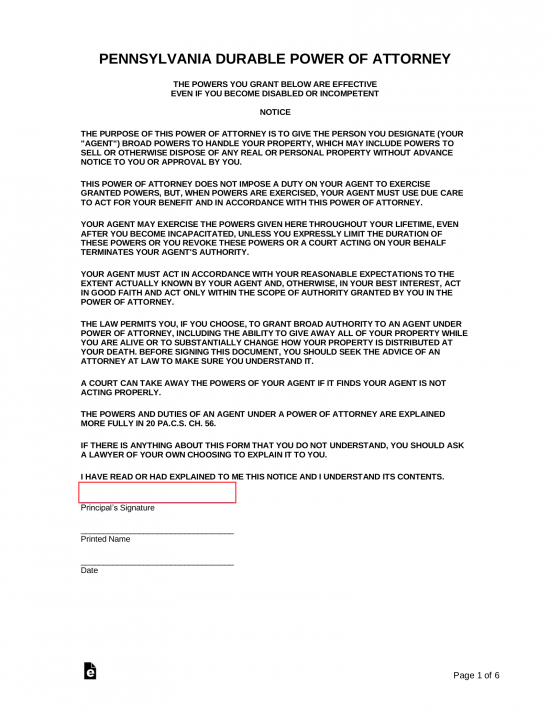 Durable (Financial) Power of Attorney
Download: Adobe PDF, MS Word, OpenDocument
---
Download: Adobe PDF, MS Word, OpenDocument