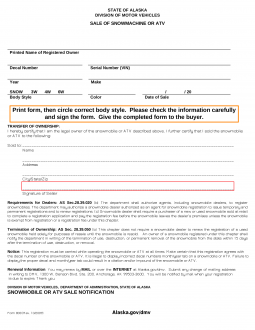 4.8 Stars | 5 Ratings
55 Downloads
Updated August 14, 2023
An Alaska ATV/snowmobile bill of sale form 808 is a document that proves the sale and transfer of ownership between entities and/or individuals of off-road vehicles. This document will provide information with regard to the seller as well as the buyer. The seller will enter all of the information required, print the document, circle the correct body style, sign the form and hand it to the buyer.
Registering an ATV or Snowmobile
New or Used Snowmobiles or ATVs – Do not require titles. However, registration is required within fifteen days of purchase.  If you're purchasing a new ATV or snowmobile, the dealer is required by law to collect your Title and Registration Application Form 812 and registration fees at the point of sale. If this is a used vehicle, you must go to your local DMV to register
Where to Register – Locate your Local DMV Office.
Needed for Registration:
Copy of a warranty card or dealer's purchase order (if any)
Bill of sale
Fees required to register
Registration Decals – Will be provided at registration with instructions as to where they should be placed. These will become the permanent registration for the ATV or snowmobile. You may choose to pay from 1-3 seasons in advance. If you elect to pay for seasons in advance at registration, your tabs will be sent to the address you have on file with the DMV when renewal is due.