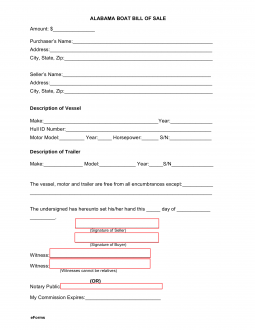 4.8 Stars | 60 Ratings
1,094 Downloads
Updated June 28, 2023
An Alabama boat bill of sale is a legal document that a seller provides to a buyer to document a change in ownership as well as the price paid for the vessel. This document is a requirement in the state for the purpose of registration. Since specific information is required for registration, this document is what is required and not an invoice, as this document will contain all required information needed for proper registration.
Signing Requirements – Buyer and seller must sign in the presence of a notary public or two witnesses.
Registering a Boat
New boats must be registered within three (3) days, and used boats (that are currently registered with Alabama) must be registered within fifteen (15) days. If you are seeking just to renew the registration, it can be completed online.
Where to Register
A new registrant must go to their Local County Probate Office.
Required Documents
Application for a State-assigned HIN (for new or out-of-state-boats)
Bill of Sale (only required for new boats but recommended for used boats)
Title if available, although not required
Registration Fees; Check with your county and is commonly based on class size (length of the vessel)