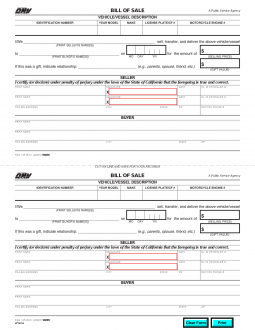 4.7 Stars | 66 Ratings
1,441 Downloads
Updated August 15, 2023
A California motor vehicle/vessel bill of sale (Form REG 135) serves as a purchase and sale document in which the buyer and seller record the transaction of a motorized vehicle or vessel. In this document, the vehicle's purchase price is stated as well as the current mechanical and cosmetic condition. New owners of a vehicle and vessel will be required to present a bill of sale to the California Department of Motor Vehicles (DMV) for registration.
Signing Requirements – The seller (only) is required to sign.
Registering a Vehicle
New owners who purchased a new or used vehicle through a private-party transaction must register the vehicle within ten (10) days of purchase. In the case of a new resident transferring their vehicle from another state, the new resident shall register their vehicle within twenty (20) days of establishing residency in California. Registrations will require renewal once a year upon their expiration date. Renewals can be requested through the DMV's online portal or in person at a nearby California DMV field office.
Where to Register
Vehicles must be registered in person at a nearby California DMV field office. Alternatively, all documentation may be sent via mail to the DMV.
Required Documents
Registering a Boat
Motorized vessels of all sizes and sail-powered vessels over eight (8) feet in length must be registered with the California DMV. Owners transferring their vessels from another state must register said vessel with the DMV within 120 days of establishing residency in California.
Vessel registrations must be renewed by December 31st of every odd-numbered year (for instance, 2013, 2017, etc.), regardless of active usage. Renewals can be processed online, through phone (1-800-777-0133), via mail, or at a local California DMV field office.
Where to Register
Qualifying vessels must be registered at a nearby CA DMV field office or via mail to the address below:
Department of Motor Vehicles
PO Box 942869
Sacramento, CA 94269-0001
Required Documents
Sources