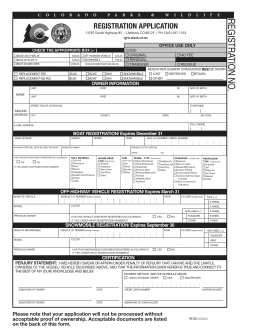 4.8 Stars | 5 Ratings
136 Downloads
Updated August 15, 2023
A Colorado boat/vessel bill of sale formalizes the purchase and sale of a boat/vessel between two (2) or more private parties, usually a buyer and seller. The document records the vessel's condition at the time of sale and expresses the agreed-upon purchase price. Upon registering the vessel, the new owner must present an official bill of sale to the Colorado Parks and Wildlife (CPW) in order to confirm the legal transfer of ownership.
Signing Requirements – Both the buyer and seller must provide their signatures.
Registering a Boat
All motorized and sail-powered boats must be registered within thirty (30) days of purchase with the Colorado Parks and Wildlife (CPW). The new owner may utilize the bill of sale as a temporary alternative to official registration throughout that 30-day time frame. Once formally registered, the owner must renew the vessel's registration each year upon expiration. All registrations are valid from January 1st to December 31st, regardless of when the registration was originally filed. Renewing a registration can be accomplished online through the CPW IPAWS site.
Where to Register
New owners must register their boat/vessel in person at a local Colorado Parks and Wildlife location or gather all documents and mail them to:
Colorado Parks and Wildlife-Registration Unit
13787 S Highway 85
Littleton, CO 80125
Required Documents
Bill of Sale or other acceptable ownership documents;[1]
ANS Stamp (obtained through the registration process);
Registration fees[2] ($35.25-$75.25, depending on the vessel's length); and
Valid Colorado driver's license or form of photo ID.
Sources