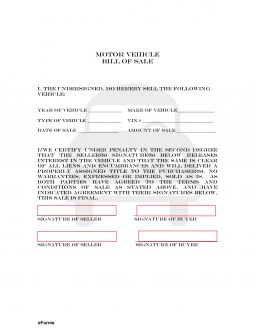 The Colorado Bill of Sale Form is a legal document that would accompany the sale or trade of a vehicle, vessel, firearm or any personal item between two or more sellers and buyers or traders. These document will provide proof that a sale or trade has taken place legally and in full agreement of all parties involved. In some cases, these forms require a part of the registration process of vehicles, vessels, firearms and more items where required by state and/or Federal law.
Types
Boat Bill of Sale – To be used to provide proof that a legal transaction has taken place between two parties in the sale and purchase details the sale of a boat/vessel in the state of Colorado.
---
General Bill of Sale – Offers proof that a legitimate sale or trade has been negotiated and placed into writing, reflecting the cost and other details.
---
Gun Bill of Sale – This is a legal document that will provide information with regard to the sale or trade, as well, the transference of ownership of a firearm between two parties.
---
Vehicle Bill of Sale Form – Is a legal document offering proof of sale and transference of ownership of a vehicle.
---
Colorado Boat Registration Forms
To Register your boat in Colorado, you must present the following:
The annual registration fees are determined according to the length of the boat. The current flat fees are as follows:
Less than 20 feet in length – $35.25
Less than 20 feet in length – $35.25
20 feet to less than 30 feet – $45.2530 feet or greater – $75.25
Registrations are valid from Jan. 1 to Dec. 31 each calendar year.
Decal Placement – Colorado Boating Decal Placement Form
Colorado Vehicle Registration Forms