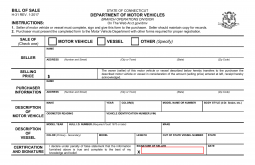 4.7 Stars | 72 Ratings
1,518 Downloads
Updated August 15, 2023
Connecticut bill of sale forms are legal documents that prove the purchase, trade, or transference of personal property. It must include information about the parties involved, the purchase price, and be signed by the seller. The bill of sale must be kept by the buyer to register with the DMV (for vehicle transfers).
Forms (3)
Vehicle Registration Forms
Original Certificate of Title (if lost or damaged, use the Application for Replacement Certificate of Title);
Connecticut driver's license or other valid ID;[1]
Official emission check from an accredited test center (only for out-of-state titles);
Registration fees[2] (rates may vary);
Proof of Insurance with minimum requirements:[3]

$25,000 bodily injury per person;
$50,000 bodily injury per accident;
$25,000 property damage per accident;

Motor Vehicle Power of Attorney, if an agent shall represent the vehicle owner in titling or registering matters.
Boat/Vessel Registration Forms
Manufacturer's Certificate of Origin or Out-of-State Title/Registration;
Proof of Payment of Sales and Use Tax;
Connecticut driver's license or other valid ID; and
Registration fees[4] (rates vary depending on the vessel's length).
Sources