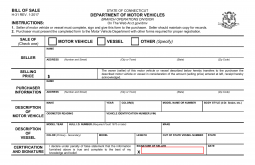 4.6 Stars | 27 Ratings
567 Downloads
Updated August 16, 2023
A Connecticut motor vehicle/vessel bill of sale (Form H-31) executes the purchase and sale of a motorized vehicle/vessel between a private seller and buyer. A bill of sale serves as a receipt, showing proof of the purchase price, vehicle/vessel's mechanical and cosmetic condition, and all the parties' personal information. A new owner will be required to present a signed bill of sale, along with several other documents, upon registering and titling the vehicle/vessel under their name with the Connecticut Department of Motor Vehicles (DMV).
Signing Requirements – The seller (only) must sign and certify the bill of sale document.
Registering a Vehicle
All vehicles recurringly operating on public Connecticut roads must be registered with the Department of Motor Vehicles (DMV). For new residents who transferred their vehicle from another state, their vehicle must be registered with the DMV within sixty (60) days of establishing residency. All registrations must be renewed every two years upon receiving a. notice of expiration from the DMV. Renewals can be handled online via the DMV's Self-Service function.
Where to Register
Vehicles must be registered in person at one of the Connecticut DMV locations. All visits to the DMV must be made by appointment through the DMV's online portal.
Required Documents
Original Certificate of Title (if lost or damaged, use the Application for Replacement Certificate of Title);
Connecticut driver's license or other valid ID;[1]
Official Emission Check from an accredited test center (only for out-of-state titles);
Registration fees[2] (rates may vary);
Proof of insurance with minimum requirements:[3]

$25,000 bodily injury per person;
$50,000 bodily injury per accident;
$25,000 property damage per accident;

Motor Vehicle Power of Attorney, if an agent shall represent the vehicle owner in titling or registering matters.
Registering a Boat
Motorized vessels of all sizes and sail-powered boats with a length of 19.5 feet or longer must be registered with the Connecticut DMV. Upon acquiring a vessel from a private transaction, the new owner is responsible for registering and titling said vessel under their name before launching. Registrations administered on or after Jan. 1 will be valid until April 30 of the following year. Nearing the expiration date, the DMV will issue a notice to renew. The completed renewal form must be presented by the vessel's owner at a nearby DMV branch or via mail to the address stipulated on the notice.
Where to Register
All qualifying vessels must be registered with the Connecticut DMV. The DMV's services are only available through appointments made in their online portal.
Required Documents
Manufacturer's Certificate of Origin or Out-of-State Title/Registration;
Proof of Payment of Sales and Use Tax;
Connecticut driver's license or valid ID; and
Registration fees[4] (rates vary depending on the vessel's length).
Sources