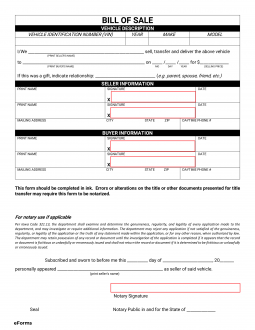 4.6 Stars | 120 Ratings
2,323 Downloads
Updated September 05, 2023
An Iowa motor vehicle bill of sale provides evidence of a legal purchase and sale transaction between a buyer and seller of a vehicle. Aside from disclosing the agreed-upon price and condition, a bill of sale is often required in the State of Iowa upon transferring the vehicle's title from the previous owner to the purchaser. The new owner may utilize all documentation to officially register the vehicle under their name.
Signing Requirements – Both the buyer and seller must sign. A licensed notary public must also sign and acknowledge the document.
Registering a Vehicle
A new owner must register the vehicle within thirty (30) days of purchase or during the first 30 days of establishing residency in the State of Iowa. Vehicle owners are required to renew the registration annually upon receiving notice from their County Treasurer. Notices are typically mailed one (1) month prior to the owner's assigned renewal date. Iowans can renew their registration online through the County Treasurers Association's online portal.
Odometer Disclosure Statement (Form 411077) – Required for the private purchase and sale of a motor vehicle.
Where to Register
Vehicles must be registered in person at a nearby County Treasurer's Office.
Required Documents
Damage Disclosure (Form 411108) (only for vehicles 8 years old or newer);
Signed Certificate of Title;
Valid Iowa Driver's License;
Registration Fees (rates may vary);[1]
Proof of Insurance with Minimum Liability Coverage:[2]

$20,000 of bodily injury to or death of one person in any one accident;
$40,000 of bodily injury to or death of two or more persons in any one accident;
$15,000 because of injury to or destruction of property of others in any one accident;

Motor Vehicle Power of Attorney, if an agent shall represent the vehicle owner in certain matters.
Sources