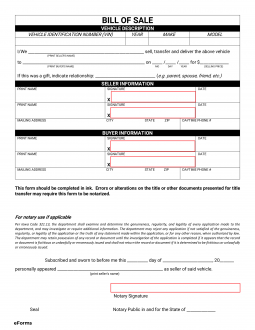 4.3 Stars | 11 Ratings
160 Downloads
Updated September 05, 2023
Iowa bill of sale forms provides legal documentation for the sale of personal property. It is a type of receipt that is recognized by the state and, for vehicle transactions, by the Motor Vehicle Division (MVD). A bill of sale must be signed by both the buyer and seller to be valid.
Notary Requirement
(
Iowa Code 321.13
) – If a government agency questions the genuineness or legitimacy of a bill of sale, both signatures of the buyer and seller must be notarized.
Vehicle Registration Forms
Damage Disclosure (Form 411108) (only for vehicles 8 years old or newer);
Signed Certificate of Title;
Valid Iowa Driver's License;
Registration Fees (rates may vary);
Proof of Insurance with Minimum Liability Coverage:[1]

$20,000 of bodily injury to or death of one person in any one accident;
$40,000 of bodily injury to or death of two or more persons in any one accident;
$15,000 because of injury to or destruction of property of others in any one accident;

Motor Vehicle Power of Attorney, if an agent shall represent the vehicle owner in certain matters.
Boat Registration Forms
Manufacturer's Certificate of Origin (for brand-new vessels);
Original Certificate of Title and Current Registration (if lost or damaged, apply for duplicate using DNR Form 542-8067);
Valid Iowa Driver's License or State-issued ID; and
Registration Fees (rates vary based on the vessel's length).[2]
Sources